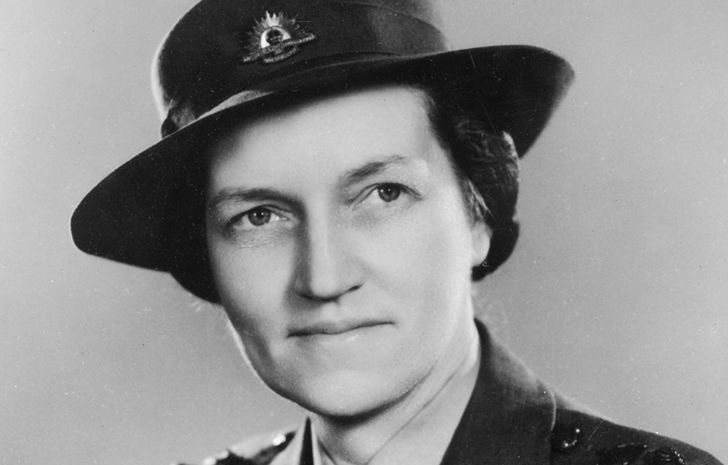 Colonel Sybil Howy Irving MBE, 1897–1973
18 April 2023
•
Written by
Andrew Lemon
This ANZAC Day, the VRC is proud to announce the Sybil Irving Trophy, a new race named in honour of Colonel Sybil Irving who was instrumental in the development of the Australian Women's Army Service (AWAS).
Sybil Irving directed the Australian Women's Army Service (AWAS) from its inception in 1941 through to its demobilisation at the end of 1946, as Controller, Lieutenant-Colonel and then Colonel – the only Australian woman in the Second World War to achieve this rank. When a revamped Women's Royal Australian Army Corps was created in 1951, Sybil Irving became Honorary Colonel.
Under her supervision during war, the AWAS played a crucial part. At its peak it enlisted 20,000 women from 18 to 45 years into full-time non-combat roles. In Sybil Irving's words, 'An AWAS girl is a soldier, doing her best for her country, just as the men are. She frees up a man to go and fight.' AWAS responsibilities encompassed a wide range including ordnance, electrical, mechanical, and transport duties. In 1945, AWAS personnel served in New Guinea.
Sybil Irving was the only Australian woman in the Second World War to achieve the rank of Colonel.
Sybil Irving was an impressive organiser and recruiter, esteemed as decisive, cool and self-assured. She seemed almost destined for a military career, having been born at military headquarters, Victoria Barracks, Melbourne. She was the first of three children of Godfrey Irving, a career soldier (later major general), and his wife Ada Derham. Sybil's father's army postings took the family to every Australian state during her childhood. She was 17 at the outbreak of the First World War. Her father served, amid controversy, as a brigadier-general with the AIF in Egypt. Sybil worked at home with the Voluntary Aid Detachment of the Australian division of the British Red Cross Society. 
Between the wars Sybil Irving became full-time Secretary of the Girl Guides Association of Victoria and in 1935 helped establish the Victorian Society for Crippled Children and Adults. For services to social welfare she was awarded an MBE in January  . After the war she returned as general secretary of the Red Cross Victorian division and continued her extensive charity work until her death. Her biographer Jan Bassett in the Australian Dictionary of Biography speaks truly of a lifetime of duty, commitment, uniforms and uniformity.  
Sybil's grandfather, Martin Howy Irving, the inaugural professor of Greek and Latin and Ancient History, later vice chancellor, at the University of Melbourne, headmaster of Wesley College and Hawthorn Grammar, was a large, athletic man who served in the militia and founded amateur rowing in this state. Sybil's aunts Margaret and Lilian established Lauriston Girls' School in Armadale. Her sister Freda Irving (1903–84) was for decades a prominent, outspoken journalist working for a range of publications – and with a passion for horse racing. She served in the AWAS under her sister as Captain. Their brother Brigadier Ronald Irving – who married Violet Hiskens, the daughter of A.V. Hiskens of Moonee Valley fame – served with distinction in World War II, notably in the Middle East. Sybil's cousins, the sisters Marjorie, Pippa and Kay Irving, founded the famous Waverley Riding School, fostering the Pony Club movement. The Irvings were a remarkable Melbourne family.
The VRC salutes Colonel Sybil Irving and all women who have served in the Australian armed services.