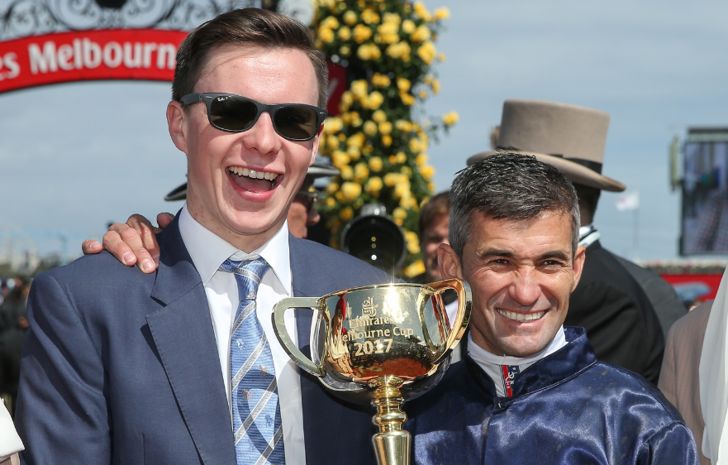 The Irish have a habit of making history on November's first Tuesday
19 October 2023
•
Written by
Lee Mottershead
In 1993, Dermot Weld became the first northern hemisphere trainer to win the Melbourne Cup when Vintage Crop and Mick Kinane powered clear up the Flemington home straight. On the day the great race was changed forever, Joseph O'Brien was only five months old. At the age of 24, and with a glory-filled riding career behind him, O'Brien made some Melbourne Cup history of his own.
No trainer younger than O'Brien had been victorious in the world's most celebrated staying prize. That, however, was not all that made Rekindling's triumph particularly notable. Beaten only half a length into second, and wearing the same Williams family silks as the Corey Brown-ridden Rekindling, was Johannes Vermeer, an international challenger sent to Australia by the winning trainer's legendary father Aidan O'Brien.
Three years later, O'Brien emulated Weld by notching a second Cup success, this time with the front-running outsider Twilight Payment. The runner-up, once again beaten half a length, was Tiger Moth. As in 2017, it was a case of what might have been for the master of Ballydoyle, O'Brien senior.
In between those two wins, the younger O'Brien sent out Master Of Reality to gallop across the Melbourne Cup's finishing line in second place. An intervention by the stewards resulted in a demotion to fourth but it was a defeat that still added to the remarkable Melbourne Cup record of a young man who could be back on familiar ground come November 7.
Okita Soushi and Valiant King have been entered for the Lexus-sponsored spectacular. One or both could seek to continue their now 30-year-old trainer's love affair with the southern hemisphere's signature sporting event.
"It's special just to have competed in the Melbourne Cup, let alone to have won it," says O'Brien, whose first experience of Cup day came when he accompanied his father in 2008. He knew he wanted to come back. In 2017, he did.
"Lloyd and Nick Williams were really the ones who hatched the plan to come down to Melbourne and have a go at the Cup," says O'Brien.
"I was obviously very aware of the race but our plan had really been to target the Cup the following year. As it happened, he ran very well in the St Leger at Doncaster, after which Lloyd said he felt it was the right time to have a crack at the race. Having been there and experienced it all nine years earlier, I was keen to have a go as well.
"I watched it on the track along with my assistant Mark Power and the rest of our guys. I remember it all very well. I spoke with Dad immediately after the race. He was delighted with how his horse ran but also delighted we won the race. It was such a special day. I look back on it all very fondly."
Those who know Aidan O'Brien will easily believe he, too, looks back on it with a smile. He was similarly magnanimous - and proud of his son - when Tiger Moth failed by half a length to catch Twilight Payment.
"It's one of those funny things that Dad was second again," says O'Brien. "His horse ran a great race and was probably a bit unlucky. It was a great day for everyone, though.
"Twilight Payment was a tough stayer who got a great ride from Jye McNeil, leading all the way. We were told you couldn't make all and win the Cup but that was his run style and it worked out. He had passed the post in mid-division the previous year but we hadn't had the perfect preparation with him. In the year he won, he really took his form to a new level."
Sadly, there was almost nobody at Flemington to see it happen, with even the winning trainer an absentee. The track's huge grandstands were empty due to the Covid pandemic but that will not be the case this year when O'Brien could make his Melbourne return.
"Okita Soushi and Valiant King both have the option of running in the Melbourne Cup and a final decision will be made closer to the time," explains O'Brien, who would love to turn two wins into three.
"There is no question the Melbourne Cup remains one of the world's biggest races," he says. "We feel privileged to once again have horses who could potentially compete in the race. We always love to be represented in the Cup."