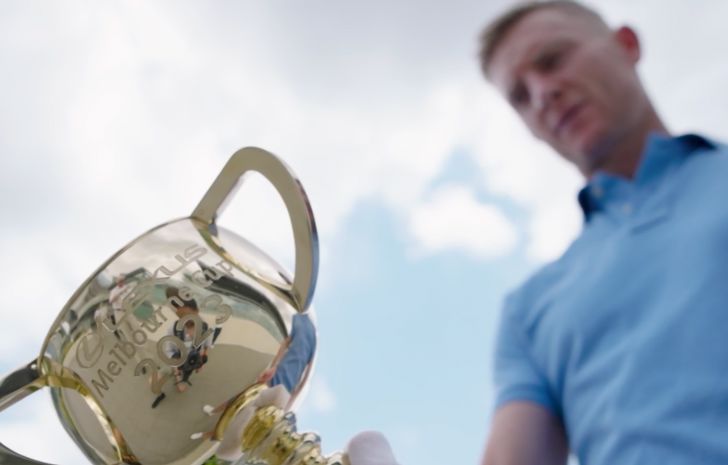 Purton's Absurde dream
5 October 2023
•
Written by
VRC
Zac Purton has spent the past 16 years calling Hong Kong his home, where he resides with his wife Nicole, the daughter of the legendary two-time Melbourne Cup-winning jockey, Jimmy Cassidy. Despite his enormous success in the saddle, there is one race that he would love to win – the Lexus Melbourne Cup.
Reflecting on his extraordinary career when the Lexus Melbourne Cup Tour visited Hong Kong, and the significance of a potential Lexus Melbourne Cup victory, Purton dared to dream.
"I've had a fantastic career and have been fortunate to be able to travel all around the world and win in many different countries. I have ridden a lot of good horses, and the Melbourne Cup is the race that I'd like to win; it would put the cherry on top of the cake and complete what my dream would be," Purton said.
"I think for any Australian jockey, it's the dream, it's the pinnacle."
Now this dream may come true, as it has been announced that Purton will ride the international contender Absurde in the Lexus Melbourne Cup.
Absurde triumphed in the Ebor Handicap in August, showcasing his potential on the grand stage. Along with his stablemate Vauban, both have arrived safely in Victoria, ready for their tilt at the Melbourne Cup Carnival.
Purton has nothing but praise for the horses' trainer, Willie Mullins. "Willie Mullins is a training genius, as good as anyone I've come across anywhere in the world. There's none better at travelling horses, and he's had a couple of near misses already in the race. He knows the right type of horse to bring, and I'm honoured to be riding one for him," he told Racenet.
Mullins has previously had some success in the Lexus Melbourne Cup, notably with Max Dynamite, who came close to glory in 2015 finishing second behind Prince Of Penzance, and then running third in 2017 behind fellow Irish-trained horses Rekindling and Johannes Vermeer.
Purton's Lexus Melbourne Cup ride is just one part of an eventful few weeks for the Hong Kong-based superstar. He will return to Sydney to partner In Secret in the $20 million The Everest and Light Infantry in the $5 million King Charles III Stakes. He will team up again with Light Infantry in the $5 million Cox Plate on October 28, seeking to add more chapters to his remarkable journey.
As for the Lexus Melbourne Cup, Purton will be looking to surpass his third-place finish aboard Max Dynamite in 2017 and fourth place with Finche in 2018. He is excited to be part of the whole event, admitting he feels like he is missing out when watching from afar. "It hurts when you're watching it from home with the national anthem getting played and all the jockeys getting introduced to the crowd."
There are two Cup-winning riders he particularly admires – his father-in-law, Jimmy Cassidy, and Glen Boss.
"The father-in-law … He won it from the back, he won it from the front, very unique. And Bossy's three rides on Makybe Diva, I always just remember them. You just wouldn't see better rides on a horse in a race like that and especially under the pressure that he was under the second and third years. Just phenomenal rides they were and I just shake my head at how good they were."
With his sights now set firmly on Absurde, Purton is poised for a shot at his ultimate dream and the chance to join the likes of Cassidy and Boss in the history books.