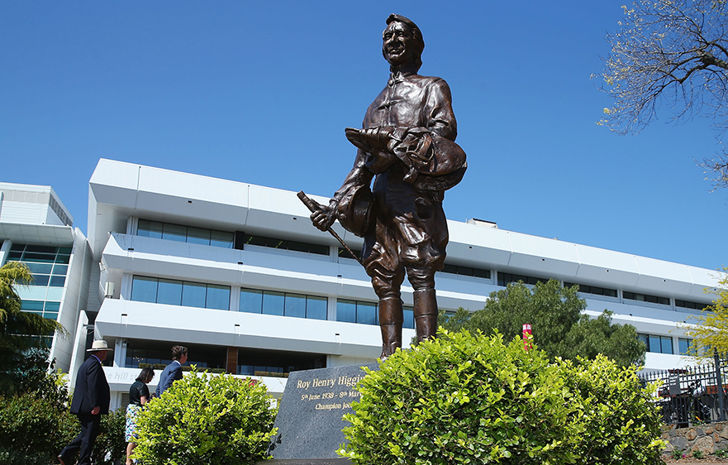 The legacy of the Professor
3 March 2020
•
Written by
VRC
On the sixth anniversary of Roy Higgins' passing, we reflect on a jockey who was the best many ever saw, but who was also a complete gentleman.
When retired racecaller John Russell first saw Roy Higgins in action on a Woodend track in 1953, he had a very firm impression: the unproven teenager from Deniliquin couldn't ride.
When I first saw him, he looked awful," recalled John. The Chief Steward, Harold Saker, agreed with John. "Saker called Higgins into the stewards' room. He said, 'you'll have to improve to ride in this state, son.'"Improve he did and from that rather shaky start, Roy would go on to become the best jockey John, and many others, ever saw. Roy won two Melbourne Cups – on Light Fingers in 1965 and Red Handed two years later – and won 11 Melbourne jockeys' premierships, the equal of champion rider Billy Duncan.
John Russell remembers two rides above all others. The first was Light Fingers' 1965 Melbourne Cup: "Roy lifted that little mare[Light Fingers] over the line," he said. "It was an epic struggle with Ziema but Roy lifted her."
The second was on Star Shower in the 1979 Blue Diamond Stakes. The track was heavy and the race was run in the driving rain. On top of that, Roy was battling weight at the time. "Roy lifted him well and was exhausted. He had to waste (diet) so hard [in order] to ride. He said his breakfast was two cigars and coffee," said John, affectionately known as "JR".
John believes Roy's instincts, along with his style, balance and modest personality, elevated him beyond mere champion status to turf icon.
"He gave every horse its best chance," recalled John. "His hands, his poise, his balance ... he was a dream jockey. On top of that, he was a thorough gentleman. He was the complete package."
ACHIEVEMENTS
Won his first Melbourne Jockeys' Premiership in the 1964/65 season and won it a further ten times, equalling the longstanding record of Bill Duncan
Rode 108 Group 1 victories
Rode more than 2300 winners
2 Melbourne Cups
1 Caulfield Cup
2 W.S. Cox Plates
4 Victoria Derbies
5 VRC Oaks
4 Blue Diamond Stakes
2 Sydney Cups
2 Golden Slipper Stakes
6 AJC Oaks
Roy was an inaugural inductee into the Australian Racing Hall of Fame in 2001. He was also an inductee into the Sport Australia Hall of Fame and was a valued Melbourne Cup Tour ambassador.