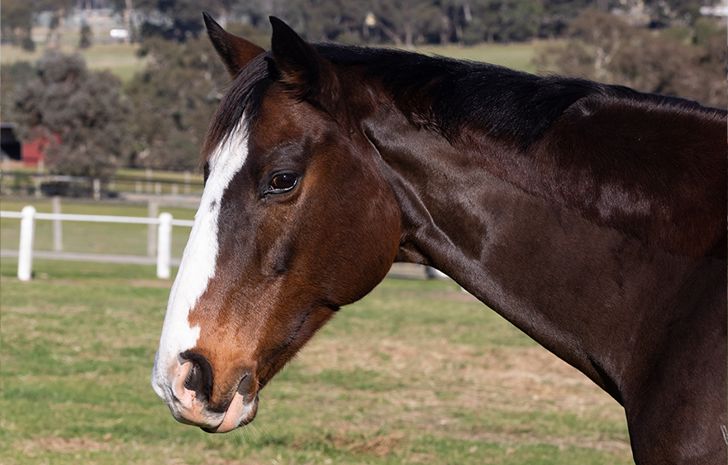 Tom Melbourne: The fan favourite
30 May 2023
•
Written by
VRC
A perennial placegetter, Tom Melbourne will forever be remembered for his 14 second placings and became a cult figure as one of Australia's most spoken about horses.
The flashy bay with his distinctive white blaze wasn't always a bridesmaid, at one point he was one of the most exciting up-and-coming stayers.
Bred in Ireland by David Ledwith, Tom Melbourne was offered for sale at the 2012 Tattersalls October Yearling Sale and went unsold at 5,000gns (approximately AUD$7,800).
The son of Prix de l'Arc de Triomphe winner, Dylan Thomas, won on debut in County Louth, Ireland. It was evident he had talent, easily accounting for his rivals winning by 4.8 lengths on the all-weather track at Dundalk Stadium racecourse over 2100m.
His debut win sparked Australian interest and was subsequently purchased by Australian interests, renowned international bloodstock syndication company, OTI and was placed in the care of Lee & Anthony Freedman.
Unplaced in his Australian debut, Tom Melbourne ventured out to Gippsland at his second start to score a win at Sale. He capped off his first preparation "Down Under" leading all the way at Sandown Lakeside over 2100m.
Returning in the autumn of 2016, he had a comfortable win at Flemington after a brilliant ride from Melbourne Cup-winning jockey Glen Boss.
Tom Melbourne was quickly building a reputation as one of the up-and-coming stayers to watch and connections elected to take the horse to Albury for the Listed Albury Cup (2000m). Sent out a warm favourite on a testing heavy-rated track, he travelled powerfully into the home straight, taking the lead shortly after, and establishing an unassailable lead.
Bizarrely - and perhaps a sign of things to come - the horse began to wander in the straight, and looked to have thrown the win away but was able to finish to the line strongly and win the feature.
Post-race jockey Glen Boss said Tom Melbourne was a "proper horse" and despite not being comfortable in the going he had a confident assessment of his ability,
"He's got 100 metres on them, he's that good!" - Glen Boss
Trainer Lee Freedman had big plans for the gelding declaring the Mornington Cup as his next target with visions of earning a ballot exemption into the Caulfield Cup. His run in the Mornington Cup was unsuccessful however had finished his first season in Australia successfully winning five times from seven starts.
The fascination of Tom Melbourne began to grow in the spring where he returned with placings in the Listed Heatherlie Handicap (1700m),Group 3 Coongy (2000m) at Caulfield and narrowly finished second to Oceanographer in the Group 3 Lexus Stakes (2500m) at Flemington on Derby Day.
The owners decided on a change of scenery for the young gelding and trainer Chris Waller was given the keys. It was during this time that Tom Melbourne was arguably in career best form however continued to be a perennial placegetter, finishing second in both the Epsom Handicap (1600m) at Randwick, the Group 1 Cantala Stakes (1600m) at Flemington before a trip to Perth to again record a placing in the Group 1 Railway Stakes (1600m) at Ascot.
After three more Group 2 placings in 2018 in Sydney and the Gold Coast, his rating would rise to a career best, without winning a race. In the time following his Albury Cup win, his rating climbed from 96 to a career high of 106 before steadying at 104. Following his gallant effort when fifth in the Group 1 Doncaster Handicap (1600m) at Randwick, his career earnings surpassed the $1 million mark, a sign of his class and consistency.
It wasn't until the Australia Day meeting of 2019 at Randwick where Tom Melbourne would finally break his long run of outs and return to scale a winner once again.
Lining up in the Listed Carrington Stakes (1400m) with Blake Shinn in the saddle, he raced keenly but a solid tempo and raced away at the 200-metre mark for an emphatic win. His fans rejoiced and he was the talk of the racing world for finally winning a race for the first time in 1,044 days.
The enigma of Tom Melbourne was summed up perfectly by race caller Darren Flindell who cheekily suggested Blake Shinn should be awarded an Order of Australia medal for getting the gelding back to his winning ways.
During his long run of out of the winner's stall, he finished second an incredible eleven times and third twice.
He added a further three second placings at Group 3/Listed level, finishing his career with six wins and eighteen minor placings from 51 career starts and total earnings of $1,415,548.
Tom Melbourne had his final two starts under trainer Lindsey Smith before retiring to Living Legends, a farm for retired racehorses. Tom Melbourne continues to be a fan favourite out at Living Legends and on race days when he visits Flemington.
---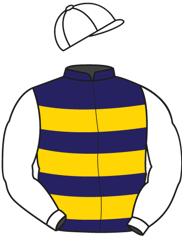 TOM MELBOURNE (IRE)
Bay Gelding
Foaled  03/03/2011 (Ireland)
Sire  Dylan Thomas (IRE)
Dam  Roshanak (IRE) (Spinning World (USA))
Trainers  Andrew Oliver (IRE), Lee & Anthony Freedman (AUS), Chris Waller (AUS), Lindsey Smith (AUS)
Breeder  Mr David Ledwith
Owners  OTI Racing (Mgrs: T Henderson & S O'Donnell), Kiwiana Syndicate, L Webb, Ms D McKeown, Ms M Webb, Uthmeyer Racing, W Bowker, J Higgins, A Goodfellow, D & Mrs D Miller & Bobbin Along Syndicate
CAREER STATISTICS
| | | | | | |
| --- | --- | --- | --- | --- | --- |
| Country | Starts | Wins | 2nds | 3rds | Prizemoney |
| IRE | 1 | 1 | 0 | 0 | €6,900 |
| AUS | 50 | 5 | 14 | 4 | $1,404,890 |
|   |   |   |   |   |   |
|   | Career Starts | Wins | 2nds | 3rds | Total Prizemoney |
|   |  51 | 6  | 14  | 4  | $1,415,548 (AUD) |
MAJOR ACHIEVEMENTS
WON 2016 Listed Albury Cup (2000m)
WON 2019 Listed Carrington Stakes (1400m)
2nd 2017 Group 1 Epsom Handicap (1600m)
2nd 2017 Group 1 Cantala Stakes (1600m)
2nd 2017 Group 2 Tramway Stakes (1400m)
2nd 2018 Group 2 Ajax Stakes (1500m)
2nd 2018 Group 2 Hollindale Stakes (1800m)
2nd 2018 Group 2 Tramway Stakes (1400m)
2nd 2016 Group 3 Coongy Handicap (2000m)
2nd 2016 Group 3 Lexus Stakes (2500m)
2nd 2017 Group 3 Bill Ritchie Stakes (1400m)
2nd 2019 Group 3 Hawkesbury Cup (1600m)
2nd 2019 Group 3 Lord Mayors Cup (1600m)
2nd 2016 Listed Heatherlie Handicap (1700m)
2nd 2019 Listed Members' Handicap (1600m)
3rd 2017 Group 1 Railway Stakes (1600m)
3rd 2019 Group 2 Shannon Stakes (1500m)
3rd 2016 Group 3 Queen Elizabeth Stakes (2600m)
3rd 2019 Group 3 Doncaster Prelude (1500m)
---
VRC Community Race Day marks the start of winter and the continuation of the lucrative Flemington Winter Race Series. You can find Living Legend Tom Melbourne on course in the horse stalls and parading in the mounting yard after races 2 and 4 so make sure to come and give him a well-earned pat. Tickets selling fast, don't miss out!
System.Web.HttpException (0x80004005): Error executing child request for handler 'System.Web.Mvc.HttpHandlerUtil+ServerExecuteHttpHandlerAsyncWrapper'. ---> System.NullReferenceException: Object reference not set to an instance of an object.
   at ASP._Page_Views_Partials_googleAd_cshtml.Execute() in C:\home\site\wwwroot\Views\Partials\googleAd.cshtml:line 4
   at System.Web.WebPages.WebPageBase.ExecutePageHierarchy()
   at System.Web.Mvc.WebViewPage.ExecutePageHierarchy()
   at System.Web.WebPages.WebPageBase.ExecutePageHierarchy(WebPageContext pageContext, TextWriter writer, WebPageRenderingBase startPage)
   at System.Web.Mvc.RazorView.RenderView(ViewContext viewContext, TextWriter writer, Object instance)
   at System.Web.Mvc.BuildManagerCompiledView.Render(ViewContext viewContext, TextWriter writer)
   at Umbraco.Web.Mvc.ProfilingView.Render(ViewContext viewContext, TextWriter writer) in D:\a\1\s\src\Umbraco.Web\Mvc\ProfilingView.cs:line 25
   at System.Web.Mvc.ViewResultBase.ExecuteResult(ControllerContext context)
   at System.Web.Mvc.ControllerActionInvoker.InvokeActionResult(ControllerContext controllerContext, ActionResult actionResult)
   at System.Web.Mvc.ControllerActionInvoker.InvokeActionResultFilterRecursive(IList`1 filters, Int32 filterIndex, ResultExecutingContext preContext, ControllerContext controllerContext, ActionResult actionResult)
   at System.Web.Mvc.ControllerActionInvoker.InvokeActionResultFilterRecursive(IList`1 filters, Int32 filterIndex, ResultExecutingContext preContext, ControllerContext controllerContext, ActionResult actionResult)
   at System.Web.Mvc.ControllerActionInvoker.InvokeActionResultFilterRecursive(IList`1 filters, Int32 filterIndex, ResultExecutingContext preContext, ControllerContext controllerContext, ActionResult actionResult)
   at System.Web.Mvc.ControllerActionInvoker.InvokeActionResultFilterRecursive(IList`1 filters, Int32 filterIndex, ResultExecutingContext preContext, ControllerContext controllerContext, ActionResult actionResult)
   at System.Web.Mvc.ControllerActionInvoker.InvokeActionResultFilterRecursive(IList`1 filters, Int32 filterIndex, ResultExecutingContext preContext, ControllerContext controllerContext, ActionResult actionResult)
   at System.Web.Mvc.ControllerActionInvoker.InvokeActionResultWithFilters(ControllerContext controllerContext, IList`1 filters, ActionResult actionResult)
   at System.Web.Mvc.Async.AsyncControllerActionInvoker.<>c__DisplayClass3_6.<BeginInvokeAction>b__4()
   at System.Web.Mvc.Async.AsyncControllerActionInvoker.<>c__DisplayClass3_1.<BeginInvokeAction>b__1(IAsyncResult asyncResult)
   at System.Web.Mvc.Async.AsyncResultWrapper.WrappedAsyncResult`1.CallEndDelegate(IAsyncResult asyncResult)
   at System.Web.Mvc.Async.AsyncResultWrapper.WrappedAsyncResultBase`1.End()
   at System.Web.Mvc.Async.AsyncControllerActionInvoker.EndInvokeAction(IAsyncResult asyncResult)
   at System.Web.Mvc.Controller.<>c.<BeginExecuteCore>b__152_1(IAsyncResult asyncResult, ExecuteCoreState innerState)
   at System.Web.Mvc.Async.AsyncResultWrapper.WrappedAsyncVoid`1.CallEndDelegate(IAsyncResult asyncResult)
   at System.Web.Mvc.Async.AsyncResultWrapper.WrappedAsyncResultBase`1.End()
   at System.Web.Mvc.Controller.EndExecuteCore(IAsyncResult asyncResult)
   at System.Web.Mvc.Controller.<>c.<BeginExecute>b__151_2(IAsyncResult asyncResult, Controller controller)
   at System.Web.Mvc.Async.AsyncResultWrapper.WrappedAsyncVoid`1.CallEndDelegate(IAsyncResult asyncResult)
   at System.Web.Mvc.Async.AsyncResultWrapper.WrappedAsyncResultBase`1.End()
   at System.Web.Mvc.Controller.EndExecute(IAsyncResult asyncResult)
   at System.Web.Mvc.Controller.System.Web.Mvc.Async.IAsyncController.EndExecute(IAsyncResult asyncResult)
   at System.Web.Mvc.MvcHandler.<>c.<BeginProcessRequest>b__20_1(IAsyncResult asyncResult, ProcessRequestState innerState)
   at System.Web.Mvc.Async.AsyncResultWrapper.WrappedAsyncVoid`1.CallEndDelegate(IAsyncResult asyncResult)
   at System.Web.Mvc.Async.AsyncResultWrapper.WrappedAsyncResultBase`1.End()
   at System.Web.Mvc.MvcHandler.EndProcessRequest(IAsyncResult asyncResult)
   at System.Web.Mvc.MvcHandler.System.Web.IHttpAsyncHandler.EndProcessRequest(IAsyncResult result)
   at System.Web.Mvc.HttpHandlerUtil.ServerExecuteHttpHandlerAsyncWrapper.<>c__DisplayClass3_0.<EndProcessRequest>b__0()
   at System.Web.Mvc.HttpHandlerUtil.ServerExecuteHttpHandlerWrapper.<>c__DisplayClass5_0.<Wrap>b__0()
   at System.Web.Mvc.HttpHandlerUtil.ServerExecuteHttpHandlerWrapper.Wrap[TResult](Func`1 func)
   at System.Web.Mvc.HttpHandlerUtil.ServerExecuteHttpHandlerWrapper.Wrap(Action action)
   at System.Web.Mvc.HttpHandlerUtil.ServerExecuteHttpHandlerAsyncWrapper.EndProcessRequest(IAsyncResult result)
   at System.Web.HttpServerUtility.ExecuteInternal(IHttpHandler handler, TextWriter writer, Boolean preserveForm, Boolean setPreviousPage, VirtualPath path, VirtualPath filePath, String physPath, Exception error, String queryStringOverride)
   at System.Web.HttpServerUtility.ExecuteInternal(IHttpHandler handler, TextWriter writer, Boolean preserveForm, Boolean setPreviousPage, VirtualPath path, VirtualPath filePath, String physPath, Exception error, String queryStringOverride)
   at System.Web.HttpServerUtility.Execute(IHttpHandler handler, TextWriter writer, Boolean preserveForm, Boolean setPreviousPage)
   at System.Web.HttpServerUtility.Execute(IHttpHandler handler, TextWriter writer, Boolean preserveForm)
   at System.Web.HttpServerUtilityWrapper.Execute(IHttpHandler handler, TextWriter writer, Boolean preserveForm)
   at System.Web.Mvc.Html.ChildActionExtensions.ActionHelper(HtmlHelper htmlHelper, String actionName, String controllerName, RouteValueDictionary routeValues, TextWriter textWriter)
   at System.Web.Mvc.Html.ChildActionExtensions.Action(HtmlHelper htmlHelper, String actionName, String controllerName, RouteValueDictionary routeValues)
   at Our.Umbraco.DocTypeGridEditor.Web.Extensions.HtmlHelperExtensions.RenderDocTypeGridEditorItem(HtmlHelper helper, IPublishedElement content, String editorAlias, String viewPath, String previewViewPath, Boolean isPreview)
   at ASP._Page_app_plugins_doctypegrideditor_render_DocTypeGridEditor_cshtml.Execute() in C:\home\site\wwwroot\app_plugins\doctypegrideditor\render\DocTypeGridEditor.cshtml:line 34
   at System.Web.WebPages.WebPageBase.ExecutePageHierarchy()
   at System.Web.Mvc.WebViewPage.ExecutePageHierarchy()
   at System.Web.WebPages.WebPageBase.ExecutePageHierarchy(WebPageContext pageContext, TextWriter writer, WebPageRenderingBase startPage)
   at System.Web.Mvc.RazorView.RenderView(ViewContext viewContext, TextWriter writer, Object instance)
   at System.Web.Mvc.BuildManagerCompiledView.Render(ViewContext viewContext, TextWriter writer)
   at Umbraco.Web.Mvc.ProfilingView.Render(ViewContext viewContext, TextWriter writer) in D:\a\1\s\src\Umbraco.Web\Mvc\ProfilingView.cs:line 25
   at System.Web.Mvc.HtmlHelper.RenderPartialInternal(String partialViewName, ViewDataDictionary viewData, Object model, TextWriter writer, ViewEngineCollection viewEngineCollection)
   at System.Web.Mvc.Html.PartialExtensions.Partial(HtmlHelper htmlHelper, String partialViewName, Object model, ViewDataDictionary viewData)
   at System.Web.Mvc.Html.PartialExtensions.Partial(HtmlHelper htmlHelper, String partialViewName, Object model)
   at ASP._Page_Views_Partials_grid_editors_Base_cshtml.Execute() in C:\home\site\wwwroot\Views\Partials\grid\editors\Base.cshtml:line 20