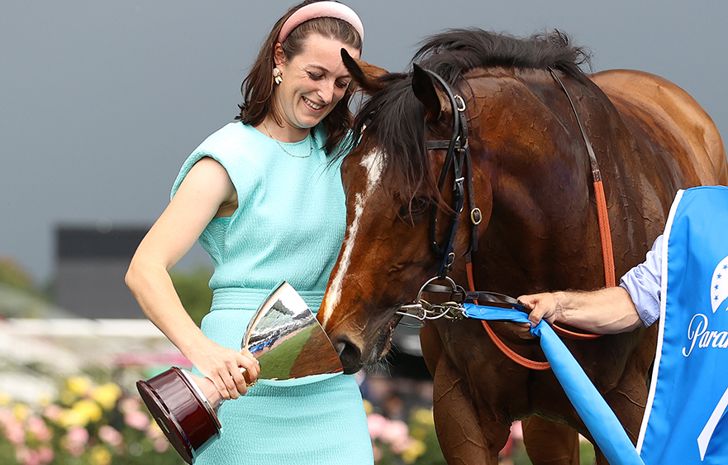 Training with hands and heart
15 March 2022
•
Written by
Mick Sharkie
Annabel Neasham is a relatively new name in Australian racing, but she and her horses are already making a big impact.
Annabel Neasham has fond memories of walking to town as a child with her parents through the sleepy village where she was raised.
There wasn't much to see or do in Croughton, a dot on the map in Northamptonshire around 70 miles from London, but there was a special resident with whom she formed an unexpected bond.
His name was Buttons and he was the town pony.
Neasham doesn't know how or why she was first drawn to the scruffy horse, but those walks with Mum and Dad quickly became punctuated by a stop off to see Buttons, just to lay a hand on him.
"Mum and Dad had ponies when they were children but not anywhere near when I was growing up. My Granny had ponies when she was a child, so maybe it was there in the blood somewhere," she mused.
"Whenever I saw Buttons, I wanted to stop and pat him and be with him. I was just drawn to horses, I don't know why, I think some children just have that connection with animals. I guess I'm one of those people."
Soon enough Neasham became Buttons' first riding partner, and he was followed by Harvey, Kara and Bobby Dazzler, a string of ponies that she would love equally, spending every waking moment she could in the saddle.
Neasham's skills developed to a standard that took her to international level in Ireland, and later in life she would showcase her talents as a rider again when winning the arduous Mongol Derby, but a professional equestrian career was never really a reality.
"The best girl in England at the time lived in my village and I wasn't a patch on her. I loved riding but I had probably gone as far as I was going to in eventing," she said.
The equestrian world's loss was ultimately racing's gain. Neasham fell in love with the National Hunt circuit and the big-name jumps performers at the time, the great Kauto Star and his stablemate and sparring partner Denman. She followed British and Irish jumps racing with fanaticism and made her first foray into racing when riding out on jumps horses for morning trackwork.
Admittedly treading water at home in the UK, Neasham decided to take a chance and spread her wings after friends on a working holiday in Sydney called and said there were opportunities in Australia worth pursuing.
Legendary trainer and VRC Ambassador Gai Waterhouse AO was advertising for staff and Neasham applied.
"I told them I could ride and I wanted to do trackwork but I spent the first couple of weeks mucking out boxes," she said.
"I hadn't travelled to the other side of the world to muck boxes so I plucked up the courage to tell Gai that I had my helmet with me and would love to ride. She gave me a chance."
So impressed was Waterhouse that soon the track rider was put in charge of a small barn on Ascot Street and then was sent to Melbourne to oversee a small team for a spring campaign. It was in Melbourne where she met Ciaron Maher and soon was offered a job as a general in his growing stable.
"Gai taught me the value of hard work and presentation, she is a stickler for both. When you look over her career, those two elements stand out – she works incredibly hard and is always looking to improve, and she is always immaculately presented and well-spoken. She is an amazing woman."
Like Waterhouse, Neasham made waves early in her career as a trainer. Leaving the Maher stable in 2020 to take out her own license in August of that year, Neasham took just eight months to land her first Group 1 with Mo'Unga in the Rosehill Guineas.
More success followed and fast, thanks to an English import by the name of Zaaki.
Plucked from the Tattersalls Horses In Training Sale in October 2020 for 150,000 guineas by agent Stuart Boman's Blandfor Bloodstock, Zaaki became a phenomenon in Australia, winning the Group 2 Hollindale Stakes, Group 1 Doomben Cup and the million-dollar The Q22 at Eagle Farm in his first preparation.
"The English way of training just took away his brilliance, that program of working every day, it didn't suit him. Zaaki is a very proud horse, that's his x-factor. You have to train him that way and let him feel like he's in control when really, he's not. James McDonald describes him as King Kong and that is probably the best way to think of him," Neasham explained.
With eyes on the Cox Plate, Neasham endured the lowest moment in her career on the morning of the race when Zaaki presented with a raised temperature following his morning work. She checked it once, twice, three times and up it went ... she knew the horse must be scratched.
"I was devastated, more so for the owners than myself because they had shown so much faith in me. The day before we'd had lunch together and we were all so pumped … we were so close and then it was gone. It was heartbreaking," she said.
Neasham returned to Sydney but left Zaaki in Melbourne to recover with the prospect of a run in the Group 1 Paramount+ Mackinnon Stakes a possible spring finale.
"I toyed with sending him to paddock, I really did. I asked James McDonald to ride him one morning to see how he felt and he told me he was only fair. I decided to come back to Melbourne and see for myself," Neasham explained.
She just had to be with her horse.
"You've got to read the horse, but they are not always easy to read. Being with Zaaki that week, watching him every day, laying hands on him, I was confident he had recovered. I told the owners we would push on, I just hoped that I was right," she said.
As she watched Zaaki and McDonald cruise proudly out in front through the middle stages of the Mackinnon, Neasham knew she had made the right call. King Kong was back and he was about to show Flemington all of his famous power.
"When he turned into the straight, I knew what was going to happen, but it was relief rather than elation. I was just so relieved that he had shown everyone what he could do and so happy that the owners got to have that moment at Flemington," she said.
"It was incredibly special, my first Group 1 at Flemington, and in such an iconic race. I remember talking to Mum and Dad later on and just being in disbelief, it's just been such an incredible journey."
A journey that Neasham could never have predicted in her wildest dreams when she packed her helmet and bags for Sydney five and a half years ago, and one that continues to surprise her at every turn.
Image caption: Annabel Neasham and Zaaki after his 2021 Mackinnon Stakes triumph.
System.Web.HttpException (0x80004005): Error executing child request for handler 'System.Web.Mvc.HttpHandlerUtil+ServerExecuteHttpHandlerAsyncWrapper'. ---> System.NullReferenceException: Object reference not set to an instance of an object.
   at ASP._Page_Views_Partials_googleAd_cshtml.Execute() in C:\home\site\wwwroot\Views\Partials\googleAd.cshtml:line 4
   at System.Web.WebPages.WebPageBase.ExecutePageHierarchy()
   at System.Web.Mvc.WebViewPage.ExecutePageHierarchy()
   at System.Web.WebPages.WebPageBase.ExecutePageHierarchy(WebPageContext pageContext, TextWriter writer, WebPageRenderingBase startPage)
   at System.Web.Mvc.RazorView.RenderView(ViewContext viewContext, TextWriter writer, Object instance)
   at System.Web.Mvc.BuildManagerCompiledView.Render(ViewContext viewContext, TextWriter writer)
   at Umbraco.Web.Mvc.ProfilingView.Render(ViewContext viewContext, TextWriter writer) in D:\a\1\s\src\Umbraco.Web\Mvc\ProfilingView.cs:line 25
   at System.Web.Mvc.ViewResultBase.ExecuteResult(ControllerContext context)
   at System.Web.Mvc.ControllerActionInvoker.InvokeActionResult(ControllerContext controllerContext, ActionResult actionResult)
   at System.Web.Mvc.ControllerActionInvoker.InvokeActionResultFilterRecursive(IList`1 filters, Int32 filterIndex, ResultExecutingContext preContext, ControllerContext controllerContext, ActionResult actionResult)
   at System.Web.Mvc.ControllerActionInvoker.InvokeActionResultFilterRecursive(IList`1 filters, Int32 filterIndex, ResultExecutingContext preContext, ControllerContext controllerContext, ActionResult actionResult)
   at System.Web.Mvc.ControllerActionInvoker.InvokeActionResultFilterRecursive(IList`1 filters, Int32 filterIndex, ResultExecutingContext preContext, ControllerContext controllerContext, ActionResult actionResult)
   at System.Web.Mvc.ControllerActionInvoker.InvokeActionResultFilterRecursive(IList`1 filters, Int32 filterIndex, ResultExecutingContext preContext, ControllerContext controllerContext, ActionResult actionResult)
   at System.Web.Mvc.ControllerActionInvoker.InvokeActionResultFilterRecursive(IList`1 filters, Int32 filterIndex, ResultExecutingContext preContext, ControllerContext controllerContext, ActionResult actionResult)
   at System.Web.Mvc.ControllerActionInvoker.InvokeActionResultWithFilters(ControllerContext controllerContext, IList`1 filters, ActionResult actionResult)
   at System.Web.Mvc.Async.AsyncControllerActionInvoker.<>c__DisplayClass3_6.<BeginInvokeAction>b__4()
   at System.Web.Mvc.Async.AsyncControllerActionInvoker.<>c__DisplayClass3_1.<BeginInvokeAction>b__1(IAsyncResult asyncResult)
   at System.Web.Mvc.Async.AsyncResultWrapper.WrappedAsyncResult`1.CallEndDelegate(IAsyncResult asyncResult)
   at System.Web.Mvc.Async.AsyncResultWrapper.WrappedAsyncResultBase`1.End()
   at System.Web.Mvc.Async.AsyncControllerActionInvoker.EndInvokeAction(IAsyncResult asyncResult)
   at System.Web.Mvc.Controller.<>c.<BeginExecuteCore>b__152_1(IAsyncResult asyncResult, ExecuteCoreState innerState)
   at System.Web.Mvc.Async.AsyncResultWrapper.WrappedAsyncVoid`1.CallEndDelegate(IAsyncResult asyncResult)
   at System.Web.Mvc.Async.AsyncResultWrapper.WrappedAsyncResultBase`1.End()
   at System.Web.Mvc.Controller.EndExecuteCore(IAsyncResult asyncResult)
   at System.Web.Mvc.Controller.<>c.<BeginExecute>b__151_2(IAsyncResult asyncResult, Controller controller)
   at System.Web.Mvc.Async.AsyncResultWrapper.WrappedAsyncVoid`1.CallEndDelegate(IAsyncResult asyncResult)
   at System.Web.Mvc.Async.AsyncResultWrapper.WrappedAsyncResultBase`1.End()
   at System.Web.Mvc.Controller.EndExecute(IAsyncResult asyncResult)
   at System.Web.Mvc.Controller.System.Web.Mvc.Async.IAsyncController.EndExecute(IAsyncResult asyncResult)
   at System.Web.Mvc.MvcHandler.<>c.<BeginProcessRequest>b__20_1(IAsyncResult asyncResult, ProcessRequestState innerState)
   at System.Web.Mvc.Async.AsyncResultWrapper.WrappedAsyncVoid`1.CallEndDelegate(IAsyncResult asyncResult)
   at System.Web.Mvc.Async.AsyncResultWrapper.WrappedAsyncResultBase`1.End()
   at System.Web.Mvc.MvcHandler.EndProcessRequest(IAsyncResult asyncResult)
   at System.Web.Mvc.MvcHandler.System.Web.IHttpAsyncHandler.EndProcessRequest(IAsyncResult result)
   at System.Web.Mvc.HttpHandlerUtil.ServerExecuteHttpHandlerAsyncWrapper.<>c__DisplayClass3_0.<EndProcessRequest>b__0()
   at System.Web.Mvc.HttpHandlerUtil.ServerExecuteHttpHandlerWrapper.<>c__DisplayClass5_0.<Wrap>b__0()
   at System.Web.Mvc.HttpHandlerUtil.ServerExecuteHttpHandlerWrapper.Wrap[TResult](Func`1 func)
   at System.Web.Mvc.HttpHandlerUtil.ServerExecuteHttpHandlerWrapper.Wrap(Action action)
   at System.Web.Mvc.HttpHandlerUtil.ServerExecuteHttpHandlerAsyncWrapper.EndProcessRequest(IAsyncResult result)
   at System.Web.HttpServerUtility.ExecuteInternal(IHttpHandler handler, TextWriter writer, Boolean preserveForm, Boolean setPreviousPage, VirtualPath path, VirtualPath filePath, String physPath, Exception error, String queryStringOverride)
   at System.Web.HttpServerUtility.ExecuteInternal(IHttpHandler handler, TextWriter writer, Boolean preserveForm, Boolean setPreviousPage, VirtualPath path, VirtualPath filePath, String physPath, Exception error, String queryStringOverride)
   at System.Web.HttpServerUtility.Execute(IHttpHandler handler, TextWriter writer, Boolean preserveForm, Boolean setPreviousPage)
   at System.Web.HttpServerUtility.Execute(IHttpHandler handler, TextWriter writer, Boolean preserveForm)
   at System.Web.HttpServerUtilityWrapper.Execute(IHttpHandler handler, TextWriter writer, Boolean preserveForm)
   at System.Web.Mvc.Html.ChildActionExtensions.ActionHelper(HtmlHelper htmlHelper, String actionName, String controllerName, RouteValueDictionary routeValues, TextWriter textWriter)
   at System.Web.Mvc.Html.ChildActionExtensions.Action(HtmlHelper htmlHelper, String actionName, String controllerName, RouteValueDictionary routeValues)
   at Our.Umbraco.DocTypeGridEditor.Web.Extensions.HtmlHelperExtensions.RenderDocTypeGridEditorItem(HtmlHelper helper, IPublishedElement content, String editorAlias, String viewPath, String previewViewPath, Boolean isPreview)
   at ASP._Page_app_plugins_doctypegrideditor_render_DocTypeGridEditor_cshtml.Execute() in C:\home\site\wwwroot\app_plugins\doctypegrideditor\render\DocTypeGridEditor.cshtml:line 34
   at System.Web.WebPages.WebPageBase.ExecutePageHierarchy()
   at System.Web.Mvc.WebViewPage.ExecutePageHierarchy()
   at System.Web.WebPages.WebPageBase.ExecutePageHierarchy(WebPageContext pageContext, TextWriter writer, WebPageRenderingBase startPage)
   at System.Web.Mvc.RazorView.RenderView(ViewContext viewContext, TextWriter writer, Object instance)
   at System.Web.Mvc.BuildManagerCompiledView.Render(ViewContext viewContext, TextWriter writer)
   at Umbraco.Web.Mvc.ProfilingView.Render(ViewContext viewContext, TextWriter writer) in D:\a\1\s\src\Umbraco.Web\Mvc\ProfilingView.cs:line 25
   at System.Web.Mvc.HtmlHelper.RenderPartialInternal(String partialViewName, ViewDataDictionary viewData, Object model, TextWriter writer, ViewEngineCollection viewEngineCollection)
   at System.Web.Mvc.Html.PartialExtensions.Partial(HtmlHelper htmlHelper, String partialViewName, Object model, ViewDataDictionary viewData)
   at System.Web.Mvc.Html.PartialExtensions.Partial(HtmlHelper htmlHelper, String partialViewName, Object model)
   at ASP._Page_Views_Partials_grid_editors_Base_cshtml.Execute() in C:\home\site\wwwroot\Views\Partials\grid\editors\Base.cshtml:line 20