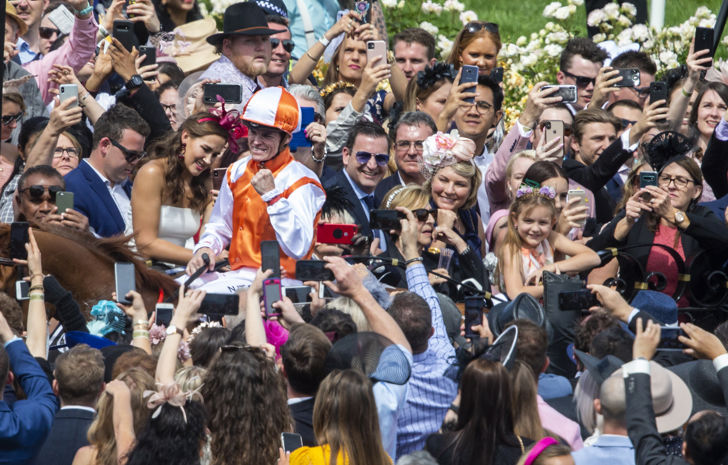 Vow And Declare's shot at Cup history
31 October 2022
•
Written by
Brad Bishop – Racing & Sports
When Danny O'Brien sits down at the end of his decorated training career and recounts his favourite horses, Vow And Declare will no doubt be one of the first names that comes to mind.
That stands to reason given the son of Declaration Of War attached O'Brien's name to the greatest honour roll in Australian racing with his thrilling win in 2019 Melbourne Cup, but O'Brien's affection for the gelding runs deeper than that.
Vow And Declare is easily the longest-serving member of O'Brien's stable, which takes in bases at Flemington and Barwon Heads.
"He's been with us for almost six years now, ever since he was a yearling, so he's naturally a favourite especially given he's a horse with such a great personality," O'Brien said.
"He's just a beautiful horse to do anything with and he's a pleasure to have around.
"He's been in the stable probably two or three years longer than the next longest inhabitant, so while winning the Melbourne Cup helps, you naturally become a stable favourite when you're around for that long."
O'Brien welcomed Vow And Declare into his stable in 2017, a few months after he was retained to race by breeder Paul Lanskey after being passed in when failing to reach his $60,000 reserve at the Inglis Classic Yearling Sale.
Chasing a unique slice of history
Five horses have won Australia's most famous race more than once; three-time winner Makybe Diva (2003-05), back-to-back champions Archer (1861/62), Rain Lover (1968/69) and Think Big (1974/75) along with Peter Pan, who won in 1932 and 1934.
No horse has won it three years after tasting Cup success. In fact, only 10 times in the Cup's 161-year history has a winner run in the race three years later with fourth placings by Tim Whiffler (1870) and Kiwi (1986) the best results.
Doriemus, the 1995 Cup champion, was the last to attempt it, finishing 19th in the 1998 edition won by Jezabeel.
It's a daunting statistic O'Brien is aware of, but one that is not going to deter connections, particularly in light of how well the seven-year-old is performing this preparation.
"Historically, if you've won one that's basically it, but he's coming back this year with a live hope," O'Brien said.
"The handicap helps. He's getting back down in the weights because of the last two or three years of issues, so 54 kilos helps and puts him in the strike zone to be competitive."
Vow And Declare's performances have justified the owners' decision, in consultation with O'Brien, to race on after his career has appeared at the crossroads more than once.
He did not come up as a five-year-old the spring after his Melbourne Cup success, finishing in the second half of the field in four runs, including a Melbourne Cup 18th placing, and didn't even make it to Flemington on the first Tuesday in November last year.
Vow And Declare suffered a career-threatening tendon injury in the Group 3 Naturalism Stakes (2000m), which prompted O'Brien and the owners to have honest discussions around whether it was worth persisting the horse who had already provided them with so much.
"There was serious consideration around whether we would rehab him or would retire him and we decided that we were keen to have another go," O'Brien said.
"Even though he was six, turning seven, he hadn't had a lot of starts. He'd only had 20-odd starts, but obviously had given us all such a great ride and we didn't want to die wondering.
"We sent him straight to Lee Evison's, literally the week that that occurred, and he was there for probably four or five months before he came back to us.
"Lee specialises in tendon rehab, he does a lot of trotting with them just to realign all those fibres in the tendon as they're healing.
"He did a good job with that, we've had the horse back since about May, he's had a really good, searching winter preparation down at my property at Barwon Heads just getting that fitness back into him and obvious the racing over the past couple of months to bring him to his top."
Vow And Declare's first start since last year's Naturalism Stakes came in a 1600m handicap at Caulfield on August 13 when he finished fifth of seven, beaten just over five lengths.
He stepped straight up to a 2500m handicap at Flemington on September 10, in which he ran an encouraging third, and was then a luckless fifth over the same course and trip in the Group 3 The Bart Cummings.
That was not a high enough finish to guarantee him a start in the Melbourne Cup, but he did so with a sixth placing in the Caulfield Cup, which ensured he had passed the first elimination clause.
It was not a podium finish like three years ago, when he rounded his Melbourne Cup preparations with a Caulfield Cup second, but O'Brien couldn't be happier with his condition.
"I think he goes in there in as good a form. He ran second in the Caulfield Cup as a four-year-old, but that was a race that really suited him. They went hard and he ran on strongly.
"They went slowly this year in the Caulfield Cup and he ran sixth but only beaten a couple of lengths and probably the race shape didn't suit him this year.
"It's been a long time between drinks, but the owners have never lost faith in him and they've been up and about this spring seeing him right back in the pointy end of these big races."
Vow And Declare will start from barrier four on Tuesday with Blake Shinn, who won the Melbourne Cup 14 years ago aboard Viewed, to take the ride.