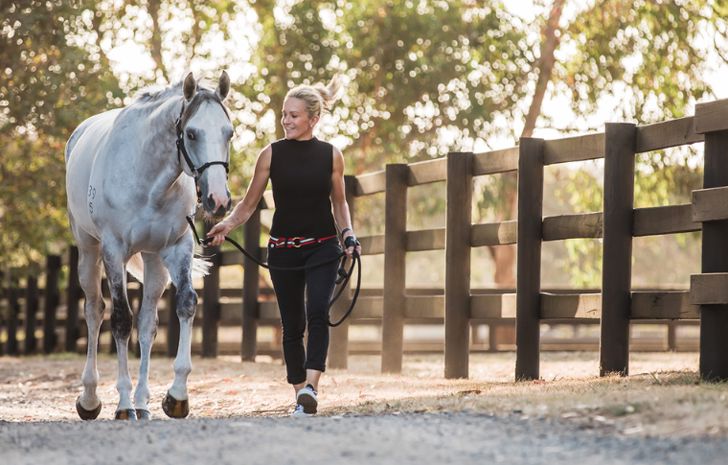 VRC Ambassador Amanda Ross wins Off The Track Dressage Series
4 April 2023
•
Written by
VRC
Victoria Racing Club (VRC) Ambassador Amanda Ross and her thoroughbred Romeo have been announced as the overall champions in the Preliminary division of the Racing Victoria (RV) Off The Track (OTT) Dressage Series, conducted at Boneo Park from December 2022 to March 2023.
34 thoroughbreds competed across the three competitions, all held at the world-class Boneo Park equestrian facility. $7,000 was on offer for the OTT Dressage Series which was open exclusively to thoroughbreds and consisted of a total of 10 heats, with each combination's best three results contributing to their final score.
Amanda and Romeo finished on top in the Preliminary section with a score of 216.755, with runners-up Jenny Bennett and Awakino on 212.008, and third placegetters Heidi Pickstock and DP Choir on 206.935.
Amanda was delighted with her horse's performance and thoroughly enjoyed competing in the series.
"I'm rapt with Romeo," Amanda said,
"It is such a journey to take a thoroughbred off the track and come out in the atmosphere and get them to relax. To be able to do a whole series against other thoroughbreds in the same boat is just wonderful."
"These events are giving people an incentive to buy a thoroughbred, to come out and compete only against thoroughbreds on a level playing field. The people who are competing here are loving it."
In the Novice section, Mariah Kaminski and former Flemington-trained gelding Linton Street finished in first place on 207.209, ahead of Fiona Barker and Penrhos Gamble (204.308) and Jessica Morrison and Afterlife (204.074).
The competition has been hailed as a success by Boneo Park's Managing Director, Fiona Selby.
"Boneo Park is proud to have developed the OTT Dressage Series with Racing Victoria and the improvement in the quality and quantity of OTT horses participating in the series over the past three years is brilliant to see," Mrs Selby said.
"To have OTT horses scoring above 70% at our official dressage events shows the suitability of these horses to have careers as competitive dressage horses."
The thoroughbreds on show also garnered plenty of compliments from Olympic-level dressage judge Susan Hoevenaars.
"I was really impressed with them. They were trying to please, they had a really nice attitude," Ms Hoevenaars said.
"They came out and they were standing quietly… I could see them talking outside the arena before and after their tests on a loose rein, and I thought, 'Well, doesn't this say a lot!' They can stand, they can relax. They all seem to have a very good brain."
This series is part of RV's Off The Track program which is committed to driving the demand for retired thoroughbred racehorses via the sponsorship of equestrian events across all classes, disciplines and horse sports.
Here's a video from when Romeo first joined Amanda's stable last year. They come a long way since then!