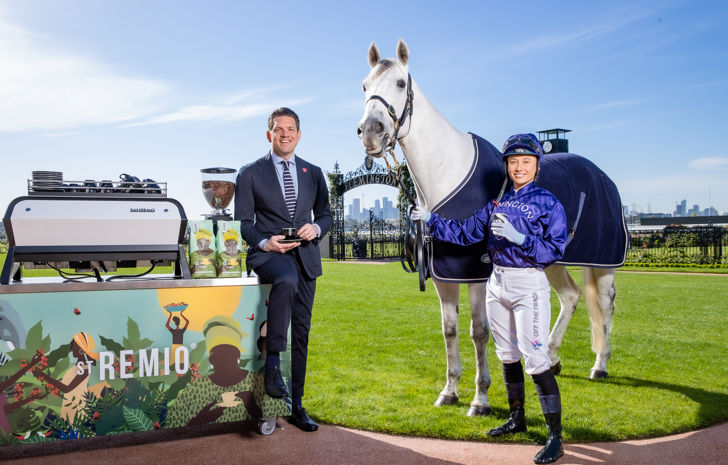 VRC welcomes new coffee partner ahead of bumper Cup Week
20 October 2022
•
Written by
VRC
The Victoria Racing Club (VRC) is delighted to announce St Remio as its new Official Coffee Partner.
The three-year deal sees St Remio providing premium, sustainably sourced coffee and state-of-the-art coffee machines in all Flemington Racecourse venues including members, general admission and office areas.
St Remio will also have the exclusive supply rights of product on race days until 2025.
Founded in Melbourne by Julia Tink and Trent Knox, St Remio is committed to not only supplying great coffee but empowering growers through funding education and infrastructure projects at the source to benefit coffee growing communities.
VRC Chief Executive Officer Steve Rosich said the club was delighted to welcome St Remio to the Flemington family.
"St Remio coffee will not only supply quality machines and beans, but every cup that is poured at Flemington will contribute to supporting female farmers in Rwanda," Mr Rosich said.
"From a quick espresso on the famous Flemington Front Lawn, to savouring a cappuccino in The Bakery, to an espresso martini on The Roof Garden, this is an exciting new partnership for our customers.
"It is also a partnership that aligns with our corporate social responsibility strategy, including our commitment to sustainability and community engagement."
St Remio co-founders Julia Tink and Trent Knox are excited to team up with the VRC as their exclusive coffee partners.
"This is a great opportunity to share our story with racegoers and the wider community. At St Remio, we are all about challenging people to think about where their coffee comes from and the impact their choice can have on the lives of others," Knox explains.
Tink agrees, "You'll probably never meet the people who grow your coffee, but with each sip you take, you are allowing us to have a positive impact on the lives of female coffee farmers and empower them in business. Your choice is a powerful one, and your support is allowing us to make a meaningful difference in the lives of coffee farmers and their families."
The Victoria Racing Club's sustainability strategy includes our Venue Presentation Partner Cirka collecting used coffee grounds as part of the organics waste stream. The grounds are then transformed into compost which eventually makes its way back onto Flemington's famous grounds and gardens.
To learn more about St Remio, visit stremiocoffee.com