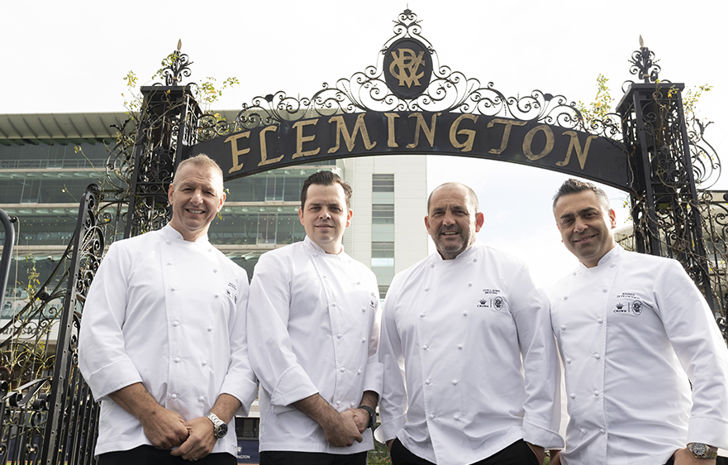 VRC welcomes some of Crown's best culinary talent to Flemington
1 June 2022
•
Written by
VRC
The 2022 Melbourne Cup Carnival is gearing up to be a major event like no-other, with the Victoria Racing Club and Crown today revealing the first suite of acclaimed chefs behind Flemington Racecourse's incredible culinary transformation – including award-winning chef Guillaume Brahimi and Melbourne's own king of Italian Johnny Di Francesco.
Under Crown Melbourne's management of the hospitality offerings across Flemington Racecourse, racegoers and event attendees will experience significant food and beverage enhancements.
Guillaume Brahimi is set to bring his exquisite French fine dining to the jewel in the crown of The Club Stand, The Byerley, while acclaimed chef Johnny Di Francesco will bring a delicious Italian inspired menu to diners at Straight Six from this Saturday.
Joining them is newly appointed Crown's Executive Chef at VRC Josh Pelham and Crown Melbourne Executive Chef Kelly Jackson, who will be crafting the dining experience across The Chairman's Club, The Terrace and other corporate and VRC member dining venues.
Plans for these premium member spaces also include elevated member experiences in collaboration with Crown's national roster of culinary talent, such as Alessandro Pavoni of a'Mare and Ormeggio fame.
Pelham and Jackson will also create menus for the VRC's non-race day events business, extending to weddings, parties and conferences across the venue's 30 incredible event spaces.
Pelham brings to Flemington an impressive portfolio of local and international experience, including two-hatted Melbourne institution Matteo, London's The Square, Scott Pickett's Estelle, RACV's Cape Schanck Resort, and working for international chef royalty, Thomas Kellar at The French Laundry.
Renowned chefs including Guillaume Brahimi and Johnny Di Francesco among those set to transform the culinary experience at Flemington Racecourse
General admission racegoers will also have a great range of new options to choose from with a suite of casual Crown eateries set to pop-up throughout the year including much-loved Crown Melbourne brands Merrywell Bar and Dining, San Antone and Gochi, with other retail venues honouring the race day classics alongside some exciting new menu items year round.
Not only will this partnership support over 1,500 jobs on-site, Crown and the VRC have announced a strong commitment to local suppliers as part of this deal. Between $15-20 million in goods and services will be procured each year, with over 90 per cent of those products coming from local Victorian businesses and suppliers.
In addition to the chef line-up announced today, further plans are well underway to evolve the new culinary program with additional residencies by members of Crown's talented culinary team and line-up from right around Australia during key seasonal moments and events such as the iconic Melbourne Cup Carnival - check out our tickets and packages. 
---
Guillaume Brahimi
"Food is such an important part of an exceptional event experience, so it's fantastic to be working with the team at the Victoria Racing Club to elevate the offering for VRC Members and their guests.
I am delighted to be taking up residence in The Byerley restaurant, where my food philosophy of using outstanding seasonal produce will come to the fore, working with local suppliers to grow and source produce specifically for the menu.
Fine food, wine and racing go hand in hand and I look forward to bringing my French flair to Flemington!"
Johnny Di Francesco
"My Italian inspired menu in Straight Six will be perfect for celebrating a race day at Flemington Racecourse. I can't wait to share the stories and ingredients of this state's amazing farmers, growers and producers with guests at one of Australia's most iconic sporting destinations.
This new collaboration gives me a great platform to show off Victorian produce and the very best of Victoria's hospitality in one of the most beautiful venues in Australia."
Victoria Racing Club Chairman Neil Wilson
"The Victoria Racing Club's new partnership with Crown Melbourne is creating an unparalleled dining experience at Flemington Racecourse for VRC members and guests, with a renewed focus on exceptional produce, presentation and service.  This culinary transformation sees some of the nation's most celebrated chefs settling into the exceptional venues at Flemington Racecourse from this Saturday.
We are delighted to welcome the acclaimed Guillaume Brahimi, Johnny Di Francesco, Kelly Jackson and Josh Pelham into the Flemington family. Racegoers will be spoiled for choice with traditional race day favourites reinvented, alongside new offerings from some of Australia's finest culinary talent using produce that is almost all sourced from Victoria. There will be something delicious for everyone to discover."
Crown Melbourne Chief Executive Officer Steve McCann
"Crown Melbourne is thrilled to be partnering with the VRC to bring the talent of our world-class chefs to the magnificent venues at Flemington Racecourse. Collaboration will be a cornerstone of the recovery of Melbourne's tourism, hospitality and events industry and two exceptional Melbourne brands coming together is not only good news for us, but good for Victoria and for maintaining Melbourne's mantle as the events capital of Australia."
---
Meet the renowned chefs set to transform the culinary experience at Flemington Racecourse.
System.Web.HttpException (0x80004005): Error executing child request for handler 'System.Web.Mvc.HttpHandlerUtil+ServerExecuteHttpHandlerAsyncWrapper'. ---> System.NullReferenceException: Object reference not set to an instance of an object.
   at ASP._Page_Views_Partials_googleAd_cshtml.Execute()
   at System.Web.WebPages.WebPageBase.ExecutePageHierarchy()
   at System.Web.Mvc.WebViewPage.ExecutePageHierarchy()
   at System.Web.WebPages.WebPageBase.ExecutePageHierarchy(WebPageContext pageContext, TextWriter writer, WebPageRenderingBase startPage)
   at System.Web.Mvc.RazorView.RenderView(ViewContext viewContext, TextWriter writer, Object instance)
   at System.Web.Mvc.BuildManagerCompiledView.Render(ViewContext viewContext, TextWriter writer)
   at Umbraco.Web.Mvc.ProfilingView.Render(ViewContext viewContext, TextWriter writer) in D:\a\1\s\src\Umbraco.Web\Mvc\ProfilingView.cs:line 25
   at System.Web.Mvc.ViewResultBase.ExecuteResult(ControllerContext context)
   at System.Web.Mvc.ControllerActionInvoker.InvokeActionResult(ControllerContext controllerContext, ActionResult actionResult)
   at System.Web.Mvc.ControllerActionInvoker.InvokeActionResultFilterRecursive(IList`1 filters, Int32 filterIndex, ResultExecutingContext preContext, ControllerContext controllerContext, ActionResult actionResult)
   at System.Web.Mvc.ControllerActionInvoker.InvokeActionResultFilterRecursive(IList`1 filters, Int32 filterIndex, ResultExecutingContext preContext, ControllerContext controllerContext, ActionResult actionResult)
   at System.Web.Mvc.ControllerActionInvoker.InvokeActionResultFilterRecursive(IList`1 filters, Int32 filterIndex, ResultExecutingContext preContext, ControllerContext controllerContext, ActionResult actionResult)
   at System.Web.Mvc.ControllerActionInvoker.InvokeActionResultFilterRecursive(IList`1 filters, Int32 filterIndex, ResultExecutingContext preContext, ControllerContext controllerContext, ActionResult actionResult)
   at System.Web.Mvc.ControllerActionInvoker.InvokeActionResultFilterRecursive(IList`1 filters, Int32 filterIndex, ResultExecutingContext preContext, ControllerContext controllerContext, ActionResult actionResult)
   at System.Web.Mvc.ControllerActionInvoker.InvokeActionResultWithFilters(ControllerContext controllerContext, IList`1 filters, ActionResult actionResult)
   at System.Web.Mvc.Async.AsyncControllerActionInvoker.<>c__DisplayClass3_6.<BeginInvokeAction>b__4()
   at System.Web.Mvc.Async.AsyncControllerActionInvoker.<>c__DisplayClass3_1.<BeginInvokeAction>b__1(IAsyncResult asyncResult)
   at System.Web.Mvc.Async.AsyncResultWrapper.WrappedAsyncResult`1.CallEndDelegate(IAsyncResult asyncResult)
   at System.Web.Mvc.Async.AsyncResultWrapper.WrappedAsyncResultBase`1.End()
   at System.Web.Mvc.Async.AsyncControllerActionInvoker.EndInvokeAction(IAsyncResult asyncResult)
   at System.Web.Mvc.Controller.<>c.<BeginExecuteCore>b__152_1(IAsyncResult asyncResult, ExecuteCoreState innerState)
   at System.Web.Mvc.Async.AsyncResultWrapper.WrappedAsyncVoid`1.CallEndDelegate(IAsyncResult asyncResult)
   at System.Web.Mvc.Async.AsyncResultWrapper.WrappedAsyncResultBase`1.End()
   at System.Web.Mvc.Controller.EndExecuteCore(IAsyncResult asyncResult)
   at System.Web.Mvc.Controller.<>c.<BeginExecute>b__151_2(IAsyncResult asyncResult, Controller controller)
   at System.Web.Mvc.Async.AsyncResultWrapper.WrappedAsyncVoid`1.CallEndDelegate(IAsyncResult asyncResult)
   at System.Web.Mvc.Async.AsyncResultWrapper.WrappedAsyncResultBase`1.End()
   at System.Web.Mvc.Controller.EndExecute(IAsyncResult asyncResult)
   at System.Web.Mvc.Controller.System.Web.Mvc.Async.IAsyncController.EndExecute(IAsyncResult asyncResult)
   at System.Web.Mvc.MvcHandler.<>c.<BeginProcessRequest>b__20_1(IAsyncResult asyncResult, ProcessRequestState innerState)
   at System.Web.Mvc.Async.AsyncResultWrapper.WrappedAsyncVoid`1.CallEndDelegate(IAsyncResult asyncResult)
   at System.Web.Mvc.Async.AsyncResultWrapper.WrappedAsyncResultBase`1.End()
   at System.Web.Mvc.MvcHandler.EndProcessRequest(IAsyncResult asyncResult)
   at System.Web.Mvc.MvcHandler.System.Web.IHttpAsyncHandler.EndProcessRequest(IAsyncResult result)
   at System.Web.Mvc.HttpHandlerUtil.ServerExecuteHttpHandlerAsyncWrapper.<>c__DisplayClass3_0.<EndProcessRequest>b__0()
   at System.Web.Mvc.HttpHandlerUtil.ServerExecuteHttpHandlerWrapper.<>c__DisplayClass5_0.<Wrap>b__0()
   at System.Web.Mvc.HttpHandlerUtil.ServerExecuteHttpHandlerWrapper.Wrap[TResult](Func`1 func)
   at System.Web.Mvc.HttpHandlerUtil.ServerExecuteHttpHandlerWrapper.Wrap(Action action)
   at System.Web.Mvc.HttpHandlerUtil.ServerExecuteHttpHandlerAsyncWrapper.EndProcessRequest(IAsyncResult result)
   at System.Web.HttpServerUtility.ExecuteInternal(IHttpHandler handler, TextWriter writer, Boolean preserveForm, Boolean setPreviousPage, VirtualPath path, VirtualPath filePath, String physPath, Exception error, String queryStringOverride)
   at System.Web.HttpServerUtility.ExecuteInternal(IHttpHandler handler, TextWriter writer, Boolean preserveForm, Boolean setPreviousPage, VirtualPath path, VirtualPath filePath, String physPath, Exception error, String queryStringOverride)
   at System.Web.HttpServerUtility.Execute(IHttpHandler handler, TextWriter writer, Boolean preserveForm, Boolean setPreviousPage)
   at System.Web.HttpServerUtility.Execute(IHttpHandler handler, TextWriter writer, Boolean preserveForm)
   at System.Web.HttpServerUtilityWrapper.Execute(IHttpHandler handler, TextWriter writer, Boolean preserveForm)
   at System.Web.Mvc.Html.ChildActionExtensions.ActionHelper(HtmlHelper htmlHelper, String actionName, String controllerName, RouteValueDictionary routeValues, TextWriter textWriter)
   at System.Web.Mvc.Html.ChildActionExtensions.Action(HtmlHelper htmlHelper, String actionName, String controllerName, RouteValueDictionary routeValues)
   at Our.Umbraco.DocTypeGridEditor.Web.Extensions.HtmlHelperExtensions.RenderDocTypeGridEditorItem(HtmlHelper helper, IPublishedElement content, String editorAlias, String viewPath, String previewViewPath, Boolean isPreview)
   at ASP._Page_app_plugins_doctypegrideditor_render_DocTypeGridEditor_cshtml.Execute()
   at System.Web.WebPages.WebPageBase.ExecutePageHierarchy()
   at System.Web.Mvc.WebViewPage.ExecutePageHierarchy()
   at System.Web.WebPages.WebPageBase.ExecutePageHierarchy(WebPageContext pageContext, TextWriter writer, WebPageRenderingBase startPage)
   at System.Web.Mvc.RazorView.RenderView(ViewContext viewContext, TextWriter writer, Object instance)
   at System.Web.Mvc.BuildManagerCompiledView.Render(ViewContext viewContext, TextWriter writer)
   at Umbraco.Web.Mvc.ProfilingView.Render(ViewContext viewContext, TextWriter writer) in D:\a\1\s\src\Umbraco.Web\Mvc\ProfilingView.cs:line 25
   at System.Web.Mvc.HtmlHelper.RenderPartialInternal(String partialViewName, ViewDataDictionary viewData, Object model, TextWriter writer, ViewEngineCollection viewEngineCollection)
   at System.Web.Mvc.Html.PartialExtensions.Partial(HtmlHelper htmlHelper, String partialViewName, Object model, ViewDataDictionary viewData)
   at System.Web.Mvc.Html.PartialExtensions.Partial(HtmlHelper htmlHelper, String partialViewName, Object model)
   at ASP._Page_Views_Partials_grid_editors_Base_cshtml.Execute()