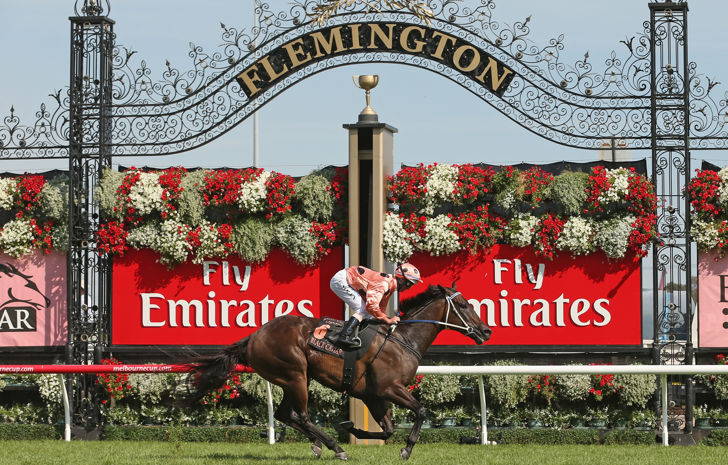 Who have been Flemington's fastest horses?
19 January 2023
•
Written by
Racing & Sports
With another instalment of Rapid Racing on Friday, and all seven races down the Flemington straight, we set out to find the fastest horses to scorch the famous turf.
Of course, there are a few ways to do this. Technology prior to the past few years has been limited with accurate sectional data only now becoming a regular, integral form aspect.
Given the changing nature of data over the years, and for us to go back to the start of this century to determine the fastest horses at Flemington, we've started with simple raw times.
We put the Racing And Sports database to work and have ranked the 12 fastest horses over the Flemington 1000m this century:
Black Caviar (55.42)
Black Caviar (55.53)
Testa Rossa (56.04)
The Soldier (56.06)
Rubison (56.16)
Isabella Snowflake (56.17)
Dance The Waves (56.24)
Belfast Boy (56.28)
Delegance (56.29)
Lankan Rupee (56.29)
The Quarterback (56.33)
Redkirk Warrior (56.33)
It comes as no shock to see wonder mare Black Caviar top the list, not once but twice. Her official time of 55.42 in the 2013 Lightning Stakes (now aptly named after her) is the fastest time ever recorded over the distance.
The remarkable thing about this list, and something that accentuates just how fast Black Caviar was, is just how far ahead of the rest of this list she is.
A gap of 0.62 seconds (approximately 4.5 lengths over 1000m) separates Black Caviar from the second fastest horse over the Flemington 1000m, which was six-time Group 1 winner Testa Rossa.
The gap then from Testa Rossa, all the way down to the 11th fastest horse (12th fastest time), which was Redkirk Warrior in the 2018 Lightning Stakes, is just 0.29 seconds. That means Black Caviar was over twice as fast as Testa Rossa, than Testa Rossa was of Redkirk Warrior.
In fact, her second fastest time of 55.53 set a year prior in the 2012 Lightning Stakes, arguably one of her best ever wins, is still 0.51 seconds faster than Testa Rossa and ~1.75x faster than he was of Redkirk Warrior.
Her 600-400m split in the 2012 Lightning Stakes topped the clock at 9.98 seconds, which would equate to a fastest speed of >72.1 km/h, over 7 km/h faster than her average speed of that race, which was 64.83 km/h.
There are a number of factors that go into producing a racehorse's fastest times. The track condition, wind, tempo, weight all play varying support roles to the most important factor - how talented the horse is.
While no horse on Friday is likely to come close to the likes of Black Caviar or even Testa Rossa and Redkirk Warrior, Rapid Racing, and the VRC's Fastest Speed Promotion celebrates what Australian racing has built its legacy on: speed.