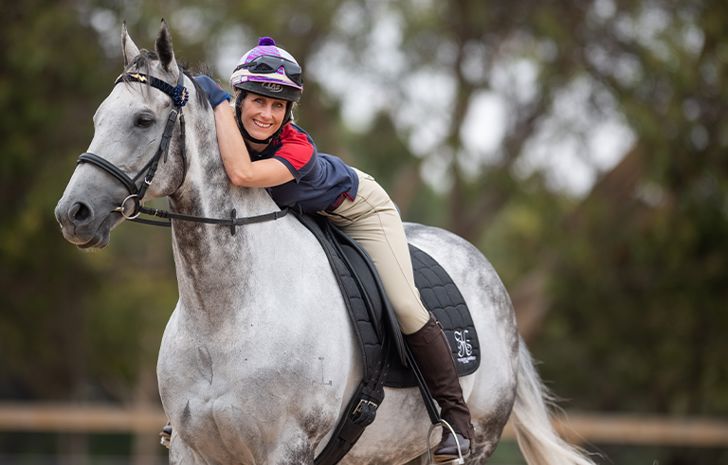 Chautauqua - The Great Grey Sharky
14 February 2023
•
Written by
VRC
Winner of the Black Caviar Lightning in 2016, the iconic grey Chautauqua was loved by racing fans for his unique racing style, breathtaking wins and that glorious dappled coat.
Since he infamously 'chose' to retire from racing, 'Sharky' happily found a new life with Casey Bruce in the show arena. We catch up with Casey and Sharky to hear what is next for the Grey Flash.
For months after his decision to simply not run in a race at Moonee Valley in September 2018, Chautauqua the champion gelding, who had dazzled world racing with six breathtaking Group 1 wins, had confounded the training partnership of John, Wayne and Michael Hawkes by flatly refusing to jump from the barriers.
At the time, racing enthusiasts (from whisperers to psychologists) were campaigning for the reintroduction of strand starts so that Chautauqua could once again produce his breathtaking 'last-to-first' victories against the very best.
Back in Melbourne, former jockey and accomplished show rider Casey Bruce was driving Chautauqua's principal owner Rupert Legh "mad" with requests to look after the then 10-year-old in retirement from racing. But Bruce's instincts told her the sprinter had much more to offer.
Her persistence paid off and in August 2019 Chautauqua – or Sharky as he is affectionately nicknamed – arrived at a property at Lara outside of Geelong: a place Bruce had designated as the horse's new home and place of rebirth.
 "The day he arrived there was untold excitement. He was a big, strong, world-class racehorse about to start a new chapter in his already decorated life. And I was going to play a fairly significant part."
Although thrilled with the challenge and opportunity, privately Bruce was concerned that the horse's detached and distant temperament was stifling him.
"He was reclusive. He kept to himself. Humans didn't really concern him and this bothered me because I knew I was overlooking something," she said. "The Hawkes stables in Sydney and Melbourne have done a fabulous job but I suppose in his last year in racing any new human beings that came into his life were going to ask him to do something he didn't want to do."
Bruce said it was on Christmas Day in 2019 when the penny dropped. During lunchtime festivities with family and friends she shared her theory on how to entice the Grey Flash into an entirely new arena.
"I explained to everyone how I felt, and then I thought I'd try something by getting a pony  on one side of the fence and Chautauqua on the other," she said. "They kicked and squealed and then suddenly the old boy started nibbling at the pony's back. His ears went forward and he was enjoying it. I took the pony away and stayed rubbing his back and scratching his hindquarters as he purred like a cat. The next morning I came out and all he wanted to do was nuzzle me, and just be my friend."
Through this unexpected bond, Bruce had breathed new life into the horse, who seemed to realise that the talented rider only wanted the best for him. She added: "Once upon a time he wouldn't have shown any interest, and now all he wants to do is bond with the horses here in the paddocks and the people around him."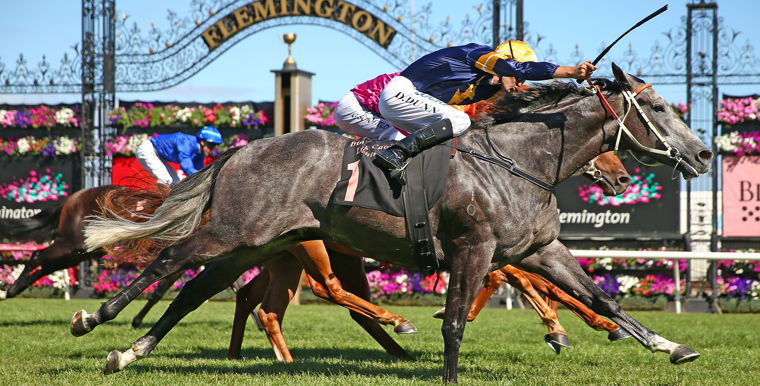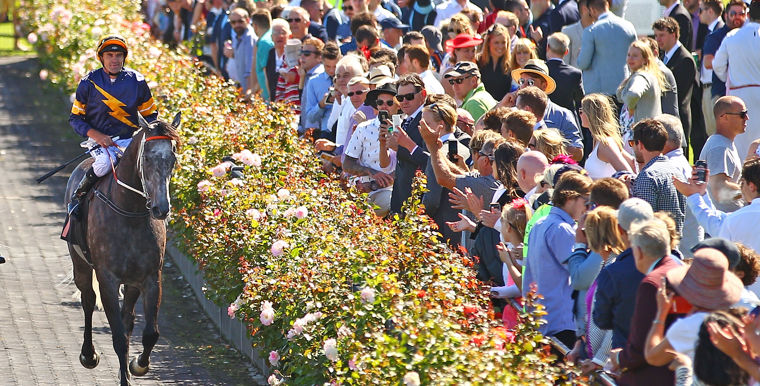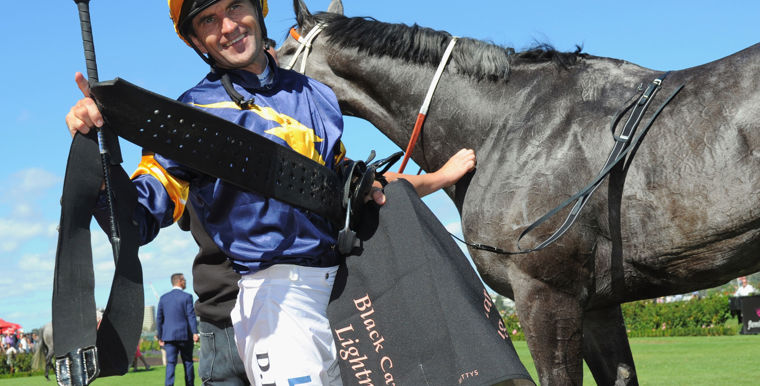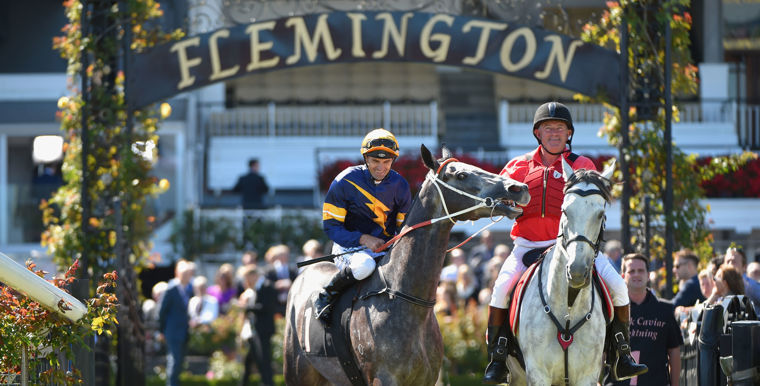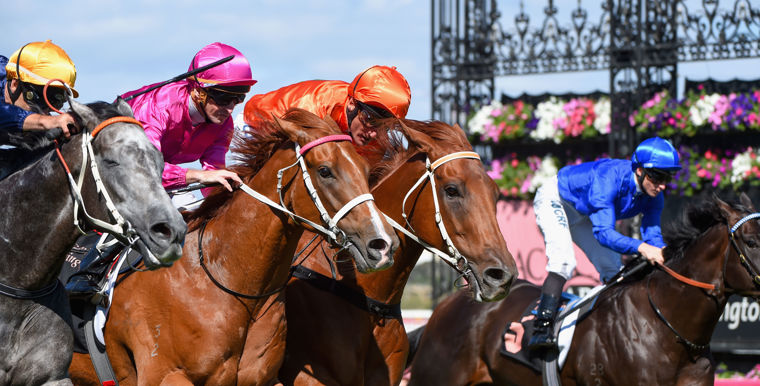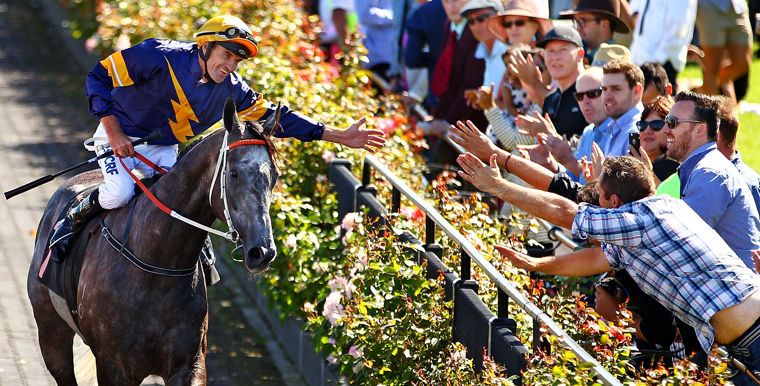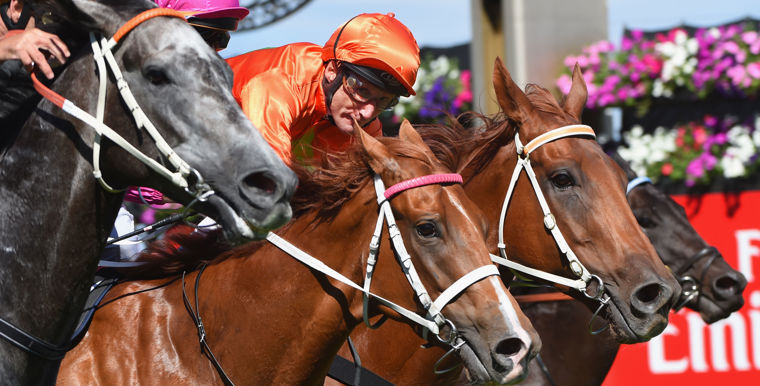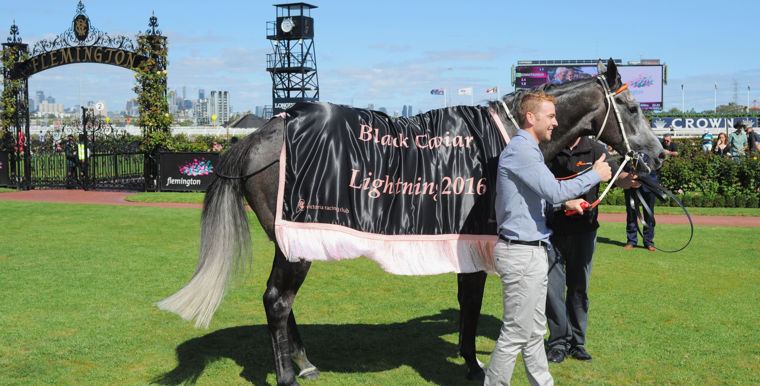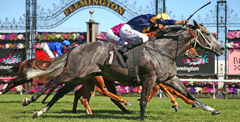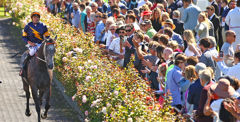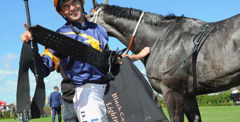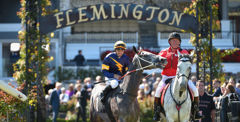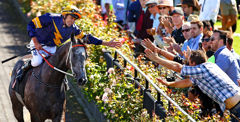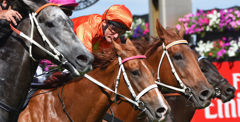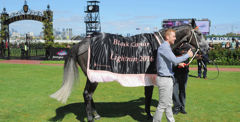 In 2020, Chautauqua's career as a show horse moved into its second stage, and now, after a successful stint in that area, he is heading into 2023 with yet another change of pace.
"Sharky has always struggled to fully relax in classes where there are a large number of horses, so because of this reason I felt he had won enough as a show horse and decided, why not try him at something I believe he would enjoy more? And that is dressage. This involves just he and I competing together, with no one chasing his tail or vice versa," said Bruce.
Sharky's show career held many highlights for Bruce, one of which was winning the VAS Newcomer Ridden horse of the Year.
"Another was winning the VAS OTT Fashion off the Field for two years in a row. We all know I love my fashion!"
Bruce would also like him to go to pony clubs, and encourage youngsters to become more involved with the racing industry. "I'd like to help showcase our lovely thoroughbreds."
She believes that Sharky would be a natural in this role, stating that, "He is such a gentle giant and adores littlies."
These affectionate qualities might have taken a little while to really surface, says Bruce, but now she believes he is the most loving and affectionate horse she's ever owned.
"He is so cuddly and is forever kissing me or my daughter, who he adores".
With a 'best mate' in Bruce's daughter's pony, Bucky (himself a show horse who has tasted success at the highest level, having won Royal Show Championships), it looks like Sharky is exactly where he needs to be.