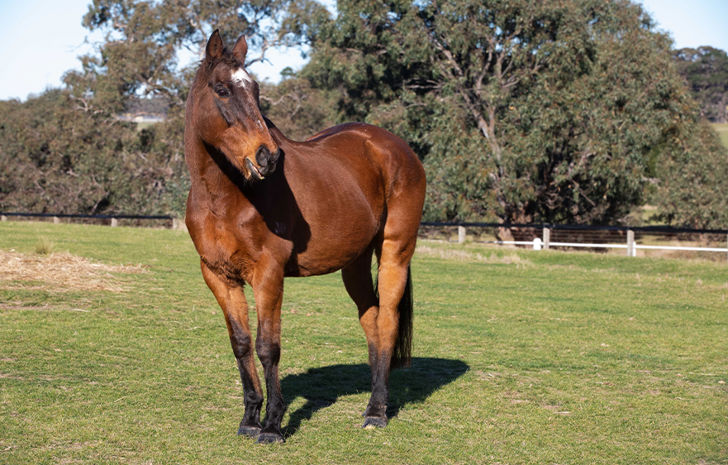 Farewell Rogan Josh
30 June 2022
•
Written by
VRC
The racing world mourns another racing hero with the recent passing of 1999 Melbourne Cup winner, Rogan Josh. He was humanely euthanised following complications surrounding a bout of colic.
West Australian gelding Rogan Josh went from obscurity to national prominence in the spring of 1999, culminating in a victory in the Melbourne Cup. Purchased for $13,000 by owner Wendy Green after he didn't reach his reserve price at the yearling sales, he began his racing career in Western Australia where he won four of his first five starts.
As a five-year-old under trainer Colin Webster, Rogan Josh recorded another four wins in Perth before heading to the 1998 Pinjarra Cup, which he won by a nose. This was followed by a win in the Group 3 Bunbury Cup. After a narrow loss in the 1999 Perth Cup followed three starts later with an equally narrow loss in the 1999 Bunbury Cup, Rogan Josh was transferred to the Cups' King, Bart Cummings, and set on a Cups' trail. Cummings liked the fact that Rogan Josh was lightly raced even though he was now a seven-year-old.
Rogan Josh ran a bold fourth to Sky Heights in the 1999 Caulfield Cup with Chris Munce on board.
Ridden by John Marshall in the Group 1 Mackinnon Stakes on AAMI Victoria Derby Day 1999, Rogan Josh caused an upset with a strong victory. This elevated him to second favourite for the Melbourne Cup where again with John Marshall aboard, he proved too strong for Godolphin's Central Park and gave Bart an historic 11th Melbourne Cup victory.
After winning the Melbourne Cup, owner Wendy Green drove home to Darwin with the Cup in the boot of her car, stopping off along the way to share the iconic trophy with many people. Her impromptu 'tour' captured the special spirit of the race, spreading it far and wide.
"Embedded in Rogan Josh's 1999 Melbourne Cup win was the national spirit of us as Aussies; a metaphor, if you like, of how we talk to ourselves about ourselves, and how we dare to dream; of equal opportunity; of courage and mateship; nostalgia, pride and triumph," explained Green, days after Rogan Josh's passing.
"The gold trophy in itself is a tangible symbol of all of these things and more. We have taken the 1999 Melbourne Cup to a lot of places over the 20 years since Rogan Josh won and I have come to see it as 'the Cup that kept on giving'.
"We have taken the 1999 Melbourne Cup to a lot of places over the 20 years since Rogan Josh won and I have come to see it as 'the Cup that kept on giving'." - Wendy Green
"Rogan Josh was a humble hero who will always own my heart. Through him I learned to celebrate the diversity yet sameness of our national identity. He has run his last race and his passing is deeply felt by those who loved him and whose lives he touched, especially his equine and human friends at the Living Legends – and  extend a special thank you to Dr Andrew Clarke – but his place in history is a good one, and my pride and gratitude in being part of his story is a priceless gift. Thank you, Josh," added Green.
Remembered as a progressive country galloper who took on the best weight-for-age and handicap horses in the eastern states and succeeded, Rogan Josh was retired in the autumn of 2000, moving to Living Legends in 2006. 'Josh', as he was known there, was one of the nine original horses at Living Legends. He was known to get excited when he visited the racetrack mounting yard on race days, or when walking down Swanston Street during the Melbourne Cup Parade. His last race day appearance at Flemington was on VRC National Jockeys Trust Race Day in May, 2022.
---
Rogan Josh  
1992 Bay Gelding – Old Spice (AUS) - Eastern Mystique (AUS)
Trainers:  C Webster/J.B Cummings
Owners:  Mrs W L Green & Mr J P Miller
Colours:  Turquoise, White Hoops
Career Stats
Starts:  38
Wins:  13
2nds:  6
3rds:  1
Prizemoney:  $2,683,692
Major Race Wins
■   Group 1 Melbourne Cup (1999)
■   Group 1 Mackinnon Stakes (1999)
■   Group 2 Herbert Power Stakes (1999)
■   Group 3 Bunbury Cup (1998)
■   Listed Pinjarra Cup (1998)
Living Legends photo by Magner Media
System.Web.HttpException (0x80004005): Error executing child request for handler 'System.Web.Mvc.HttpHandlerUtil+ServerExecuteHttpHandlerAsyncWrapper'. ---> System.NullReferenceException: Object reference not set to an instance of an object.
   at ASP._Page_Views_Partials_googleAd_cshtml.Execute()
   at System.Web.WebPages.WebPageBase.ExecutePageHierarchy()
   at System.Web.Mvc.WebViewPage.ExecutePageHierarchy()
   at System.Web.WebPages.WebPageBase.ExecutePageHierarchy(WebPageContext pageContext, TextWriter writer, WebPageRenderingBase startPage)
   at System.Web.Mvc.RazorView.RenderView(ViewContext viewContext, TextWriter writer, Object instance)
   at System.Web.Mvc.BuildManagerCompiledView.Render(ViewContext viewContext, TextWriter writer)
   at Umbraco.Web.Mvc.ProfilingView.Render(ViewContext viewContext, TextWriter writer) in D:\a\1\s\src\Umbraco.Web\Mvc\ProfilingView.cs:line 25
   at System.Web.Mvc.ViewResultBase.ExecuteResult(ControllerContext context)
   at System.Web.Mvc.ControllerActionInvoker.InvokeActionResult(ControllerContext controllerContext, ActionResult actionResult)
   at System.Web.Mvc.ControllerActionInvoker.InvokeActionResultFilterRecursive(IList`1 filters, Int32 filterIndex, ResultExecutingContext preContext, ControllerContext controllerContext, ActionResult actionResult)
   at System.Web.Mvc.ControllerActionInvoker.InvokeActionResultFilterRecursive(IList`1 filters, Int32 filterIndex, ResultExecutingContext preContext, ControllerContext controllerContext, ActionResult actionResult)
   at System.Web.Mvc.ControllerActionInvoker.InvokeActionResultFilterRecursive(IList`1 filters, Int32 filterIndex, ResultExecutingContext preContext, ControllerContext controllerContext, ActionResult actionResult)
   at System.Web.Mvc.ControllerActionInvoker.InvokeActionResultFilterRecursive(IList`1 filters, Int32 filterIndex, ResultExecutingContext preContext, ControllerContext controllerContext, ActionResult actionResult)
   at System.Web.Mvc.ControllerActionInvoker.InvokeActionResultFilterRecursive(IList`1 filters, Int32 filterIndex, ResultExecutingContext preContext, ControllerContext controllerContext, ActionResult actionResult)
   at System.Web.Mvc.ControllerActionInvoker.InvokeActionResultWithFilters(ControllerContext controllerContext, IList`1 filters, ActionResult actionResult)
   at System.Web.Mvc.Async.AsyncControllerActionInvoker.<>c__DisplayClass3_6.<BeginInvokeAction>b__4()
   at System.Web.Mvc.Async.AsyncControllerActionInvoker.<>c__DisplayClass3_1.<BeginInvokeAction>b__1(IAsyncResult asyncResult)
   at System.Web.Mvc.Async.AsyncResultWrapper.WrappedAsyncResult`1.CallEndDelegate(IAsyncResult asyncResult)
   at System.Web.Mvc.Async.AsyncResultWrapper.WrappedAsyncResultBase`1.End()
   at System.Web.Mvc.Async.AsyncControllerActionInvoker.EndInvokeAction(IAsyncResult asyncResult)
   at System.Web.Mvc.Controller.<>c.<BeginExecuteCore>b__152_1(IAsyncResult asyncResult, ExecuteCoreState innerState)
   at System.Web.Mvc.Async.AsyncResultWrapper.WrappedAsyncVoid`1.CallEndDelegate(IAsyncResult asyncResult)
   at System.Web.Mvc.Async.AsyncResultWrapper.WrappedAsyncResultBase`1.End()
   at System.Web.Mvc.Controller.EndExecuteCore(IAsyncResult asyncResult)
   at System.Web.Mvc.Controller.<>c.<BeginExecute>b__151_2(IAsyncResult asyncResult, Controller controller)
   at System.Web.Mvc.Async.AsyncResultWrapper.WrappedAsyncVoid`1.CallEndDelegate(IAsyncResult asyncResult)
   at System.Web.Mvc.Async.AsyncResultWrapper.WrappedAsyncResultBase`1.End()
   at System.Web.Mvc.Controller.EndExecute(IAsyncResult asyncResult)
   at System.Web.Mvc.Controller.System.Web.Mvc.Async.IAsyncController.EndExecute(IAsyncResult asyncResult)
   at System.Web.Mvc.MvcHandler.<>c.<BeginProcessRequest>b__20_1(IAsyncResult asyncResult, ProcessRequestState innerState)
   at System.Web.Mvc.Async.AsyncResultWrapper.WrappedAsyncVoid`1.CallEndDelegate(IAsyncResult asyncResult)
   at System.Web.Mvc.Async.AsyncResultWrapper.WrappedAsyncResultBase`1.End()
   at System.Web.Mvc.MvcHandler.EndProcessRequest(IAsyncResult asyncResult)
   at System.Web.Mvc.MvcHandler.System.Web.IHttpAsyncHandler.EndProcessRequest(IAsyncResult result)
   at System.Web.Mvc.HttpHandlerUtil.ServerExecuteHttpHandlerAsyncWrapper.<>c__DisplayClass3_0.<EndProcessRequest>b__0()
   at System.Web.Mvc.HttpHandlerUtil.ServerExecuteHttpHandlerWrapper.<>c__DisplayClass5_0.<Wrap>b__0()
   at System.Web.Mvc.HttpHandlerUtil.ServerExecuteHttpHandlerWrapper.Wrap[TResult](Func`1 func)
   at System.Web.Mvc.HttpHandlerUtil.ServerExecuteHttpHandlerWrapper.Wrap(Action action)
   at System.Web.Mvc.HttpHandlerUtil.ServerExecuteHttpHandlerAsyncWrapper.EndProcessRequest(IAsyncResult result)
   at System.Web.HttpServerUtility.ExecuteInternal(IHttpHandler handler, TextWriter writer, Boolean preserveForm, Boolean setPreviousPage, VirtualPath path, VirtualPath filePath, String physPath, Exception error, String queryStringOverride)
   at System.Web.HttpServerUtility.ExecuteInternal(IHttpHandler handler, TextWriter writer, Boolean preserveForm, Boolean setPreviousPage, VirtualPath path, VirtualPath filePath, String physPath, Exception error, String queryStringOverride)
   at System.Web.HttpServerUtility.Execute(IHttpHandler handler, TextWriter writer, Boolean preserveForm, Boolean setPreviousPage)
   at System.Web.HttpServerUtility.Execute(IHttpHandler handler, TextWriter writer, Boolean preserveForm)
   at System.Web.HttpServerUtilityWrapper.Execute(IHttpHandler handler, TextWriter writer, Boolean preserveForm)
   at System.Web.Mvc.Html.ChildActionExtensions.ActionHelper(HtmlHelper htmlHelper, String actionName, String controllerName, RouteValueDictionary routeValues, TextWriter textWriter)
   at System.Web.Mvc.Html.ChildActionExtensions.Action(HtmlHelper htmlHelper, String actionName, String controllerName, RouteValueDictionary routeValues)
   at Our.Umbraco.DocTypeGridEditor.Web.Extensions.HtmlHelperExtensions.RenderDocTypeGridEditorItem(HtmlHelper helper, IPublishedElement content, String editorAlias, String viewPath, String previewViewPath, Boolean isPreview)
   at ASP._Page_app_plugins_doctypegrideditor_render_DocTypeGridEditor_cshtml.Execute()
   at System.Web.WebPages.WebPageBase.ExecutePageHierarchy()
   at System.Web.Mvc.WebViewPage.ExecutePageHierarchy()
   at System.Web.WebPages.WebPageBase.ExecutePageHierarchy(WebPageContext pageContext, TextWriter writer, WebPageRenderingBase startPage)
   at System.Web.Mvc.RazorView.RenderView(ViewContext viewContext, TextWriter writer, Object instance)
   at System.Web.Mvc.BuildManagerCompiledView.Render(ViewContext viewContext, TextWriter writer)
   at Umbraco.Web.Mvc.ProfilingView.Render(ViewContext viewContext, TextWriter writer) in D:\a\1\s\src\Umbraco.Web\Mvc\ProfilingView.cs:line 25
   at System.Web.Mvc.HtmlHelper.RenderPartialInternal(String partialViewName, ViewDataDictionary viewData, Object model, TextWriter writer, ViewEngineCollection viewEngineCollection)
   at System.Web.Mvc.Html.PartialExtensions.Partial(HtmlHelper htmlHelper, String partialViewName, Object model, ViewDataDictionary viewData)
   at System.Web.Mvc.Html.PartialExtensions.Partial(HtmlHelper htmlHelper, String partialViewName, Object model)
   at ASP._Page_Views_Partials_grid_editors_Base_cshtml.Execute()