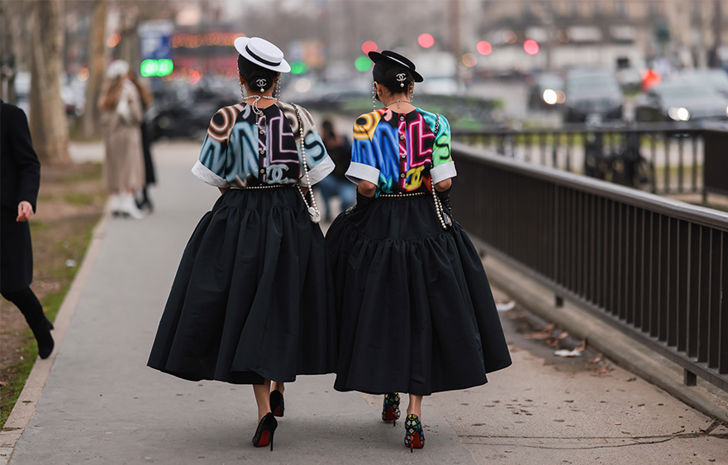 Fashion Forecast: Colourful
3 August 2022
•
Written by
Kirstie Clements
Spring racing is just around the corner, and so many of us can't wait to get dressed up for a day at the track once again. But what do we wear? Taking inspiration from the catwalks of Europe, former Vogue editor and renowned fashion journalist Kirstie Clements gives us her expert opinion on what will be on trend this season.
It's exciting times ahead now that things are beginning to return to normal and all the fun of racewear is back. While many of us were wondering whether casualwear and ultra-comfortable, at-home dressing was set to become permanent, quite the opposite is happening in the fashion world.
Designers, and indeed customers, are going all out, embracing colour and drama and new silhouettes with an exuberance we haven't seen for years. The international couture and resort collections that were shown in Europe this summer have provided some fabulous inspiration for racewear, including new ways of using surprising colour combinations for maximum impact.
It makes sense that we are looking for an excuse to dress up, to socialise and to feel a renewed sense of optimism after a challenging period, and where better to start than your spring racing wardrobe. Taking our cues from the runways, here's some insider intel to look fabulous trackside.
The colour wheel
Florals and prints seem to have taken a back seat as the world turns up the volume on colour, enjoying the feel-good factor of vivid pinks, greens, turquoise blues and reds. What's really arresting is the way we are seeing seemingly unusual or clashing colours worn together to create surprise beauty.
Think about wearing a lilac coat over a ruby red dress, an aqua blue jacket with a sunny yellow skirt, a neon pink trench with a lime green blouse. Even black or white can benefit from a hit of unexpected colour, in a clutch bag, a shoe or a waist cinching belt.
Tailoring is back
While the oversized pantsuit continues to be on trend in the CBD (especially after we all discovered the comfort of easy tailoring), there is also a move towards slightly more strict lines, and a refined, couture-like silhouette, especially for the races.
Neat jackets with a gently nipped-in waist are worn over a flared or straight skirt, taking their cue from the famous Bar jacket and skirt ensemble from Christian Dior.
It's a classically elegant look that is perfection when topped with a showstopping designer hat.
Hats off
The impeccable elegance of haute couture has become as important as ready-to wear on the global runways, and provided the perfect environment to present the crème de la crème of millinery.
For a few seasons, we saw the jewelled headband or crown replacing hats at the races, but now statement designer hats are back with a vengeance! At the recent Chanel couture, the house showed hats in every classic shape from fedoras, to sou'westers to wide-brimmed picture hats in beautiful tweeds.
A fabric hat is a lovely option while the weather is still unpredictable and looks wonderfully chic with a classic skirt suit.
At Christian Dior's resort show, the models wore gorgeous Spanish black sombreros which take inspiration from the equestrian world and are a great way to add drama to a simple silhouette, such as a pencil skirt and ruffled blouse.
It has also been a season of showstopping hats, made of feathers and flowers, huge and magnificent.
Surrealism is a big theme as we come out of the pandemic, so think about weird and wonderful creations such as Schiaparelli-inspired lobsters, or anything that takes your fancy.
Suitably relaxed
Gentlemen take note: the very tight-fitted suit with pants that finished way above the ankle has dominated the scene for the last few seasons (before lockdown that is!).
Yes, the one that was short, sharp and very unforgiving.
Well, it has finally loosened up.
The most dapper types at the Italian menswear shows were seen mostly in relaxed linen suiting, in pale neutrals, sorbet colours, and even bright shades of blue, yellow and pink.
Think Miami Vice, but not so wide shouldered, worn with a higher waisted pant with a loosely tapered leg. The men are also having fun with colour clashing, wearing suits with bold print shirts and neon hues.
Accessorising
Heel heights are going up and up, with the high-heeled seventies platform sandal back in fashion, although this is a hard thing to pull off during a long day at the races. If the weather stays cool, an ankle boot may be a better option, with any skirt or dress length (there also are lots of pretty low-heeled mules coming late Spring). Handbags are also a key addition. Keep them small and playful, and use them as an excuse to add more colour. Another trend that has returned is the oversized fabric flower or satin rose used as decoration, pinned onto the lapel of a coat, jacket or dress (just don't let it compete with your hat!), seen at its most glorious at Valentino couture.
Silhouettes
The cocoon coat is a great choice for a chilly Spring, especially layered over a fitted dress. Short trench coats add punch (and warmth) to longer, more flowing dresses, the tailoring adding a pretty juxtaposition.
Leave boho for the beach and embrace the new mood in glamorous tailoring – it feels great to be back in the winners circle.
Main image caption: Turn up the volume with bright colours and nipped-waists this spring, taking inspiration from these guests at Paris Fashion Week. (Jeremy Moeller/Getty Images)

System.Web.HttpException (0x80004005): Error executing child request for handler 'System.Web.Mvc.HttpHandlerUtil+ServerExecuteHttpHandlerAsyncWrapper'. ---> System.NullReferenceException: Object reference not set to an instance of an object.
   at ASP._Page_Views_Partials_googleAd_cshtml.Execute()
   at System.Web.WebPages.WebPageBase.ExecutePageHierarchy()
   at System.Web.Mvc.WebViewPage.ExecutePageHierarchy()
   at System.Web.WebPages.WebPageBase.ExecutePageHierarchy(WebPageContext pageContext, TextWriter writer, WebPageRenderingBase startPage)
   at System.Web.Mvc.RazorView.RenderView(ViewContext viewContext, TextWriter writer, Object instance)
   at System.Web.Mvc.BuildManagerCompiledView.Render(ViewContext viewContext, TextWriter writer)
   at Umbraco.Web.Mvc.ProfilingView.Render(ViewContext viewContext, TextWriter writer) in D:\a\1\s\src\Umbraco.Web\Mvc\ProfilingView.cs:line 25
   at System.Web.Mvc.ViewResultBase.ExecuteResult(ControllerContext context)
   at System.Web.Mvc.ControllerActionInvoker.InvokeActionResult(ControllerContext controllerContext, ActionResult actionResult)
   at System.Web.Mvc.ControllerActionInvoker.InvokeActionResultFilterRecursive(IList`1 filters, Int32 filterIndex, ResultExecutingContext preContext, ControllerContext controllerContext, ActionResult actionResult)
   at System.Web.Mvc.ControllerActionInvoker.InvokeActionResultFilterRecursive(IList`1 filters, Int32 filterIndex, ResultExecutingContext preContext, ControllerContext controllerContext, ActionResult actionResult)
   at System.Web.Mvc.ControllerActionInvoker.InvokeActionResultFilterRecursive(IList`1 filters, Int32 filterIndex, ResultExecutingContext preContext, ControllerContext controllerContext, ActionResult actionResult)
   at System.Web.Mvc.ControllerActionInvoker.InvokeActionResultFilterRecursive(IList`1 filters, Int32 filterIndex, ResultExecutingContext preContext, ControllerContext controllerContext, ActionResult actionResult)
   at System.Web.Mvc.ControllerActionInvoker.InvokeActionResultFilterRecursive(IList`1 filters, Int32 filterIndex, ResultExecutingContext preContext, ControllerContext controllerContext, ActionResult actionResult)
   at System.Web.Mvc.ControllerActionInvoker.InvokeActionResultWithFilters(ControllerContext controllerContext, IList`1 filters, ActionResult actionResult)
   at System.Web.Mvc.Async.AsyncControllerActionInvoker.<>c__DisplayClass3_6.<BeginInvokeAction>b__4()
   at System.Web.Mvc.Async.AsyncControllerActionInvoker.<>c__DisplayClass3_1.<BeginInvokeAction>b__1(IAsyncResult asyncResult)
   at System.Web.Mvc.Async.AsyncResultWrapper.WrappedAsyncResult`1.CallEndDelegate(IAsyncResult asyncResult)
   at System.Web.Mvc.Async.AsyncResultWrapper.WrappedAsyncResultBase`1.End()
   at System.Web.Mvc.Async.AsyncControllerActionInvoker.EndInvokeAction(IAsyncResult asyncResult)
   at System.Web.Mvc.Controller.<>c.<BeginExecuteCore>b__152_1(IAsyncResult asyncResult, ExecuteCoreState innerState)
   at System.Web.Mvc.Async.AsyncResultWrapper.WrappedAsyncVoid`1.CallEndDelegate(IAsyncResult asyncResult)
   at System.Web.Mvc.Async.AsyncResultWrapper.WrappedAsyncResultBase`1.End()
   at System.Web.Mvc.Controller.EndExecuteCore(IAsyncResult asyncResult)
   at System.Web.Mvc.Controller.<>c.<BeginExecute>b__151_2(IAsyncResult asyncResult, Controller controller)
   at System.Web.Mvc.Async.AsyncResultWrapper.WrappedAsyncVoid`1.CallEndDelegate(IAsyncResult asyncResult)
   at System.Web.Mvc.Async.AsyncResultWrapper.WrappedAsyncResultBase`1.End()
   at System.Web.Mvc.Controller.EndExecute(IAsyncResult asyncResult)
   at System.Web.Mvc.Controller.System.Web.Mvc.Async.IAsyncController.EndExecute(IAsyncResult asyncResult)
   at System.Web.Mvc.MvcHandler.<>c.<BeginProcessRequest>b__20_1(IAsyncResult asyncResult, ProcessRequestState innerState)
   at System.Web.Mvc.Async.AsyncResultWrapper.WrappedAsyncVoid`1.CallEndDelegate(IAsyncResult asyncResult)
   at System.Web.Mvc.Async.AsyncResultWrapper.WrappedAsyncResultBase`1.End()
   at System.Web.Mvc.MvcHandler.EndProcessRequest(IAsyncResult asyncResult)
   at System.Web.Mvc.MvcHandler.System.Web.IHttpAsyncHandler.EndProcessRequest(IAsyncResult result)
   at System.Web.Mvc.HttpHandlerUtil.ServerExecuteHttpHandlerAsyncWrapper.<>c__DisplayClass3_0.<EndProcessRequest>b__0()
   at System.Web.Mvc.HttpHandlerUtil.ServerExecuteHttpHandlerWrapper.<>c__DisplayClass5_0.<Wrap>b__0()
   at System.Web.Mvc.HttpHandlerUtil.ServerExecuteHttpHandlerWrapper.Wrap[TResult](Func`1 func)
   at System.Web.Mvc.HttpHandlerUtil.ServerExecuteHttpHandlerWrapper.Wrap(Action action)
   at System.Web.Mvc.HttpHandlerUtil.ServerExecuteHttpHandlerAsyncWrapper.EndProcessRequest(IAsyncResult result)
   at System.Web.HttpServerUtility.ExecuteInternal(IHttpHandler handler, TextWriter writer, Boolean preserveForm, Boolean setPreviousPage, VirtualPath path, VirtualPath filePath, String physPath, Exception error, String queryStringOverride)
   at System.Web.HttpServerUtility.ExecuteInternal(IHttpHandler handler, TextWriter writer, Boolean preserveForm, Boolean setPreviousPage, VirtualPath path, VirtualPath filePath, String physPath, Exception error, String queryStringOverride)
   at System.Web.HttpServerUtility.Execute(IHttpHandler handler, TextWriter writer, Boolean preserveForm, Boolean setPreviousPage)
   at System.Web.HttpServerUtility.Execute(IHttpHandler handler, TextWriter writer, Boolean preserveForm)
   at System.Web.HttpServerUtilityWrapper.Execute(IHttpHandler handler, TextWriter writer, Boolean preserveForm)
   at System.Web.Mvc.Html.ChildActionExtensions.ActionHelper(HtmlHelper htmlHelper, String actionName, String controllerName, RouteValueDictionary routeValues, TextWriter textWriter)
   at System.Web.Mvc.Html.ChildActionExtensions.Action(HtmlHelper htmlHelper, String actionName, String controllerName, RouteValueDictionary routeValues)
   at Our.Umbraco.DocTypeGridEditor.Web.Extensions.HtmlHelperExtensions.RenderDocTypeGridEditorItem(HtmlHelper helper, IPublishedElement content, String editorAlias, String viewPath, String previewViewPath, Boolean isPreview)
   at ASP._Page_app_plugins_doctypegrideditor_render_DocTypeGridEditor_cshtml.Execute()
   at System.Web.WebPages.WebPageBase.ExecutePageHierarchy()
   at System.Web.Mvc.WebViewPage.ExecutePageHierarchy()
   at System.Web.WebPages.WebPageBase.ExecutePageHierarchy(WebPageContext pageContext, TextWriter writer, WebPageRenderingBase startPage)
   at System.Web.Mvc.RazorView.RenderView(ViewContext viewContext, TextWriter writer, Object instance)
   at System.Web.Mvc.BuildManagerCompiledView.Render(ViewContext viewContext, TextWriter writer)
   at Umbraco.Web.Mvc.ProfilingView.Render(ViewContext viewContext, TextWriter writer) in D:\a\1\s\src\Umbraco.Web\Mvc\ProfilingView.cs:line 25
   at System.Web.Mvc.HtmlHelper.RenderPartialInternal(String partialViewName, ViewDataDictionary viewData, Object model, TextWriter writer, ViewEngineCollection viewEngineCollection)
   at System.Web.Mvc.Html.PartialExtensions.Partial(HtmlHelper htmlHelper, String partialViewName, Object model, ViewDataDictionary viewData)
   at System.Web.Mvc.Html.PartialExtensions.Partial(HtmlHelper htmlHelper, String partialViewName, Object model)
   at ASP._Page_Views_Partials_grid_editors_Base_cshtml.Execute()