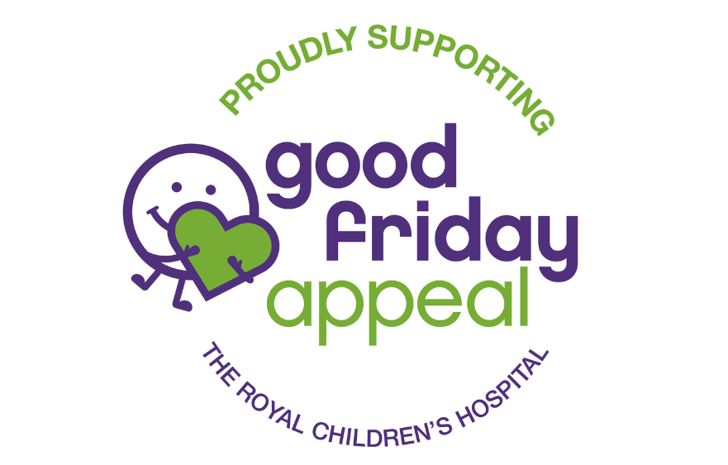 Good Friday Appeal: An appeal for good
23 March 2023
•
Written by
VRC
The Victoria Racing Club is pleased to support The Royal Children's Hospital's Good Friday Appeal with fundraising initiatives on TAB Australian Cup Day, Saturday 25 March.
Since 1931 the Good Friday Appeal has been dedicated to fundraising for The Royal Children's Hospital so that it continues to provide exceptional care for children across Victoria and beyond. The generous donations of the many Victorians across each suburb and region help to make The Royal Children's Hospital so special and continue to be at the forefront of paediatric care.
For more than 91 years, the Good Friday Appeal has raised over $421m so that it can continue to provide world-class care for children from Victoria and beyond.
Flemington racegoers will be encouraged to contribute across TAB Australian Cup Day, with GFA volunteers out in force rattling tins and selling raffle tickets for a dedicated Race Day Raffle generously supported by the VRC's partners TCL, Dyson and Myer.
Those purchasing tickets via Ticketmaster also have the opportunity to donate funds directly to the appeal during their transaction.
All proceeds raised will help contribute to the Good Friday Appeal's 2023 fundraising campaign, funding The Royal Children's Hospital's ground-breaking research, state-of-the-art equipment and technology, and family centred care programs while also attracting and retaining the brightest minds.
The Good Friday Appeal has a long association with Flemington. In 1931, upon hearing the Children's Hospital was at risk of closure, a group of journalists held a sports carnival to raise money for sick children. A football match involving jockeys from Flemington and Caulfield played in front of a crowd of 20,000 spectators and raised £427. This started a legacy of giving, and it set in motion a force for good that has never stopped.
The Good Friday Appeal is Victoria's largest charity and VRC Chief Executive Officer Steve Rosich said the club was delighted to be partnering with them in an official capacity.
"The Royal Children's Hospital is one of the world's leading hospitals that provides essential care to very sick children. It takes care of families in impossible situations and as one of our neighbours in the Flemington precinct, we are very pleased to join our fellow Victorians and lend our support to such a worthy cause."
Executive Director of the Good Friday Appeal, Rebecca Cowan, said they are thrilled to have the VRC supporting the Good Friday Appeal.
"We're excited to welcome the Victoria Racing Club onboard as an official partner of the Good Friday Appeal. From the Appeal's inception, there has been a strong connection to the sporting community. We're pleased supporters of the Flemington Racing Spectacular will be able to support the Appeal's fundraising efforts.
"The partnership with the VRC and generous donations is just one example of how the racing community has stood together to support this very important cause to ensure The Royal Children's Hospital continues to deliver the best care possible for our kids," Ms Cowan said.
For more information on the VRC's community initiatives please visit vrc.com.au/community/community-programs/.