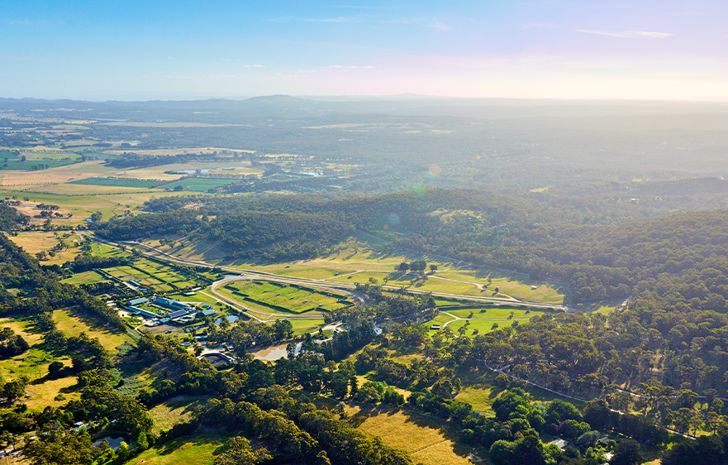 Macedon Lodge has new owners
15 September 2023
•
Written by
Michael Manley
It is one of Australia's most successful thoroughbred training centres, and has produced four Melbourne Cup winners under former owner, Lloyd Willams.
Macedon Lodge has new owners and a new lease of life, its extensive equine-focused training and health facilities being put to great use by trainers Liam Howley and Andrew Forsman. Forsman and his gelding Aegon are eyeing off the Group 1 Makybe Diva Stakes this Saturday.
Liam Howley has been at Macedon Lodge for over half of its time as a training centre but left four years ago to branch out on his own when the property was
shut as a training facility in 2019.
Even while he was away he hankered to return, and when the opportunity came at the start of 2023 he couldn't wait to get back.
Now Howley believes Macedon Lodge, under its new management team of owner Bruce Dixon, General Manager Matt Tillet and Chairman Mark Player, is set for another golden era which will stretch long into the future.
Howley, who spent ten years working at the property for Lloyd Williams, seven as assistant trainer to Robert Hickmott and then three as head trainer, said it was one of the best training facilities in the world.
Tillett believes it is a new chapter, a key difference that for the first time it is open to the general horse-owning public to have a horse trained there and not a private training facility.
Howley and leading Kiwi trainer Andrew Forsman, who will run a satellite stable there, both believe they can relive the glory days and even outshine them.
Macedon Lodge's new management have modernised the property and intend to take a fresh approach to staff management.
Since it was opened in 2000 as a training establishment, Macedon Lodge can boast a roll-call of winners few other private training centres could.
In the late 1990s maverick businessman Kurt Stern bought the 120-hectare property at Mount Macedon and decided he wanted to develop a horse haven.
No stone was left unturned. He secured Seymour trainer John Symons as his first trainer in 2000 and it didn't take long for the property to host its first star galloper when the great sprinter Bel Esprit won the 2002 Blue Diamond Stakes.
Not long after that, New Zealand trainer Sheila Laxon prepared Ethereal to win the 2001 Caulfield Cup, Melbourne Cup double from the property.
In 2004, Stern walked away from racing. The next era for the property began when Melbourne's own mogul and obsessive racing fan Lloyd Williams purchased it as his own private training property in 2007.
During the Williams era there were numerous Group 1 winners, headed by his trio of Melbourne Cup champions – Efficient (2007), Green Moon (2012) and Almandin (2016).
It's an amazing list for a 23-year-old training property that includes five years of limited use.
Williams placed the property on the market in 2019. In mid-2022 another Victorian businessman, Bruce Dixon, bought the property and late last year Williams vacated.
Tillett explained that Dixon was more interested in equestrian at the time when he initially wanted to purchase the property, but he and Player and his son Michael persuaded him to run it as a thoroughbred training facility as the infrastructure was already there.
"Bruce decided to step away from equestrian and concentrate on racing. To have a man like him oversee a racing business with Mark Player and myself running it with our combined racing experience and Bruce's corporate expertise, we think we can run a good business," Tillett said.
Tillett has spent his career in racing, having worked six years at Darley Stud and four years at Woodside Park Stud. He also worked for Tony McEvoy and for David Moodie and Mat Ellerton.
Tillett said after taking over, a little bit of work was required so that it could be ready for its new set-up.
"We had to reconfigure the flow of the place, going from a private training centre where I believe they only ever had 40 horses in work, to converting it to a commercial training centre. There were a few things needed doing and there are more ongoing changes to make," Tillett said. "Liam Howley's
vast experience at the property has been invaluable as we redeveloped."
"Liam moved in at the start of April and relocated his main business to here. He brought his team of 40-plus horses, plus staff.
"We've loved watching the transition of his team into our facility and they seem very happy. The horses seem to be working at a nice pace and enjoying the facilities.
"Andrew Forsman has a small group of horses with us and he's looking to build more than a dozen in a few weeks."
Tillett said Macedon Lodge has also employed renowned farrier Paul Cummins as a commercial pre-trainer on the property and he has plans to train in his own right.
They have created a central office that deals with administration, accounting and management, so trainers could concentrate on their horses.
A five-year plan for the property includes having several trainers working there with up to 150 horses on the property. They also plan to open a rehabilitation centre.
Tillett and Howley said they also planned to make life much easier for staff.
"We really want to focus on having a great community on the property with more social working hours than other training centres. Our first horse doesn't get ridden until 7am, and I think that's working well," Tillett said.
"Among the trainer's staff and maintenance crew we've got a really nice culture. Everyone helps everyone out and we get together for social things. We will continue to work on even better working conditions for our staff."
Howley said he is thrilled to be back.
"My heart is here. When I wasn't here, I wanted to get back and I was hoping the opportunity would present at some time to take a young team and start afresh," Howley said.
"The option of having horses boxed and in larger or smaller yards just gives us that really good flexibility."
He said he loved the fact they can make life better for staff and they had the opportunity to rewrite the traditional book in terms of working hours. He also can't fault the facility, with its array of training tracks, water walkers, treadmills, day yards and 15 kilometres of walking trails in the heart of the Macedon Ranges.
Forsman echoes his sentiments and says that having a presence at such a beautiful facility was an opportunity too good to miss.
"We've only got a small team, but it's going very well. Also, the proximity to the airport and town is quite good which is handy," he said.
Macedon Lodge's new era could kick off in a blaze of glory in the Spring, as Howley's Virtuous Circle and El Ponder Del Sol (who are brothers) will spearhead his attack. The ATC Derby runner-up, Virtuous Circle, will be set for the Lexus Melbourne Cup and El Ponder Del Sol will be aimed at the Penfolds Victoria Derby. Forsman will cherry pick his Kiwi team, but could have the likes of Aegon and Full Of Sincerity leading his charge.