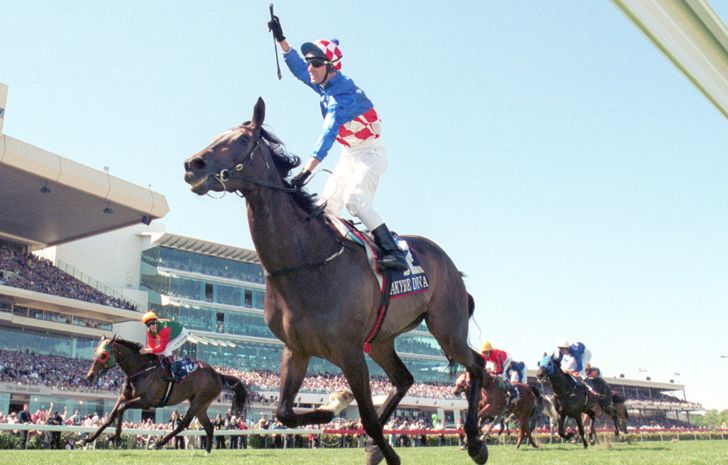 Magical Milestones: Makybe Diva
24 October 2023
•
Written by
Andrew Lemon
Twenty years ago Makybe Diva began her path from champion to legend.
In her first Melbourne Cup victory twenty years ago this year,
Makybe Diva was magical.
In the second win, twelve months later, she became a champion. In her third successive win, as race caller Greg Miles famously exclaimed, a champion became a legend. 
Today's Lexus Melbourne Cup is the most historic and coveted race in Australia. Because it is a handicap, it demands more from champions than any weight-for-age or classic. In 162 runnings, fillies or mares have won 17 times: none carried a heavier weight to victory than Makybe Diva in that third triumph.
Jockey Glen Boss is equally associated with the legend of Makybe Diva: he is the only jockey to have won three successive Melbourne Cups. The honours for trainer are divided. Lee Freedman prepared the mare for her second and third Cup victories, but it was David Hall who took the first steps, nurtured the promise, and took Makybe Diva to win the 2003
Melbourne Cup. It was only the opportunity to train horses in Hong Kong in mid-2004 that led Hall reluctantly to relinquish Makybe Diva to the Freedman stable.
David Hall comes from a racing family. Greg Hall, who won the 1992 Melbourne Cup on Subzero, is his first cousin. David established his own reputation as a trainer in Adelaide, following his father Joe, before shifting to Melbourne in 1993, first at Epsom, then at Flemington. His impressive early achievements with Makybe Diva should not be underappreciated. From the filly's first start in a sprint at Benalla in July 2002 (finishing fourth) and her first win a fortnight later at Wangaratta (on a heavy 1600-metre track), Makybe Diva scored eight wins, three thirds and four fourths from eighteen starts for Hall as trainer.
These were no ordinary performances. Her third win was a fillies' and mares' race at Flemington on Turnbull Stakes Day, 2002. Next was the Werribee Cup and then the 2500-metre Queen Elizabeth Stakes on the Melbourne Cup Carnival final day. Her preparation for the next year's spring saw four successive fourths. These included the Turnbull Stakes and then her eye-catching finish in the Caulfield Cup. That was the first time Glen Boss rode Makybe Diva.
Not only did David Hall train the mare for her first Melbourne Cup win. Next autumn she ran third in the Group 1 Ranvet and the BMW at Rosehill, before stepping out to win the 2004 Sydney Cup, carrying 4.5 kilograms more than her Melbourne Cup weight. She was the first since Galilee in 1967 to win the Melbourne and Sydney Cups. Many had tried. The only others in history to succeed were Lord Cardigan, Carbine and The Barb. Good company.
Tony Santic was the owner and breeder, through his bloodstock business Emily Krsrina Pty Ltd. In a strange sequence of events, he bred the foal in England and failed to sell her as a yearling before bringing her to Australia. And the name? A reference to six valued employees at the owner's South Australian fishery business. Maureen. Kylie. Belinda. Dianne. Vanessa. Abracadabra! Magic at Flemington, twenty years ago.