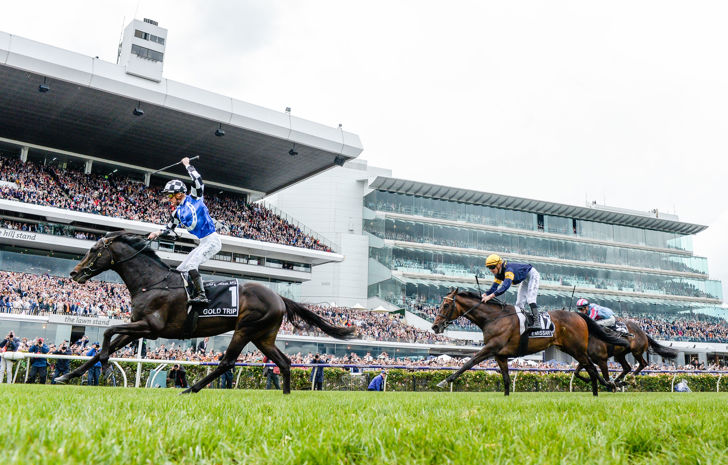 Melbourne Cup Carnival remains the biggest economic generator in Australian sport
28 February 2023
•
Written by
VRC
The Melbourne Cup Carnival confirmed its status as the number one economic generator of any annual sporting event in Australia with $422.1 million in gross economic benefit delivered to the state of Victoria in 2022.
A study conducted by market research company IER found the Melbourne Cup Carnival has contributed more than $3.6 billion in gross economic benefit to Victoria in the past decade, nearly $1 billion more than the Australian Open reported for the same period.
IER found that there was $2,781 in gross economic impact per person who attended the 2022 Carnival, an increase of almost 10% on 2019, providing a much-needed cash boost to an economy severely hampered by COVID-19.
The Lexus Melbourne Cup proved again it truly is 'the race that stops a nation'™ with 10.3 million adult Australians – or one in every two adults – engaged in Lexus Melbourne Cup Day through watching, listening or participating in an activity to celebrate the day. 
Economic impact from Cup Week had not been recorded during the pandemic and in 2022 the Melbourne Cup Carnival saw an increase in the proportion of out-of-state visitors on 2019, equating to 38.3% of total attendances.
The Melbourne Cup Carnival was directly responsible for bringing 60,897 people to Victoria, including international guests from 28 countries, proving many were eager to get back to our state and enjoy the world-class racing, fashion, food and entertainment that Cup Week offers.
Cup Week continues to make an important contribution to the wider community, with the event helping to raise more than $1 million for various charities and supporting 16,194 jobs.
Victoria Racing Club (VRC) Chairman Neil Wilson said the Melbourne Cup Carnival remains one of Australia's most culturally and economically important events with strong economic impact and engagement figures recorded in 2022.
"The economic stimulus provided by Cup Week stretches further than any other annual sporting event in Australia, with industries such as retail, accommodation, fashion, hospitality and entertainment the beneficiaries of Australia's original major event, it retains its status as the biggest economic generator in Australian sport," Mr Wilson said.
"The Lexus Melbourne Cup has been part of the fabric of the nation for 162 years and the VRC is pleased to learn through an independent national study that more adult Australians participated in an activity to celebrate Lexus Melbourne Cup Day than ever before at 5.8 million.
"The national engagement complements the global attention that the Lexus Melbourne Cup receives, with the race broadcast to around 209 territories last year with a potential global reach of 750 million people.
"The VRC funds Cup Week at a cost of approximately $65 million and thanks its sponsors, partners, Visit Victoria, the Victorian Racing Industry and the Victorian State Government for their support to put on the Melbourne Cup Carnival every year. We are already underway with plans for the 2023 Carnival, which we again expect to deliver significant outcomes for the state and nation."
Minister for Racing Anthony Carbines said the Melbourne Cup Carnival was important to the Victorian racing industry for many reasons.
"The Melbourne Cup Carnival remains the jewel in the crown of Australian racing but it's more than just a sporting event. The Carnival is a massive drawcard for Victoria bringing thousands of visitors from around Australia and the world and contributing millions to the state economy."
Minister for Tourism, Sport and Major Events Steve Dimopoulos said Cup Week draws thousands of visitors to the state, supporting local jobs and businesses.
"Victoria is the home of major events and racing – that's why the Melbourne Cup Carnival delivers such a major economic boost to our state's economy. We back the biggest major events because we know they create jobs, boost businesses and help attract thousands of tourists to Victoria."
Other key findings from the IER 2022 Melbourne Cup Carnival economic impact study:


TOURISM
The largest proportion of international attendances at Cup Week came from New Zealand and the United Kingdom, with 6,483 New Zealand residents and 2,124 people from the United Kingdom. Despite ongoing restrictions to international travel, the Victoria Racing Club was delighted to welcome back international guests in the thousands.
New South Wales residents remain highly engaged in Victoria's major event, with 36,852 New South Wales attendances to the Melbourne Cup Carnival and 50% of the adult population engaging with Lexus Melbourne Cup Day in that state.
Three cruise ships – two from Sydney and one from Brisbane – arrived in Victoria on special Melbourne Cup Carnival themed cruises, delivering 7,462 visitors to the Cup.
The direct spend from cruise passengers was significantly higher than 2019 (up 43.0%) alongside an increased number of passengers.
RETAIL
More than $51.9 million was spent on retail (including fashion and grooming) in Victoria by attendees. Fashion items alone accounted for $34.1 million.
The retail spend covered 232,870 fashion items including 37,855 hats or fascinators, 34,177 pairs of shoes, 31,578 dresses and 14,532 suits.
ACCOMODATION
Important spend was generated for the accommodation sector in excess of $35.2million, an increase of 2.9% on 2019.
Visitors to the Carnival were responsible for 226,063 bed nights in commercial accommodation.
HOSPITALITY
The hospitality sector benefited from $28.2 million spent on food and beverage during the Melbourne Cup Carnival, a 6% increase on 2019.
The Carnival was serviced by six catering companies, including Crown Melbourne which is the hospitality services partner of the VRC. Cup Week also featured 16 different food vendors this year.