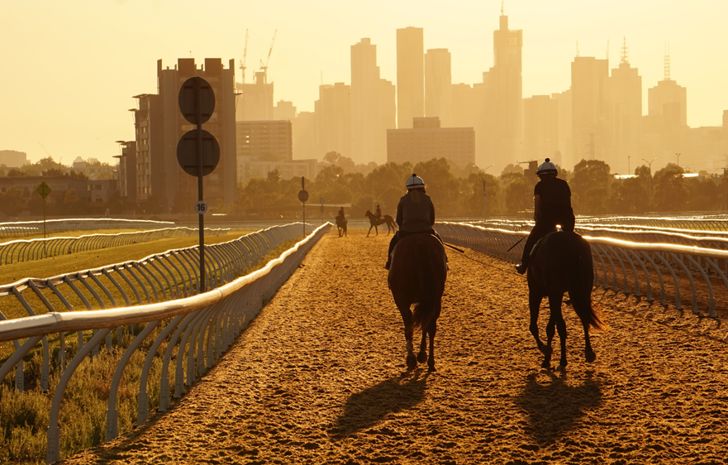 New training track adds to Flemington's world-class training facilities
25 August 2021
•
Written by
VRC
The Victoria Racing Club (VRC) is pleased to announce the opening of a new state-of-the-art synthetic training track at Flemington Racecourse, to complement the existing world-class training facilities. The project has been co-funded by the VRC and Racing Victoria.
The new Gallop Track surface provides an alternative to the existing grass, sand and synthetic training tracks, and delivers on the VRC's vision to provide an unrivalled experience for its equine athletes to train, perform and recover.
The old surface, which had reached the end of its tenure as a surface for galloping, has been gifted to the Riding for the Disabled Association (RDA) in Pakenham who will create a new all-weather arena for its riders, Lauriston Park for its pre-training activities and Godolphin for use in its covering sheds.
VRC Chief Executive Officer Steve Rosich said the Gallop Track surface is a positive addition to the Flemington training precinct.
"Many of Australia's best racehorses are amongst the 600 horses who train at Flemington every day, and it is strategically important that we provide them the best possible facilities," Mr Rosich said.
"The opportunity to donate the old surface is not only of great environmental benefit by redirecting material that would otherwise go to landfill, but also allows us to support like-minded organisations in the community such as the RDA who, like us, want to provide the best possible experience for their horses.
"This investment by the VRC and Racing Victoria helps maintain the reputation of Flemington and Victoria as leaders in world racing."
Racing Victoria Chief Executive, Giles Thompson, said: "Racing Victoria is pleased to support the construction of a new synthetic training track at Flemington which will provide a sustainable surface for trainers to gallop their horses all year round.
"It is vital that the industry continues to invest in enhancing training facilities for the welfare of our horses and the benefit of participants, and I would also like to thank the VRC for their support of this important project."
The track opened for Flemington horses to train as of this morning, Wednesday 25 August