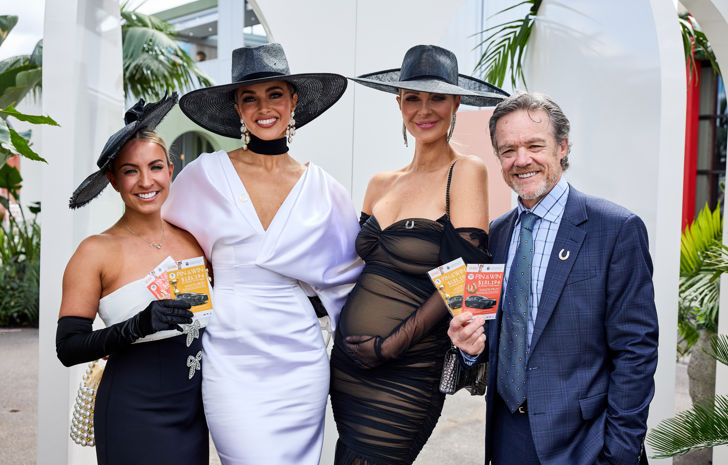 Pin & Win campaign raises $490k for Australian Childhood Foundation
12 February 2023
•
Written by
VRC
The Victoria Racing Club is proud to announce that more than $493,000 was raised for its Pin & Win partner, Australian Childhood Foundation, during the 2022 Melbourne Cup Carnival.
Australian Childhood Foundation is a leading not-for-profit organisation supporting children to recover from the trauma of abuse and family violence. The Foundation provides specialist therapeutic support to children and young people to help them heal and feel safe, as well as educating and empowering communities to safeguard children.
The funds raised through the VRC's partnership will be invested into the Foundation's National Trauma Recovery program and support up to 50 children with counselling and care.
VRC Chief Executive Officer Steve Rosich said the Club was delighted to partner with Australian Childhood Foundation in 2022.
"We are very proud to announce almost half a million dollars was raised in 2022 for Australian Childhood Foundation through the generosity of Flemington members, racegoers, VRC sponsors and partners, including Lexus Australia, and the community more broadly. We are grateful to everyone for supporting the Melbourne Cup Carnival's Pin & Win initiative. 
"The Club also supported the foundation and its awareness through naming rights to races on Australian Guineas Day, Sofitel Girls' Day Out and TAB Champions Stakes Day.
"We look forward to continuing this important partnership with the Foundation in 2023 to support their important work helping children."
Australian Childhood Foundation CEO Dr Joe Tucci said the 2022 Pin & Win campaign was one of the Foundation's most successful fundraising events in its 35-year history.
"Supported by Pin & Win ambassadors such as Olivia Molly Rogers and Lorinska Merrington, the campaign also provided a unique platform for the Foundation to engage with parts of the community that otherwise may not know about our work. The face-to-face selling and engagement with racegoers along with ambassador and media opportunities provided a significant opportunity to raise awareness about the importance of prioritising the protection and recovery of children impacted by the trauma of abuse," Mr Tucci said.
Pin & Win offered more than $131,000 worth of prizes in 2022, including a Lexus NX 350h 2WD F Sport Hybrid.
Continuing the partnership in 2023
The 2023 partnership between the VRC and Australian Childhood Foundation will kick off with the Love Letter to Racing event hosted by Ross Stevenson on Black Caviar Lightning Race Day, Saturday 18 February, where all funds raised will go to the Foundation.
The official Pin & Win campaign will commence later this year, with pins available online and at Flemington and a range of retail outlets.
Pin & Win is the VRC's flagship annual charity fundraiser and since 1995 has given charities the platform to raise more than $7.4 million through the sale of Lexus Melbourne Cup souvenir pins, helping to change lives and support the community.