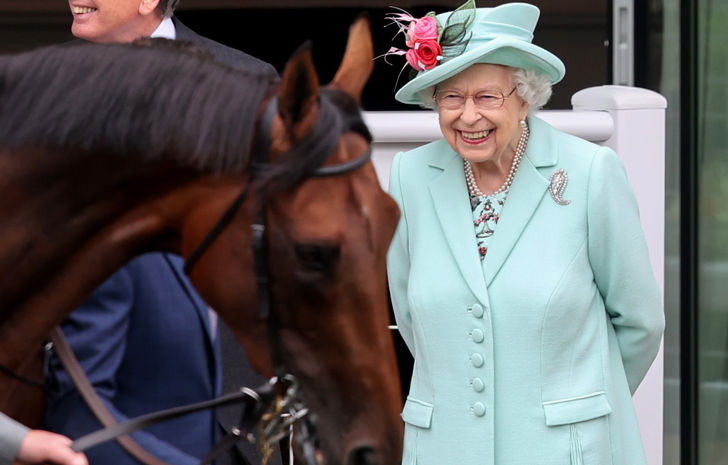 Queen of racing style
3 November 2022
•
Written by
VRC
Her Majesty Queen Elizabeth II was the ultimate lesson in power dressing, and her looks at her beloved pastime – the races – were iconic.
With an innate understanding of style and symbolism, The Queen's wardrobe was the sartorial equivalent of her duty: bold, consistent and for her people, rather than herself.
Transcending trends and time, her signature image consisted of knee-length coats layered over dresses in the same hue or coordinating print, matched with a hat, and counterbalanced by her practical handbag, sensible shoes, gloves and three-strand pearl necklace.
But it was the way she embraced colour that brought an element of surprise and delight to her public appearances.
From powdery pastels to rich jewel tones and zesty citrus shades, the colourful ensembles that came to define The Queen's reign have made her one of the most recognisable icons in history. And therein lies the power of her seemingly simple fashion formula. 
Whether dressed in buttercup yellow, neon green or rose pink, The Queen's famous assertion that, "I have to be seen to be believed," always rang true.
In the documentary, The Queen at 90, Sophie, Countess of Wessex, confirmed that her mother-in-law's bold, colour-blocked wardrobe is to ensure she stands out in a crowd.
"She needs to stand out for people to be able to say, 'I saw The Queen,'" the Countess said.
"Don't forget that when she turns up somewhere, the crowds are two, three, four, ten, 15 deep, and someone wants to be able to say they saw a bit of The Queen's hat as she went past."
From garden parties to state banquets, The Queen was a masterclass in dressing for the occasion, but her ultimate hat-wearing moments came at the races.
Whether visiting Flemington on a tour of Australia or indulging in the exuberance of Royal Ascot, the hallmarks of Her Majesty's sartorial handwriting has helped steer a steady course in racing style.   
At Ascot, where tradition reigns supreme, The Queen was influential in the style stakes, leading by example with her perennial elegance.
With each day of the prestigious five-day meeting commencing with a horse and open-carriage Royal procession, Her Majesty was known to reserve her most cheerful colours for the racetrack. 
In a refreshing departure from mainstream fashion, where latest trends and youthful beauty are obsessed over, it was The Queen – a woman in her 90s – who was considered the height of sartorial splendour at Ascot.
Her sense of occasion is something the next generation of royals, including Catherine, Princess of Wales, Zara Phillips, Princess Beatrice and Princess Eugenie, have also embraced at the famous track.
To ensure she could always be seen, The Queen's racing accessories were just as strategic as her boldly hued ensembles.
Her millinery, purposefully designed with asymmetrical brims, were structured to guarantee that crowds could see her face from every angle. Adorned with sinamay twills, plumes of feathers and floral blooms, Ladies Day at Ascot even saw punters place bets on what the colour of Her Majesty's hat would be.
As any regular racegoer will tell you, one must be prepared for a full range of weather conditions, and The Queen even managed to make a plastic umbrella work seamlessly with her ensembles.
Trimmed by royal appointment in more than 100 colours to complement her array of outfits, the clear, domed shape of the Fulton umbrella was somewhat fittingly known as the "birdcage".
The Queen's jewellery, and in particular her brooches, have also held significance throughout her reign – and at the racetrack – carefully choosing pieces to befit each occasion.  
While visiting Flemington in February 1954 during a royal tour of Australia, this diplomacy in diamonds saw her wear a brooch in the shape of a wattle spray, made by Melbourne jeweller William Drummond and Co.  
One of her favourite royal heirlooms, The Kent Amethyst Brooch, even proved to be her good luck charm at Ascot in 2013 when Her Majesty became the first reigning monarch to win the coveted Gold Cup in its 207-year history.
The brooch, which features a distinctive hexagonal-shaped amethyst surrounded by diamonds, teamed perfectly with Her Majesty's distinctive racing colours of regal purple, gold braid and scarlet-red sleeves. Following her four-year-old filly's victory, The Queen was photographed wearing the brooch as she accepted the trophy for Estimate's emotional win – a trophy she would usually be presenting.
While the public was seldom given insight into who The Queen was beyond the duty of the crown, her appearances at the racetrack offered rare glimpses of her at her most candid, passionate, and jovial. It was during her moments trackside when The Queen was as colourful as her ensembles.