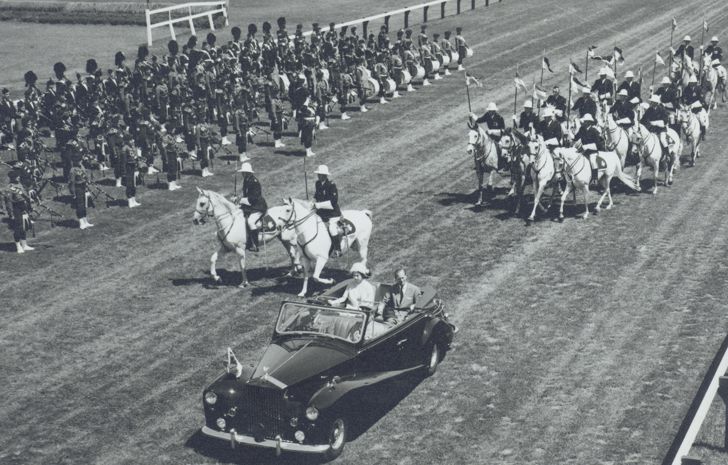 Victoria Racing Club pays tribute to Her Majesty Queen Elizabeth II
9 September 2022
•
Written by
VRC
The Victoria Racing Club (VRC) Chairman, Directors, Members and Staff are deeply saddened by the passing of Her Majesty, Queen Elizabeth II.
Her Majesty visited Flemington on three occasions in 1954, 1963 and 1977 and The Queen's horse Arabian Story finished sixth in the 1997 Melbourne Cup.
As part of the 1954 Australian Royal Tour, the VRC held a special Royal Race Meeting in February to mark Her Majesty's visit, featuring the Queen Elizabeth Stakes and Duke of Edinburgh Australian Cup.
VRC Chairman Neil Wilson paid tribute to Her Majesty The Queen.
"The VRC has joined the rest of the world in mourning the loss of Her Majesty who was a much-loved and respected leader and a life-long supporter of horse racing," Mr Wilson said.
"On behalf of the VRC, I extend our deepest condolences to His Majesty The King and the entire Royal Family. The Queen had visited Flemington Racecourse as part of three Royal Tours to Melbourne and her knowledge and passion of horse racing was well-known and inspiring.
"The Queen has left an extraordinary legacy and her contribution and support for our industry has always been greatly appreciated. She will remain in our hearts forever."
The VRC will pay tribute to Queen Elizabeth at the race meeting at Flemington Racecourse tomorrow.
Image caption: Her Majesty The Queen and His Royal Highness The Duke of Edinburgh at Flemington Racecourse in 1977 (Image: News Ltd).