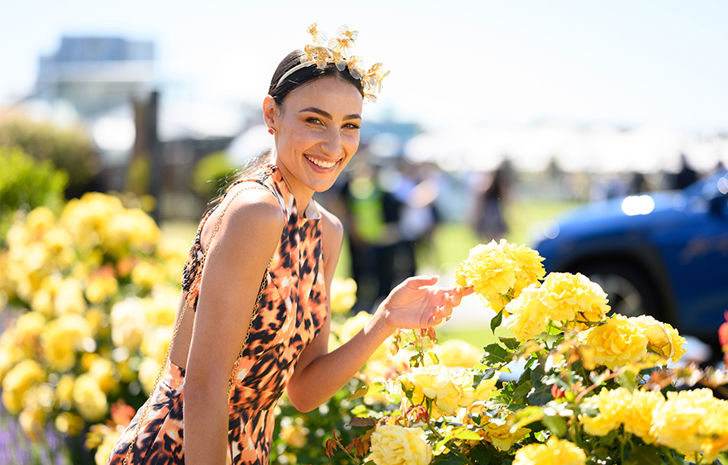 Tayla Damir announced as Myer Fashions On The Field Ambassador
23 October 2022
•
Written by
VRC
The Victoria Racing Club (VRC) and Myer are delighted to announce digital influencer Tayla Damir as the Myer Fashions on the Field ambassador for 2022.
As one of Australia's most fashionable personalities, Tayla will continue her partnership with the VRC and Myer to showcase the glamour and style of the 2022 Melbourne Cup Carnival, with the Myer Fashions on the Field competition returning to the track after two years of digital based entries.
As part of her role, Tayla will also join various Myer Fashions on the Field judging panels live on-course alongside world-renowned milliner Stephen Jones OBE, Melbourne Cup Carnival ambassadors Christian Wilkins, Jess and Ash Hart, VRC ambassador Nicole Trunfio, Myer ambassador Kris Smith and fashion designer Dom Bagnato.
Originally hailing from Perth and now calling Melbourne home, Tayla is excited to be returning as an ambassador after fulfilling the role remotely last year.  
Tayla holds Cup Week close to her heart, rekindling her romance with now husband, three-time Richmond AFL Premiership player Nathan Broad in Flemington's famous Birdcage Enclosure in 2019. Tayla and Nathan tied the knot last week at Summergrove Estate in northern New South Wales. 
"I am so thrilled to be back as a Myer Fashions on the Field Ambassador in 2022.  It's so exciting that in it's 60th year the Myer Fashions on the Field competition is returning live on track at Flemington and I'm looking forward to seeing all the incredible outfits from the on-course entrants," Tayla said.
"I have such fond memories celebrating the Melbourne Cup Carnival and its return is going to be bigger than ever. I am honoured to be a part of such a special event.
"The new Best Dressed and Best Suited categories invite all genders to enter either category based on their own unique and individual style.  I am proud to be a part of this exciting change to the competition that celebrates both equality and inclusion."
VRC Executive General Manager Brand, Marketing and Communications Jo King said Tayla is an excellent choice for the Myer Fashions on the Field competition this year.
"We are delighted to announce Tayla as the Myer Fashions on the Field ambassador for 2022. Her elegance, style and warm-hearted personality makes her a perfect fit for the role."
"Not only is Tayla a respected role model for young adults, but she will be able to inspire racing and fashion enthusiasts globally through her digital platform."
This year Myer Fashions on the Field is celebrating its 60th anniversary and has undergone a significant change, with the traditional male and female led categories transforming to become the Best Dressed and Best Suited Awards, with all genders encouraged to enter either category based on their unique personal style.
The return of the live on-track entry component will see three Best Dressed and Best Suited winners from Penfolds Victoria Derby Day, Lexus Melbourne Cup Day and Kennedy Oaks Day going straight through to the national final alongside three digital finalists.  The overall winners for both categories will be announced live on Kennedy Oaks Day, Thursday 3 November. 
Winners and finalists of Myer Fashions on the Field will share in an amazing suite of prizes from Myer, Kennedy Watches & Jewellery, TCL and Sofitel Melbourne On Collins. The VRC's Principal Partner Lexus also continues to show their incredible support of the competition, with the overall winners of the Best Dressed and Best Suited categories each receiving a brand-new Lexus UX 200 2WD Luxury vehicle.
The hugely popular family competition will also make a return in 2022, this year as live on-track events on VRC Champions Stakes Day. Categories include the Alpha Edit, for teens of all genders aged 14-18, and the Family Competition, requiring a minimum of two family members for entry. There will be on track registrations, heats and finals on TAB Champions Stakes Day, adding to the vibrant atmosphere of Cup Week.
The prestigious, design and creative-led categories, the Emerging Designer and Millinery Awards remain with a selection of the best digital entries received invited to Flemington to show their designs live on-track.  The winner of the Emerging Designer Award will be announced on Penfolds Victoria Derby Day and the Millinery Award on Lexus Melbourne Cup Day. 
The 2022 Melbourne Cup Carnival begins with Penfolds Victoria Derby Day on Saturday 29 October followed by Lexus Melbourne Cup Day on Tuesday 1 November, Kennedy Oaks Day on Thursday 3 November and TAB Champions Stakes Day on Saturday 5 November.
For more information visit www.vrcfashionsonthefield.com.au.
System.Web.HttpException (0x80004005): Error executing child request for handler 'System.Web.Mvc.HttpHandlerUtil+ServerExecuteHttpHandlerAsyncWrapper'. ---> System.NullReferenceException: Object reference not set to an instance of an object.
   at ASP._Page_Views_Partials_googleAd_cshtml.Execute()
   at System.Web.WebPages.WebPageBase.ExecutePageHierarchy()
   at System.Web.Mvc.WebViewPage.ExecutePageHierarchy()
   at System.Web.WebPages.WebPageBase.ExecutePageHierarchy(WebPageContext pageContext, TextWriter writer, WebPageRenderingBase startPage)
   at System.Web.Mvc.RazorView.RenderView(ViewContext viewContext, TextWriter writer, Object instance)
   at System.Web.Mvc.BuildManagerCompiledView.Render(ViewContext viewContext, TextWriter writer)
   at Umbraco.Web.Mvc.ProfilingView.Render(ViewContext viewContext, TextWriter writer) in D:\a\1\s\src\Umbraco.Web\Mvc\ProfilingView.cs:line 25
   at System.Web.Mvc.ViewResultBase.ExecuteResult(ControllerContext context)
   at System.Web.Mvc.ControllerActionInvoker.InvokeActionResult(ControllerContext controllerContext, ActionResult actionResult)
   at System.Web.Mvc.ControllerActionInvoker.InvokeActionResultFilterRecursive(IList`1 filters, Int32 filterIndex, ResultExecutingContext preContext, ControllerContext controllerContext, ActionResult actionResult)
   at System.Web.Mvc.ControllerActionInvoker.InvokeActionResultFilterRecursive(IList`1 filters, Int32 filterIndex, ResultExecutingContext preContext, ControllerContext controllerContext, ActionResult actionResult)
   at System.Web.Mvc.ControllerActionInvoker.InvokeActionResultFilterRecursive(IList`1 filters, Int32 filterIndex, ResultExecutingContext preContext, ControllerContext controllerContext, ActionResult actionResult)
   at System.Web.Mvc.ControllerActionInvoker.InvokeActionResultFilterRecursive(IList`1 filters, Int32 filterIndex, ResultExecutingContext preContext, ControllerContext controllerContext, ActionResult actionResult)
   at System.Web.Mvc.ControllerActionInvoker.InvokeActionResultFilterRecursive(IList`1 filters, Int32 filterIndex, ResultExecutingContext preContext, ControllerContext controllerContext, ActionResult actionResult)
   at System.Web.Mvc.ControllerActionInvoker.InvokeActionResultWithFilters(ControllerContext controllerContext, IList`1 filters, ActionResult actionResult)
   at System.Web.Mvc.Async.AsyncControllerActionInvoker.<>c__DisplayClass3_6.<BeginInvokeAction>b__4()
   at System.Web.Mvc.Async.AsyncControllerActionInvoker.<>c__DisplayClass3_1.<BeginInvokeAction>b__1(IAsyncResult asyncResult)
   at System.Web.Mvc.Async.AsyncResultWrapper.WrappedAsyncResult`1.CallEndDelegate(IAsyncResult asyncResult)
   at System.Web.Mvc.Async.AsyncResultWrapper.WrappedAsyncResultBase`1.End()
   at System.Web.Mvc.Async.AsyncControllerActionInvoker.EndInvokeAction(IAsyncResult asyncResult)
   at System.Web.Mvc.Controller.<>c.<BeginExecuteCore>b__152_1(IAsyncResult asyncResult, ExecuteCoreState innerState)
   at System.Web.Mvc.Async.AsyncResultWrapper.WrappedAsyncVoid`1.CallEndDelegate(IAsyncResult asyncResult)
   at System.Web.Mvc.Async.AsyncResultWrapper.WrappedAsyncResultBase`1.End()
   at System.Web.Mvc.Controller.EndExecuteCore(IAsyncResult asyncResult)
   at System.Web.Mvc.Controller.<>c.<BeginExecute>b__151_2(IAsyncResult asyncResult, Controller controller)
   at System.Web.Mvc.Async.AsyncResultWrapper.WrappedAsyncVoid`1.CallEndDelegate(IAsyncResult asyncResult)
   at System.Web.Mvc.Async.AsyncResultWrapper.WrappedAsyncResultBase`1.End()
   at System.Web.Mvc.Controller.EndExecute(IAsyncResult asyncResult)
   at System.Web.Mvc.Controller.System.Web.Mvc.Async.IAsyncController.EndExecute(IAsyncResult asyncResult)
   at System.Web.Mvc.MvcHandler.<>c.<BeginProcessRequest>b__20_1(IAsyncResult asyncResult, ProcessRequestState innerState)
   at System.Web.Mvc.Async.AsyncResultWrapper.WrappedAsyncVoid`1.CallEndDelegate(IAsyncResult asyncResult)
   at System.Web.Mvc.Async.AsyncResultWrapper.WrappedAsyncResultBase`1.End()
   at System.Web.Mvc.MvcHandler.EndProcessRequest(IAsyncResult asyncResult)
   at System.Web.Mvc.MvcHandler.System.Web.IHttpAsyncHandler.EndProcessRequest(IAsyncResult result)
   at System.Web.Mvc.HttpHandlerUtil.ServerExecuteHttpHandlerAsyncWrapper.<>c__DisplayClass3_0.<EndProcessRequest>b__0()
   at System.Web.Mvc.HttpHandlerUtil.ServerExecuteHttpHandlerWrapper.<>c__DisplayClass5_0.<Wrap>b__0()
   at System.Web.Mvc.HttpHandlerUtil.ServerExecuteHttpHandlerWrapper.Wrap[TResult](Func`1 func)
   at System.Web.Mvc.HttpHandlerUtil.ServerExecuteHttpHandlerWrapper.Wrap(Action action)
   at System.Web.Mvc.HttpHandlerUtil.ServerExecuteHttpHandlerAsyncWrapper.EndProcessRequest(IAsyncResult result)
   at System.Web.HttpServerUtility.ExecuteInternal(IHttpHandler handler, TextWriter writer, Boolean preserveForm, Boolean setPreviousPage, VirtualPath path, VirtualPath filePath, String physPath, Exception error, String queryStringOverride)
   at System.Web.HttpServerUtility.ExecuteInternal(IHttpHandler handler, TextWriter writer, Boolean preserveForm, Boolean setPreviousPage, VirtualPath path, VirtualPath filePath, String physPath, Exception error, String queryStringOverride)
   at System.Web.HttpServerUtility.Execute(IHttpHandler handler, TextWriter writer, Boolean preserveForm, Boolean setPreviousPage)
   at System.Web.HttpServerUtility.Execute(IHttpHandler handler, TextWriter writer, Boolean preserveForm)
   at System.Web.HttpServerUtilityWrapper.Execute(IHttpHandler handler, TextWriter writer, Boolean preserveForm)
   at System.Web.Mvc.Html.ChildActionExtensions.ActionHelper(HtmlHelper htmlHelper, String actionName, String controllerName, RouteValueDictionary routeValues, TextWriter textWriter)
   at System.Web.Mvc.Html.ChildActionExtensions.Action(HtmlHelper htmlHelper, String actionName, String controllerName, RouteValueDictionary routeValues)
   at Our.Umbraco.DocTypeGridEditor.Web.Extensions.HtmlHelperExtensions.RenderDocTypeGridEditorItem(HtmlHelper helper, IPublishedElement content, String editorAlias, String viewPath, String previewViewPath, Boolean isPreview)
   at ASP._Page_app_plugins_doctypegrideditor_render_DocTypeGridEditor_cshtml.Execute()
   at System.Web.WebPages.WebPageBase.ExecutePageHierarchy()
   at System.Web.Mvc.WebViewPage.ExecutePageHierarchy()
   at System.Web.WebPages.WebPageBase.ExecutePageHierarchy(WebPageContext pageContext, TextWriter writer, WebPageRenderingBase startPage)
   at System.Web.Mvc.RazorView.RenderView(ViewContext viewContext, TextWriter writer, Object instance)
   at System.Web.Mvc.BuildManagerCompiledView.Render(ViewContext viewContext, TextWriter writer)
   at Umbraco.Web.Mvc.ProfilingView.Render(ViewContext viewContext, TextWriter writer) in D:\a\1\s\src\Umbraco.Web\Mvc\ProfilingView.cs:line 25
   at System.Web.Mvc.HtmlHelper.RenderPartialInternal(String partialViewName, ViewDataDictionary viewData, Object model, TextWriter writer, ViewEngineCollection viewEngineCollection)
   at System.Web.Mvc.Html.PartialExtensions.Partial(HtmlHelper htmlHelper, String partialViewName, Object model, ViewDataDictionary viewData)
   at System.Web.Mvc.Html.PartialExtensions.Partial(HtmlHelper htmlHelper, String partialViewName, Object model)
   at ASP._Page_Views_Partials_grid_editors_Base_cshtml.Execute()