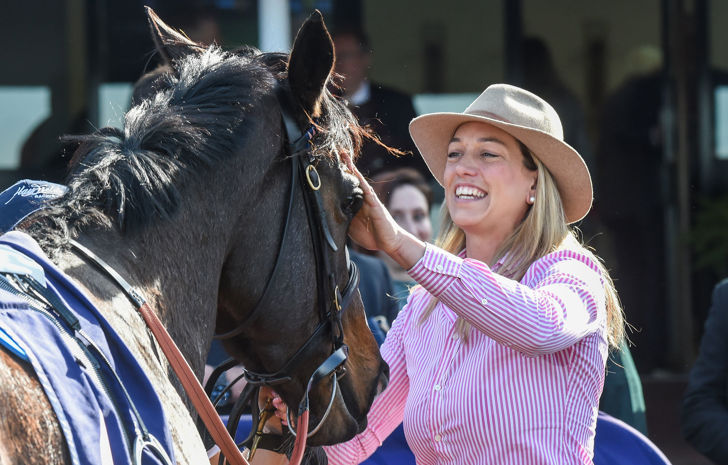 Trailblazing Trainers
8 March 2023
•
Written by
Sarah Marinos
Women have been making their mark in the world of racing for generations, with some of the industry's most courageous and forthright female figures achieving success as trainers.
BETTY SHEPHERD
Betty Shepherd is a revered figure in Scone, New South Wales. Known as the 'Horse Capital' of Australia, it's an appropriate hometown for the woman who became Australia's first woman trainer. Researchers believe Shepherd may even be the first woman in the world to have gained her training licence.
Her career began when she met the love of her life. Married for more than 60 years, Shepherd's husband, Archie, shared her passion for racehorses.
"Dad was from Queensland but moved to Scone with his family and bought a fruit business. Mum worked in the pharmacy over the road," recalls Georgie Lim, Betty's daughter.
"Dad had a few horses and would hire jockeys to help ride and train them. When he met Mum, she began riding and training the horses with Dad."
It was the start of a fruitful training career, but Shepherd was an accomplished horsewoman long before she met her husband.
"Horses had always been part of her life," says Lim.
"She went to a little school outside Scone – there were about 20 kids in one grade with one teacher – and Mum rode to school. She had a natural connection with horses and her love of them kept her in the industry."
During the 1950s and 1960s, racing was a man's world and if you weren't the owner of a horse or the licensed trainer, you weren't allowed in the dress circles and trainer and jockey enclosures. Shepherd was determined to break down those barriers.
"One day in the early 1960s Mum was at a race meet in Tamworth and one of the stewards suggested she get her stable hand licence. Mum looked at him and said, 'why would I do that when I am training horses – why can't I get a trainer's licence?'" says Lim.
Soon after that, Shepherd applied for her licence and became Australia's first lady trainer. Her natural ability, her hard work and her extensive racing knowledge won her respect from her male peers.
"When she talked to men in the industry, they took notice. She knew her subject and they recognised that," says Lim.
Shepherd enjoyed many successes but her most notable horse was Trevors. He ran 14th in the 1966 Melbourne Cup and fourth in the Caulfield Cup that year. He also came third in the then-Hotham Handicap at Flemington.
Lim remembers their property in Scone being like 'Grand Central Station' as people visited to congratulate Betty and to see her prize-winning, four-legged protege.
"Mum and Dad were the VIPs of the town and so many people came to speak to Mum and to see Trevors," she recalls.
"The Melbourne Cup was the highlight of Mum's career. I remember her travelling to Melbourne with an entourage, including a dog, because Trevors had to be guarded in the stables at all times before the race."
Today, Shepherd is still feted by her local community and Lim says she was definitely a trailblazer.
"It was only in later years that I appreciated what Mum achieved. She really did open the door for many women in the industry today."
Since Shepherd, an impressive parade of women has earned their trainer's licence, as well as the respect of the racing world.
SHEILA LAXON
In 2001, Welsh-born Sheila Laxon became the first woman to train a Melbourne Cup and Caulfield Cup winner with Ethereal. Sheila grew up on a small farm where she learned to ride. By the age of 12 she was riding out for a local trainer and became part of Great Britain's Junior Show Jumping Team.
Laxon moved to New Zealand and obtained an Amateur Licence, becoming a respected jockey who survived some sickening falls before switching to training in 1997.
The Melbourne Cup win was pivotal, and Laxon saw that 3mins 21sec race as an opportunity to prove women could hold their own.
"Women in racing are very hard working and are just as good as men. Winning the Melbourne Cup proved that we are," she has said.
"It was a life-changing experience for me, and I know every woman in the industry enjoyed the result and the accolades which flowed."
GAI WATERHOUSE
In 2013, Gai Waterhouse became the first Australian female to train a Melbourne Cup winner when Fiorente crossed the finishing line ahead of the field. After an early career in acting, Waterhouse switched gears and began working with her father, renowned racehorse trainer, Tommy Smith.
After a 15-year 'apprenticeship', she gained an Australian Jockey Club licence in 1992 and trained her first Group 1 winner later that year. Te Akau Nick was the first of many. Waterhouse has since trained more than 100 Group 1 winners and has won almost every major race in Sydney and Melbourne.
In 2007, she was inducted into the Australian Racing Hall of Fame.
"People see the hats and the pretty dresses and lipstick and they think I'm not involved," Waterhouse has said.
"You can't run this business and not be involved. You're only as good as the last deal you close, the last Group 1 race you win. If you're not winning races, nobody wants to be a part of your stable. That pressure is always there…"
MICHELLE PAYNE
The next generation of female trainers are also showing promise with the likes of Cup-winning jockey, Michelle Payne, and British-born Charlotte Littlefield, leading the way.
In 2015, Payne made world headlines as the first female jockey to win the Melbourne Cup. Payne had followed in the footsteps of seven of her siblings when she rode in her first competitive race at the age of 15. Father, Paddy, was a dedicated trainer.
Before Payne's game changing win, she faced a number of challenges. She was 18 when a horrific fall left her with a fractured skull and bruising to her brain. Two more serious falls followed in 2012 and 2016 – the latter requiring the jockey to have pancreatic surgery.
She returned, and has ridden more than 700 winners but is now focused on her work as a trainer. In August 2018 she enjoyed her first city win as a jockey-trainer on Sweet Rockette at Moonee Valley.
"Racing is a funny industry. One week you can be going terrible and the next week you're on top of the world. So you just keep showing up: I keep working harder to get more opportunities," she's said.
CHARLOTTE LITTLEFIELD
Charlotte Littlefield is also determined to find success as a trainer. She took to the saddle as a toddler and was raised at her mother's riding school in the south of England. After being part of Great Britain's eventing team in 2003 she went travelling. Littlefield arrived in Australia, began working with horses, and never left.
"I began buying cheap off-the-trackers and training them although I never envisaged myself as a trainer – it wasn't bred into me," says Littlefield.
Charlotte runs Hayfields Racing in Victoria with husband, Julian Hay. They are training about 22 horses and the wins are gradually coming.
"I've had a lot of support from men in the industry – I've never had a problem being female. I think if people know you are doing a good job they help, and older trainers like to see the younger trainers coming through," says Littlefield.
"Wins are great, but the second places are good, too. And when every horse you work with feels good – that's a great day."
Remembering Granny McDonald
Before Betty Shepherd and Gai Waterhouse and the latest generation of female trainers, there was Granny McDonald. New Zealand-born Hedwick Wilhelmina McDonald, or 'Granny', was the daughter of a trainer who was enthralled by horses and the world of racing from childhood.
At the age of 31, she became New Zealand's first female trainer and notched up 17 winners in her first season. She could also lay claim to being the first woman to train a Melbourne Cup winner but in 1938, the VRC didn't allow horses trained by females. So, when Catalogue stepped on to the Flemington turf and won the Cup that year, official records showed she was trained by Granny's husband, Allan. In truth, Granny was behind the horse's success.
Then Governor-General of Australia, Lord Gowrie, presented the cup to Catalogue's indignant owner, Mrs 'Tui' Jamieson and informed her that she was only the second woman to own a Melbourne Cup winner.
"Maybe I am, but another woman, Mrs Allan 'Granny' McDonald, should be standing here with me, as the first woman to train a Melbourne Cup winner. She got him ready," Ms Jamieson retorted.