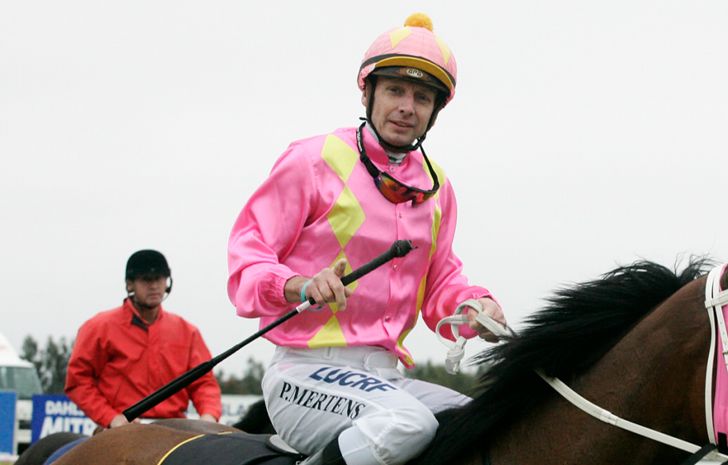 Vale Peter Mertens
6 July 2023
•
Written by
Michael Manley
The outpouring of emotion for Peter Mertens perfectly captured the immense popularity of the former top jockey within the racing industry.
Riders, owners, friends, and trainers have united to pay tribute to the 58-year-old, who tragically lost his battle with pancreatic cancer last weekend. And it's not surprising, as those fortunate enough to have met or known Mertens can attest to his genuine smile and sincere interest in others.
Mertens' riding career exemplifies the classic late-bloomer success story, with his peak period as a jockey beginning in his mid-30s. He commenced his apprenticeship with trainer George O'Mealey at Sale before transferring to Lloyd Timbs. Gippsland served as his base throughout his career, where he achieved remarkable success and earned the moniker 'The King Of Gippsland' due to his unrivalled number of wins in the region.
Despite a setback – a broken neck in 1988, leading to a 14-month hiatus and a stalled career – Mertens' return in the early 1990s signalled a hunger for success, and the country wins started pouring in once again. City trainers began to take notice, none more so than the budding Mick Price. Their collaboration proved formidable, with both making waves in the 1990s. Together, they celebrated their first Group 1 victory when Rustic Dream triumphed in the 1999 Futurity Stakes at Caulfield, marking Mertens' inaugural win at that level at the age of 34. Price also gave Mertens his first Melbourne Cup ride on Toll Bell in 1994. Mertens ultimately rode in five Melbourne Cups, two of them on a horse named Big Pat, trained by Peter Tulloch. One of his seven Group 1 wins came aboard Big Pat when they claimed victory in the South Australian Derby in 2001. Two years later, Mertens rode Big Pat again in the Melbourne Cup, this time for his close friend Robbie Griffiths, who had taken over training responsibilities for an ownership group led by his then-manager, Deane Lester.
Mertens' final Melbourne Cup ride in 2005, aboard the $201 outsider Envoy, marked a career highlight. Although he couldn't keep up with the eventual winner, the magnificent Makybe Diva, Mertens piloted his mount to a commendable seventh-place finish. The overwhelming sound of the crowd as Makybe Diva crossed the finish line created an indescribable feeling for Mertens, a sensation he had never before experienced on a racetrack.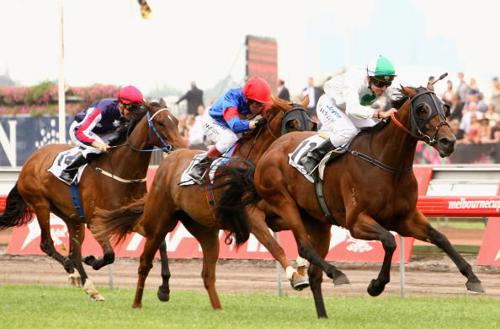 Peter Mertens and Sirmione hits the front in the Group 1 Mackinnon Stakes on Victoria Derby Day, 2007. (Mark Dadswell/Getty Images).
Under the guidance of the legendary Bart Cummings, Mertens secured victories in the 2007 Mackinnon Stakes and the 2008 Australian Cup on Sirmione. However, another devastating injury at Hamilton in 2013 ultimately brought his career to an end. In total, he amassed 2157 wins. Following his retirement, Mertens transitioned to running a pre-training farm in St Leonards before trying his hand at training, although he did not achieve any victories in that role.
Leading the tributes to Mertens was Robbie Griffiths, who knew him for over 40 years, having ridden against him and provided him with more winners than any other trainer. Griffiths fondly remembers Mertens as an absolute "superstar of a guy", cherishing the many great times they spent together. Matt Hyland, CEO of the Victorian Jockeys Association, praised Mertens' gallant fight against his illness and acknowledges his impact on the Victorian racing community and beyond.
Trainer Mick Price, who trained Mertens' first Group 1 winner, sees echoes of the talented jockey in his son, Beau Mertens, a 25-year-old who has already amassed 564 victories. Price recalls his personal and professional experiences with Mertens, describing him as "a lovely man". "I have very fond memories of him personally and professionally. I spent a lot of time with Peter in the early days," Price said. "I see Beau a lot and Peter comes to mind more and more. I have a great association with Beau. The apple doesn't fall far from the tree."
At the end of April, a lunch was held to celebrate Mertens' life and he was in great spirits. Price said he was lucky enough to be there and everyone who was there felt privileged to have spent time with the jockey.
---
Peter Mertens' Career
2156 wins
7 Group 1 wins
5 Group 2 wins
16 Group 3 wins
34 Listed winners
Robbie Griffiths: 155 winners
Mick Price: 71 winners