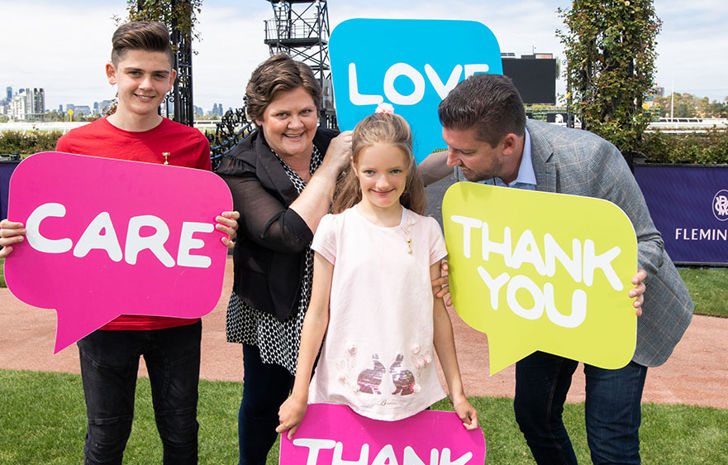 Victoria Racing Club and Very Special Kids set $1 million Pin & Win charity target
10 September 2021
•
Written by
VRC
The Victoria Racing Club's (VRC) Melbourne Cup Carnival Pin & Win campaign will officially kick off this weekend, with all proceeds from commemorative Cup pin sales going directly to children's charity Very Special Kids.
The VRC is aiming to reach the tally of more than $1 million for Very Special Kids by the end of the 2021 Melbourne Cup Carnival, with more than $750,000 already raised in the past two years of the partnership thanks to the generous support of VRC members, Flemington
racegoers and other supporters.
Very Special Kids cares for children with life limiting conditions, improving the quality of life for them and their families by providing practical, professional and emotional support services across their full journey from diagnosis to bereavement.
All proceeds raised from pin sales will go towards improving the lives of these children and helping their families cope through their difficult journey, including the construction of a new hospice in Malvern due for completion in early 2023.
The $22.5 million project will be world-class, with state-of-the-art and best-practice clinical facilities to better support children of every age, size, cultural background and functional capability. There will also be a dedicated area to allow for greater privacy and space to support a family's final wishes for their child.
VRC Chief Executive Officer Steve Rosich said the club was proud to be partnering with Very Special Kids for a third year in a row.
"The VRC is incredibly proud to partner with Very Special Kids again," Mr Rosich said.
"We encourage everyone across Australia to purchase a pin online and join us in supporting the charity to make a real difference in the lives of sick children and their families."
"In a new initiative this year, the VRC will also be purchasing a pin for each VRC member as well as donating $5 of all VRC membership subscriptions to Very Special Kids as a commitment from our members and the club to this very special community partner."
Very Special Kids Chief Executive Officer Michael Wasley said the charity is delighted to be working with the VRC again, as their new purpose-built facility comes to life.
"We are predominantly self-funded so to be able to partner with the Victoria Racing Club again after a challenging year last year is just incredible," Mr Wasley said.
"We are thrilled that construction of the hospice has begun and we are one step closer to delivering our promise of building the world's best children's hospice to support future generations."
The Pin & Win campaign will commence this Saturday 11 September on Sofitel Girls Day In, with pins available for purchase online here.
The $10 Horse Shoe Pin and the $5 traditional Lexus Melbourne Cup Pin will be available to purchase online until MacKinnon Stakes Day on Saturday 6 November. By purchasing a pin, people can enter the draw to win a share in over $130,000 in prizes, including a brand new 2021 Lexus UX 250h AWD F Sport, valued at $75,525.
Since 1995, the VRC's Pin & Win campaign has raised more than $6.6 million for charity through the sale of Lexus Melbourne Cup souvenir pins, helping to change lives and support the community.