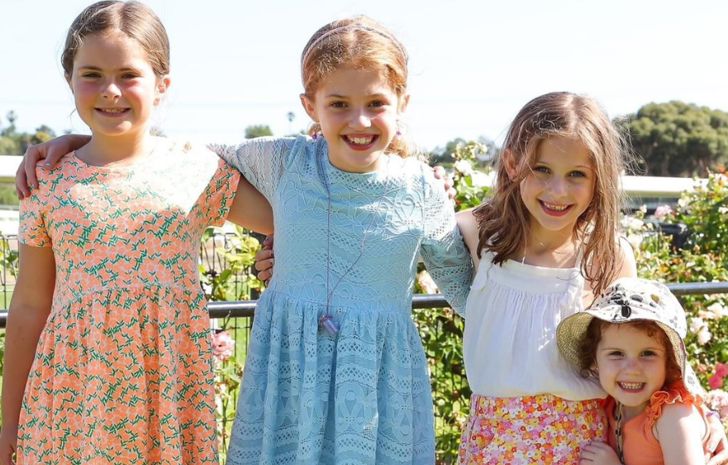 Almost three decades on, Phar Lap Club is still a winner
15 March 2023
•
Written by
Celia Purdey
Officially launched on March 14, 1994, the Phar Lap Club has been a part of the VRC for almost 30 years, providing a formal club for children to be part of and providing a gateway to junior and then full adult membership.
Children have always attended the races at Flemington and are seen in many historic images including the Kahler painting of the 1870s. In the 1950s and 60s, schoolboys who wore their school uniform would get free entry to the course.
The Phar Lap Club was formed to encourage families to attend with their children. Its goal is still the same, and the Club continues to provide entertainment for kids. The Club's activities encourage and foster a love of the horse and the sport of racing, as well as educating them about horses and the people who work with them.
The Watson family are recent members of the Phar Lap Club, with the three young girls (Malin, 8, Allira, 6, and Nikita, 3) joining after their parents acquired a share in their first racehorse.
"The girls have been Phar Lap members for approximately six months. After buying our first share three years ago, our family has developed a strong interest and passion for the horse racing industry. We enjoy going to the races as a family. The VRC membership and Phar Lap Club for the kids have made it a great way to have all the family involved," said mum, Alana.
As well as enjoying the perks of membership, such as having their own card and getting involved in the kid's activities, the girls are most drawn to the horses.
"They really love seeing and patting the horses. Being around them has definitely increased our girls' desire to do horse riding, while questions about the races, the history around the course such as the statues and jockey silks, and the people and horses involved, are frequent on race day!"
The little racing fans even have a favourite horse – Super Thief.
"He holds a special place in our hearts as he was the first horse we bought a share in. The girls love watching him race and giving him a pat. He has always had a lovely temperament around them. They also love seeing the clerk of the course horses, Bare and Billy."
Alana says that the children have also found some idols in the jockeys atop the horses, waiting patiently after the last race on Rapid Racing Race Day to meet some of their favourites.
"Girls rule in the jockey world, and Jamie Kah, Michelle Payne, Laura Lafferty and Celine Gaudray are all favourites! They also like Craig Williams a lot, especially after he shared his chocolates with the girls post-race!"
Group Racing, a Golden Ticket, and Fareground fun makes the TAB Australian Cup Race Day a pivotal day on the racing calendar and a fitting finale to the Flemington Racing Spectacular. Don't miss out on your tickets.