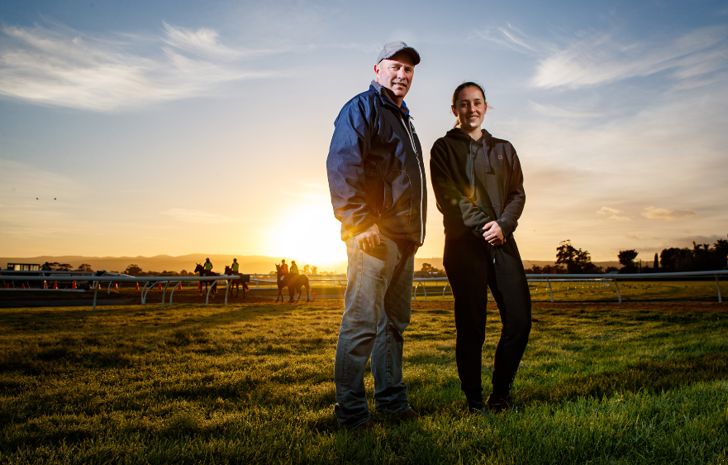 Father-daughter training duo, Richard and Chantelle Jolly
14 March 2023
•
Written by
Celia Purdey
Richard and Chantelle Jolly have had their fair share of success as a father-daughter training team, and are hopeful about even more in the future.
Richard Jolly began riding and racing Shetland ponies around the same time he started school, but horses were part of his life even before that. Richard's father, Peter, had a horse-agistment property about 40 minutes south of Adelaide and he also trained horses as a hobby.
"I was brought up with horses and racing, and racing was the only career I ever had in my mind. I'd get home from school, saddle up the horses and ride until it was dark," recalled Richard.
At only 14, he became an apprentice jockey and had his first race the same year.
"Dad was a big influence in my life – he taught me to ride and was happy for me to become a jockey. My mum, Helen, was
worried I'd get hurt, but they both knew racing was what I wanted to do and although they probably had some fears, they supported me," said Richard.
He raced for 14 years, retiring at 28. His proudest achievement in the saddle was riding Saratov to win the 1989 Group 1 Perth Cup when he was 16. Later that year Richard rode her in the Melbourne Cup.
In 1999, he ended his career as a jockey but had spent the previous 12 months planning his next move – as a trainer.
"I'm tall and I was too heavy and had always struggled with my weight. I was happy to finish riding – and to be able to eat again!" he said.
Richard initially joined his father at the family's Morphettville stables that have been in the family since 1986. He bought a neighbouring property in 1990 and gradually built up his own team and his reputation as a trainer. A highlight in his training career has been winning the Group 1 South Australian Derby with Kushadasi in 2014.
As his father showed him the ropes and shared his knowledge and passion for racing, Richard is now doing the same thing for his daughter, Chantelle.
Father and daughter became official business partners in 2018. Today they have room for 46 horses, rent another five boxes from a neighbour and have 51 horses in training. They have another 20 horses in pre-training at a property in Murray Bridge.
"Like dad, I was always at the stables after school and I had a couple of ponies. I led horses around when I was five and when I was allowed to, I got my licence to do trackwork and strapping. Whenever I wasn't at school, I was in the stables," said Chantelle.
"I knew I wanted to work with horses and I did some work experience at studs to see if I wanted to go into breeding, but racing was where I belonged. I did go to university for a short time – I began studying a business degree and thought maybe I should go into real estate but my heart wasn't in it, so I joined Dad."
Chantelle spent three months broadening her experience in the industry in the UK and worked with trainer Ralph Beckett at his Kimpton Down Stables in Hampshire. Returning to South Australia, she then went into business with Richard.
While Richard manages relationships with owners and watches the horses at work, Chantelle keeps the backend of the business running smoothly. She organises the horses and riders and manages the staff and rosters.
"We work well together. Of course, we have our differences but we're well-suited to be in business together. There's plenty of banter and joking but we are serious when we need to be," said Richard.
"I'm another set of eyes because Dad can't be everywhere at once," said Chantelle.
"I arrive around 4.20am, have the work roster done and know what each horse is supposed to do that day and then Dad arrives. During the morning I get the horses ready to work, make sure they are fit and ensure they have the right gear and right riders. Dad will watch and clock them and then I'll be back at the stalls to make sure the horses are well after they've been worked."
The father-daughter team has already had their fair share of successes. Chantelle recalls a day at Morphettville Racecourse where they had four winners from four runners. In 2021, three-year-old filly All Banter won the Listed WJ Adams Stakes at Caulfield. On Kennedy Oaks Day at Flemington this year, three-year-old filly Aitch Two Oh won the Group 3 Red Roses Stakes.
Richard was at Flemington to witness the win. Chantelle watched the race in an Adelaide pub.
"I watched the race in the mounting yard with the owners who all started bear hugging each other," said Richard.
"Chantelle and I spoke during the day and in the lead-up to the race but afterwards I was tied up for a bit with the owners and press. We spoke an hour afterwards but it's a bit of a blur."
Still a relative rarity in the business, the father-daughter training duo have plans to see many more of their horses cross the finishing line ahead of the rest of the field. With racing being an integral part of family life for everyone, it's a main topic of conversation on and off the course.
"We do talk about racing a lot of the time because it's not work for us – it's our lifestyle," said Chantelle.
"We want to train winners and I'd like to train a Group 1 winner and find our next superstar."
---
Group Racing, a Golden Ticket, and Fareground fun makes the TAB Australian Cup Race Day a pivotal day on the racing calendar and a fitting finale to the Flemington Racing Spectacular. Don't miss out on your tickets.