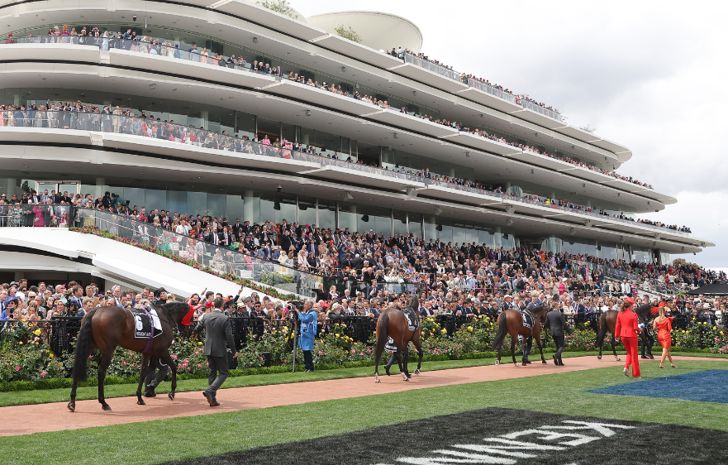 Jayne Ivil and Warren Huntley: Yard commentators cracking the code
2 November 2023
•
Written by
Michael Sharkie
When it comes to the art of selecting the winning racehorse in the mounting yard, keen observation and astute analysis hold the key to success.
Jayne Ivil has a unique way of listening to horses: with her eyes.
"I truly believe that horses are trying to tell us things," Ivil said.
"If you're going to work with horses you need to learn how to listen to them, how to read them. For me, that is so important and I've always been fascinated by trying to work them out."
Ivil, a respected mounting yard analyst with broadcaster Racing.com, was only ever going to work with thoroughbreds; the question was in what capacity.
Her father Craig and grandfather Garth were both highly respected trainers in her native New Zealand. Training was an option but natural ability in the saddle saw her briefly pursue a career as a jockey.
"I was apprentice originally to Frank Ritchie and rode a few winners, then I went on loan to Ralph Manning and that's when I met Seachange."
The darling of New Zealand racing during the mid-2000s, Seachange won seven Group 1 races in her homeland before going on a globetrotting campaign from Melbourne to Dubai to Royal Ascot and Newmarket, taking Ivil with her.
"That's when I got my first exposure to media. There was a lot of media attention and as her strapper and travelling foreman I was in front of a camera pretty often," Ivil said.
Seachange didn't win during her overseas campaign, but the experience was a win for Ivil who returned and joined New Zealand's Trackside team as a producer and then presenter, before crossing the Tasman to become mounting yard analyst for fledgling broadcaster Racing.com.
"Mounting yard analysis along with race form and the betting market is another piece in the puzzle of trying to find the winner of a race. What we try and do on our broadcast is provide a holistic view of the race, bringing those pieces together," she said.
A fastidious note taker, Ivil compiles her own yard comments during and after every race meeting, noting the fitness, behaviour and physical development of each horse that parades in front of her.
"Over time you develop a profile of each horse and I know what to expect from certain horses at certain stages of their preparation. I take note of what a horse's condition was like when they ran a great race, and what it was like when they performed below expectations. I'm looking for physical and temperamental cues to indicate performance."
While there's no such thing as the perfect horse as far as a physical specimen goes, Ivil remembers one particular runner in the 2020 Feehan Stakes at Moonee Valley that presented as close to perfect as he could, and a shock result soon followed.
"Humidor was well known at the time but he had been really out of form. He'd had a couple of stable changes and nothing was working, and he didn't present well. I remember he was first-up in the Feehan at a big price, his first start for Chris Waller. He walked into the yard and he just looked incredible. It was as if he said, 'Okay guys, I'm back,' and I remember saying on air that he would just win the race, and he did at 20/1."
Ivil's Racing.com colleague Warren Huntly didn't come from a racing family and he certainly didn't harbour teenage ambitions of riding at Flemington, but he has become an equally respected mounting yard judge after his own sea change of sorts.
Huntly was a corporate player for Cadbury Schweppes in the mid-1990s when he first discovered the world of racing. He bought a share of a horse named Splinter with syndicator Harry Lawton and through that horse, he discovered the pre-dawn world of the Flemington track work.
"I was keen to learn and Leon Corstens opened the door for me. I was a fly on the wall listening to Leon, John Sadler, Lee Freedman, and Des Spain, the clocker. It ignited my passion for racing and eventually, Des said, 'You're here, you might as well do something," and I started helping out," Huntly explained.
So fiercely did the racing bug bite that Huntly resigned from corporate life and took a punt on a career change, first as a jockey manager where he teamed with Group 1 winner Steven Arnold, before moving into media.
"Deane Lester was a great friend and he put in a good word for me at RSN where I started as a producer before moving into form commentary. I got a chance in mounting yard commentary with Racenet when they kicked off their race day service in 2010, the year Steven (Arnold) won the Cox Plate on So You Think. Racing.com followed soon after."
Huntly regards Lester as one of the finest horse judges he has witnessed in the mounting yard. The pair would regularly bounce ideas off each other as they watched runners parade each Saturday.
"He taught me a lot, especially post-race watching how a horse has pulled up. It is just as important to watch them after a race to get an idea of how fit they are, how much improvement might come from the effort."
Like Ivil, Huntly compiles his own profiles and opinion of horses he observes in the mounting yard. He loves a flowing, smooth walk on a stayer, a bright healthy coat as an indicator of overall wellbeing, and an alert eye without stress or anxiety.
"Every horse is different, some horses can carry a bit of a tummy and still race really well, while others need to be rock-hard fit. Some need to be right on their toes to perform and others you'd prefer to see half asleep and calm. My job is to understand those characteristics and communicate them to an audience." 
A watchful eye has meant that on rare occasions Huntly has had to communicate more important information from the mounting yard than how a horse is walking.
"Twice in my career, I've noticed that the wrong horse was in the yard. The stable had saddled the wrong horse, similar size and colour but clearly the wrong horse. I realised the mistake before the stewards and let them know. Crisis averted!"
But more often than not, it's winners rather than mistakes that Huntly finds in the yard, an underrated skill that he thinks more punters should spend time sharpening.
"I've always loved learning new things and you're always learning in this job.
I love going to the races without doing any form and just assessing the horses on how they present in the yard. The average punter would be surprised how accurate the mounting yard can be once you learn how to read a horse."