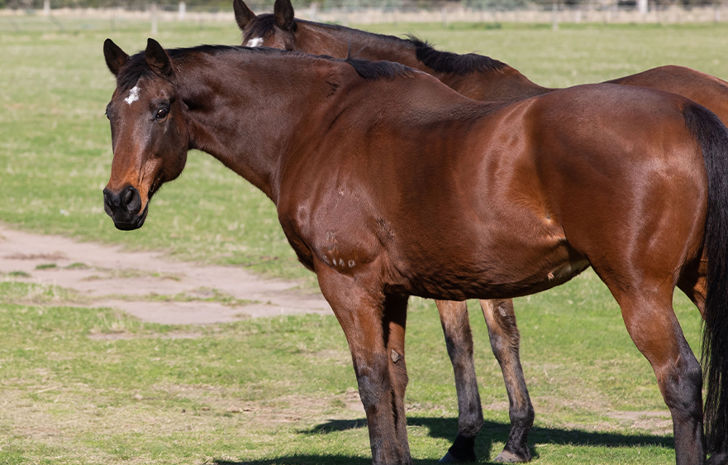 Meet Silent Witness at Flemington
16 February 2023
•
Written by
VRC
He was Hong Kong's 'Black Caviar', now he calls Living Legends home. Don't miss meeting him at Flemington on Black Caviar Lightning Race Day, Saturday 18 February.
Bred at Edinburgh Park Stud in New South Wales, Silent Witness was sold for $55,000 at the William Inglis Classic Yearling Sale to be trained initially by David Hall. Under the name Eltira, the young thoroughbred won a trial at Ballarat before being sold to Hong Kong where his name changed to Silent Witness.
He was to be trained by champion trainer Tony Cruz, with jockey Felix Coetzee in the saddle for all 29 of Silent Witness's starts. He won his first race comfortably by almost four lengths in a 1000 metre race on the straight track at Sha Tin and finished his first Hong Kong season winning all five starts, culminating in the Group 2 Sha Tin Vase and stamping himself as the next big thing in Hong Kong racing.
Silent Witness quickly became a Hong Kong icon, drawing large crowds and thunderous cheers and cries every time he appeared on track. Incredibly he won his first 17 races in succession, eight Group1 victories. Hong Kong racegoers really get behind their champions and bringing signs and wearing the colours of his owners, the Black and Lime Green of the da Silva family.
In May of 2005, after conquering the sprint scene in Hong Kong for the best part of three years, the champion sprinter stepped up to a mile for the first time. The start prior he won the Group 2 Queen's Silver Jubilee Cup, his first try at 1400 metres. In the Group 1 Champion's Mile, he led for the majority of the race, fending off challenges from The Duke, Super Kid and Ain't Here at the 200m, only to be grabbed on the line, suffering his first defeat to stablemate and fellow Hong Kong superstar Bullish Luck. After recording his first blemish on his impressive resume, Cruz was undeterred, venturing to Japan to again tackle the mile in the Group 1 Yasuda Kinen, customarily settling on speed, finishing a brave third after leading for most of the straight.
Silent Witness was crowned Hong Kong Horse of the Year in 2004 and 2005 and was named in Time magazine's Top 100 in 2005. For the three years from 2003 to 2005, the International Federation of Horseracing Authorities in Paris ranked Silent Witness the world's highest rated sprinter. He retired amassing HKD$62,496,396 in stakes and left a lasting legacy on the racing fans in Hong Kong and most definitely on the lives and careers of Felix Coetzee and Tony Cruz.
---

SILENT WITNESS
Bay Gelding
Foaled  01/10/1999 – Edinburgh Park Stud, Manning Valley, New South Wales
Previous Name ELTIRA
Sire  El Moxie (USA)
Dam  Jade Tiara (Bureaucracy (NZ))
Breeder  IK Smith NSW
Trainer  Derek Cruz
Jockey  Felix Coetzee
Owner  Arthur Antonio da Silva
CAREER STATISTICS
| | | | | | |
| --- | --- | --- | --- | --- | --- |
| Country | Starts | Wins | 2nds | 3rds | Prizemoney |
| HK | 26 | 17 | 3 | 1 | $53,435,596 (HKD) |
| JPN | 3 | 1 | 0 | 1 | ¥135,912,000 (JPY) |
|   |   |   |   |   |   |
|   | Total Starts | Wins | 2nds | 3rds | Total Prizemoney |
|   | 29 | 18 | 3 | 2 | $10,416,066 (AUD) |
MAJOR ACHIEVEMENTS
Hong Kong
WON Group 1 Cathay Pacific Hong Kong Sprint 1000m (2004)
WON Group 1 Hong Kong Sprint 1000m (2003)
WON Group 1 Chairman's Sprint Prize 1200m (2004, 2005)
WON Group 1 Centenary Sprint Cup 1000m (2004, 2005)
WON Group 1 Bauhinia Sprint Trophy 1000m (2004,2005)
Japan
WON Group 1 Sprinters Stakes 1200m (Nakayama) (2005)
AWARDS
World's Champion Sprinter (2003, 2004, 2005)
Hong Kong Champion Sprinter (2004, 2005, 2006)
Hong Kong Horse of the Year (2004, 2005)
Hong Kong Most Popular Horse of the Year (2004, 2005)
Don't miss meeting him at Flemington on Black Caviar Lightning Race Day, Saturday 18 February.
System.Web.HttpException (0x80004005): Error executing child request for handler 'System.Web.Mvc.HttpHandlerUtil+ServerExecuteHttpHandlerAsyncWrapper'. ---> System.NullReferenceException: Object reference not set to an instance of an object.
   at ASP._Page_Views_Partials_googleAd_cshtml.Execute()
   at System.Web.WebPages.WebPageBase.ExecutePageHierarchy()
   at System.Web.Mvc.WebViewPage.ExecutePageHierarchy()
   at System.Web.WebPages.WebPageBase.ExecutePageHierarchy(WebPageContext pageContext, TextWriter writer, WebPageRenderingBase startPage)
   at System.Web.Mvc.RazorView.RenderView(ViewContext viewContext, TextWriter writer, Object instance)
   at System.Web.Mvc.BuildManagerCompiledView.Render(ViewContext viewContext, TextWriter writer)
   at Umbraco.Web.Mvc.ProfilingView.Render(ViewContext viewContext, TextWriter writer) in D:\a\1\s\src\Umbraco.Web\Mvc\ProfilingView.cs:line 25
   at System.Web.Mvc.ViewResultBase.ExecuteResult(ControllerContext context)
   at System.Web.Mvc.ControllerActionInvoker.InvokeActionResult(ControllerContext controllerContext, ActionResult actionResult)
   at System.Web.Mvc.ControllerActionInvoker.InvokeActionResultFilterRecursive(IList`1 filters, Int32 filterIndex, ResultExecutingContext preContext, ControllerContext controllerContext, ActionResult actionResult)
   at System.Web.Mvc.ControllerActionInvoker.InvokeActionResultFilterRecursive(IList`1 filters, Int32 filterIndex, ResultExecutingContext preContext, ControllerContext controllerContext, ActionResult actionResult)
   at System.Web.Mvc.ControllerActionInvoker.InvokeActionResultFilterRecursive(IList`1 filters, Int32 filterIndex, ResultExecutingContext preContext, ControllerContext controllerContext, ActionResult actionResult)
   at System.Web.Mvc.ControllerActionInvoker.InvokeActionResultFilterRecursive(IList`1 filters, Int32 filterIndex, ResultExecutingContext preContext, ControllerContext controllerContext, ActionResult actionResult)
   at System.Web.Mvc.ControllerActionInvoker.InvokeActionResultFilterRecursive(IList`1 filters, Int32 filterIndex, ResultExecutingContext preContext, ControllerContext controllerContext, ActionResult actionResult)
   at System.Web.Mvc.ControllerActionInvoker.InvokeActionResultWithFilters(ControllerContext controllerContext, IList`1 filters, ActionResult actionResult)
   at System.Web.Mvc.Async.AsyncControllerActionInvoker.<>c__DisplayClass3_6.<BeginInvokeAction>b__4()
   at System.Web.Mvc.Async.AsyncControllerActionInvoker.<>c__DisplayClass3_1.<BeginInvokeAction>b__1(IAsyncResult asyncResult)
   at System.Web.Mvc.Async.AsyncResultWrapper.WrappedAsyncResult`1.CallEndDelegate(IAsyncResult asyncResult)
   at System.Web.Mvc.Async.AsyncResultWrapper.WrappedAsyncResultBase`1.End()
   at System.Web.Mvc.Async.AsyncControllerActionInvoker.EndInvokeAction(IAsyncResult asyncResult)
   at System.Web.Mvc.Controller.<>c.<BeginExecuteCore>b__152_1(IAsyncResult asyncResult, ExecuteCoreState innerState)
   at System.Web.Mvc.Async.AsyncResultWrapper.WrappedAsyncVoid`1.CallEndDelegate(IAsyncResult asyncResult)
   at System.Web.Mvc.Async.AsyncResultWrapper.WrappedAsyncResultBase`1.End()
   at System.Web.Mvc.Controller.EndExecuteCore(IAsyncResult asyncResult)
   at System.Web.Mvc.Controller.<>c.<BeginExecute>b__151_2(IAsyncResult asyncResult, Controller controller)
   at System.Web.Mvc.Async.AsyncResultWrapper.WrappedAsyncVoid`1.CallEndDelegate(IAsyncResult asyncResult)
   at System.Web.Mvc.Async.AsyncResultWrapper.WrappedAsyncResultBase`1.End()
   at System.Web.Mvc.Controller.EndExecute(IAsyncResult asyncResult)
   at System.Web.Mvc.Controller.System.Web.Mvc.Async.IAsyncController.EndExecute(IAsyncResult asyncResult)
   at System.Web.Mvc.MvcHandler.<>c.<BeginProcessRequest>b__20_1(IAsyncResult asyncResult, ProcessRequestState innerState)
   at System.Web.Mvc.Async.AsyncResultWrapper.WrappedAsyncVoid`1.CallEndDelegate(IAsyncResult asyncResult)
   at System.Web.Mvc.Async.AsyncResultWrapper.WrappedAsyncResultBase`1.End()
   at System.Web.Mvc.MvcHandler.EndProcessRequest(IAsyncResult asyncResult)
   at System.Web.Mvc.MvcHandler.System.Web.IHttpAsyncHandler.EndProcessRequest(IAsyncResult result)
   at System.Web.Mvc.HttpHandlerUtil.ServerExecuteHttpHandlerAsyncWrapper.<>c__DisplayClass3_0.<EndProcessRequest>b__0()
   at System.Web.Mvc.HttpHandlerUtil.ServerExecuteHttpHandlerWrapper.<>c__DisplayClass5_0.<Wrap>b__0()
   at System.Web.Mvc.HttpHandlerUtil.ServerExecuteHttpHandlerWrapper.Wrap[TResult](Func`1 func)
   at System.Web.Mvc.HttpHandlerUtil.ServerExecuteHttpHandlerWrapper.Wrap(Action action)
   at System.Web.Mvc.HttpHandlerUtil.ServerExecuteHttpHandlerAsyncWrapper.EndProcessRequest(IAsyncResult result)
   at System.Web.HttpServerUtility.ExecuteInternal(IHttpHandler handler, TextWriter writer, Boolean preserveForm, Boolean setPreviousPage, VirtualPath path, VirtualPath filePath, String physPath, Exception error, String queryStringOverride)
   at System.Web.HttpServerUtility.ExecuteInternal(IHttpHandler handler, TextWriter writer, Boolean preserveForm, Boolean setPreviousPage, VirtualPath path, VirtualPath filePath, String physPath, Exception error, String queryStringOverride)
   at System.Web.HttpServerUtility.Execute(IHttpHandler handler, TextWriter writer, Boolean preserveForm, Boolean setPreviousPage)
   at System.Web.HttpServerUtility.Execute(IHttpHandler handler, TextWriter writer, Boolean preserveForm)
   at System.Web.HttpServerUtilityWrapper.Execute(IHttpHandler handler, TextWriter writer, Boolean preserveForm)
   at System.Web.Mvc.Html.ChildActionExtensions.ActionHelper(HtmlHelper htmlHelper, String actionName, String controllerName, RouteValueDictionary routeValues, TextWriter textWriter)
   at System.Web.Mvc.Html.ChildActionExtensions.Action(HtmlHelper htmlHelper, String actionName, String controllerName, RouteValueDictionary routeValues)
   at Our.Umbraco.DocTypeGridEditor.Web.Extensions.HtmlHelperExtensions.RenderDocTypeGridEditorItem(HtmlHelper helper, IPublishedElement content, String editorAlias, String viewPath, String previewViewPath, Boolean isPreview)
   at ASP._Page_app_plugins_doctypegrideditor_render_DocTypeGridEditor_cshtml.Execute()
   at System.Web.WebPages.WebPageBase.ExecutePageHierarchy()
   at System.Web.Mvc.WebViewPage.ExecutePageHierarchy()
   at System.Web.WebPages.WebPageBase.ExecutePageHierarchy(WebPageContext pageContext, TextWriter writer, WebPageRenderingBase startPage)
   at System.Web.Mvc.RazorView.RenderView(ViewContext viewContext, TextWriter writer, Object instance)
   at System.Web.Mvc.BuildManagerCompiledView.Render(ViewContext viewContext, TextWriter writer)
   at Umbraco.Web.Mvc.ProfilingView.Render(ViewContext viewContext, TextWriter writer) in D:\a\1\s\src\Umbraco.Web\Mvc\ProfilingView.cs:line 25
   at System.Web.Mvc.HtmlHelper.RenderPartialInternal(String partialViewName, ViewDataDictionary viewData, Object model, TextWriter writer, ViewEngineCollection viewEngineCollection)
   at System.Web.Mvc.Html.PartialExtensions.Partial(HtmlHelper htmlHelper, String partialViewName, Object model, ViewDataDictionary viewData)
   at System.Web.Mvc.Html.PartialExtensions.Partial(HtmlHelper htmlHelper, String partialViewName, Object model)
   at ASP._Page_Views_Partials_grid_editors_Base_cshtml.Execute()