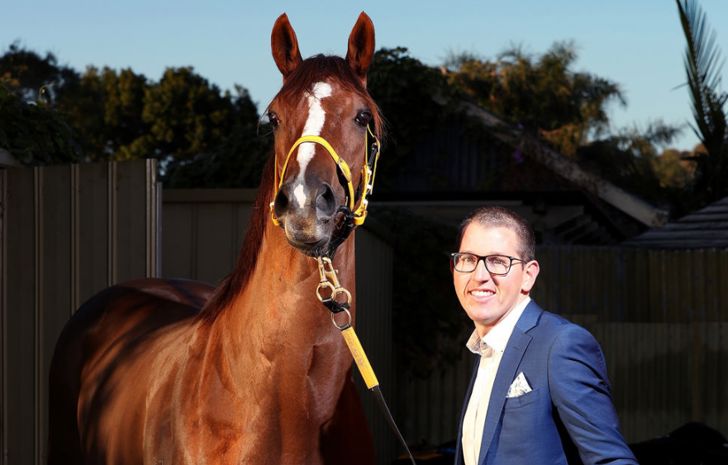 Scott Leckey has a winning attitude
15 May 2023
•
Written by
Michael Lynch
Drawing on his determination and strength to recover from a race fall where he nearly lost his life, Scott Leckey is an inspiration to all who meet him and his passion for racing has never waned.
Scott Leckey can recall the moments that changed his life beyond recognition in intimate detail, even though they came more than a decade ago.
One minute he was one of Darwin's leading riders, a 23-year-old who had cemented his status in the top end's racing scene by winning both the apprentices and senior riders titles.
Seconds later, he was lying unconscious on the ground, his body bent and twisted, his brain injured and family, friends, colleagues and rivals all praying that the talkative fellow known for his sharp dress sense and friendly manner had not been killed. It was July 28, 2007.
Leckey, who was born in Traralgon, had made Darwin and South Australia his base after initially beginning his career as an apprentice with Mark Riley in Victoria.
By the time of the accident that changed things forever, he had ridden more than 200 winners – the bulk of them for Mark Kavanagh in South Australia – and had also enjoyed success for leading NT handler Stephen Brown. Not bad for a lad who had never been on a horse until he was 16, a boy who got the idea for being a jockey because he was small.
Popular and talented, he was, as those who knew him in his youthful riding prime, fun to be around: cheeky, full of life and zest.
Now he lay there, that vigour evaporating after he took a terrible fall in a three-horse pile up, from a galloper called Encosta Dior.
"I was back in the field, I think I was second last, and one of the riders in front came out and knocked into another horse. I had nowhere to go and went straight into the back of them before being speared into the ground.
"I was in a coma for a long time after, and when I woke up I went to the Epworth Hospital in Melbourne to start what was a very long journey to recovery," he says with a crystal clear and unsentimental recollection.
His father Tommy was back home at the family's Traralgon property watching the racing from Darwin on TV. It was early evening on a winter's night in Gippsland, and the relative warmth of the late afternoon on a Territory July day looked inviting on screen.
"I saw him out at the back of the field, he might have been nearly last at the time. When he went down it looked like a bad fall. People rang me quickly to keep me informed, and they told me I should get up there," he says in his Belfast accent, a Northern Irish twang little changed by more than 40 years in Australia. 
Leckey junior was a top-quality sportsman with his life ahead of him. In an instant, this all changed. He spent two years in the Epworth, rehabilitating.
"I had to learn to eat, drink, swallow, walk, talk. Do everything. My right side was paralaysed, so I had to learn to do everything with my left, and I need a stick to walk with now all the time," he says.
It was a long, slow journey back to relative health and fitness. He still needs physiotherapy every day – Leckey is full of praise for his carers in Adelaide, Edwina Reid, Rachel Dempsey, Victoria Veitch and Kate Seeliger  – but he has control of his own mobility, can drive and lives independently in a house near Morphettville Racecourse.
"I was told I wouldn't walk, that I would be dependent, but I was determined to look after myself. I knew if I stayed in Melbourne I would be seen as a disabled person, so I wanted to base myself in Adelaide because I was known in racing there. People knew me as a jockey and I had an identity. I wouldn't just be disabled."
Fundraisers were held, monies were donated and as the years went by he was able to look after himself more and more and take on a companion animal in the shape of his Great Dane/Ridgeback cross Lily.
It was no surprise to his father.
"Ever since he was a little boy he was always determined. He would always do extra, try harder, he just had that in him," says Tommy.
He was able to buy a property adjacent to Morphettville Racecourse – it backs on to trainer Stuart Gower's stables – and he stays in the tightly knit community by going to the races as often as he can.
He even has his own car parking space – complete with personalised sign – next to the SAJC chairman's spot in the Morphettville car park.
There is not a trace of bitterness in the former jockey who is now an advocate for making the best out of any situation life deals you.
His injuries and changed lifestyle has, he says, humbled him and given him a sense of perspective.
"I was just a young bloke happy to take risks and chances because I never thought it would happen to me. But I realise through what has happened to me and how people have helped me, that this is a great world because there are so many great people in it."
Leckey is quick to pay tribute to all those who have helped and supported him through the dark times and allowed him to get to the position he is in now.
And those he talks highly of – Australian Jockeys Association boss Des O'Keeffe and Darwin Racing former chairman Brett Dixon – return the compliment.
"He has an amazing mindset. He sees himself as being employed by the Territory Insurance Office (he was covered by the jockey's insurance policy which guarantees him financial support for life) and because they pay him a regular benefit, his take on it is that he has to be the best person he can be and in the best physical condition he can," says O'Keeffe.
"He goes up to Darwin every year, meets with everyone up there and fills them in on what he's been doing.
I wish there was a word better than inspirational to describe Scott because he is all that and more."
Dixon echoes O'Keeffe's sentiments.
"His resilience over the years has been amazing. He came up to the Darwin Cup meeting in 2017 and made a keynote speech on the Thursday before the big race and there wasn't a dry eye in the room, it made the hairs stand up on the back of your neck. Scott doesn't let anything get in his way. He does not miss a carnival, he goes to the gala ball and he loves getting into the fashions on the field. He really is inspirational."
---
VRC National Jockeys Trust Race Day acknowledges the amazing jockeys who bring every race to life with dedication, bravery and skill. Join us as we raise awareness and funds for the National Jockey Trust which provides a range of important support to ill or injured jockeys and their families. Tickets selling fast, don't miss out!