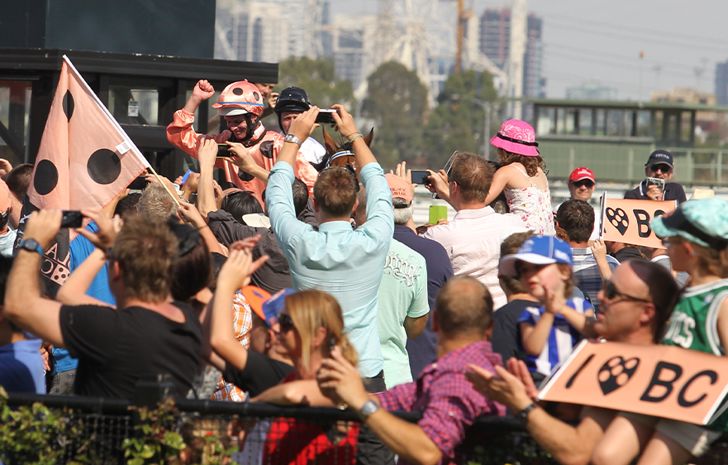 Successful silks at Flemington
2 June 2023
•
Written by
Danny Matthews - Racing & Sports
As Australia's most iconic racetrack, Flemington has seen dozens of iconic colours create history, with some silks instantly identifiable to a horse or trainer, not just to racing fans, but the wider community as well.
With that in mind, we've taken a look back through at just some of the successful silks to grace the Flemington surface, and the star horses and trainers they represented.
BART CUMMINGS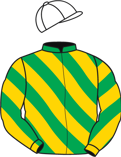 So iconic are the green and gold diagonal stripes of the late Bart Cummings, the Australian Racing Board decreed that the silks may not be copied even if officially retired until 2063 in honour of the most successful Melbourne Cup trainer in history.
He won the race 12 times, although most of his Melbourne Cup winners would not wear those colours.
Red Handed, Think Big and Let's Elope were the only Melbourne Cup winners to wear the green and gold. Interestingly, Think Big, who won the race back-to-back in 1974 and 1975, only wore the colours in his first. Even more remarkably, Cummings would quinella the Melbourne Cup on five occasions, and won over 50 Group 1 races at Flemington.
DATO TAN CHIN NAM
To speak of Bart Cummings and Melbourne Cups must be followed on by the chequered silks of the late Dato Tan Chin Nam, one of the most influential breeders and owners in Australian racing history.
A huge client of Bart's, they would win the Melbourne Cup together on four occasions, twice with Think Big, and once with Saintly and Viewed.
All stars in their own right, but it was one of Australia's greatest ever thoroughbreds that the colours are perhaps best known for. So You Think would only race at Flemington three times for one win in the 2010 MacKinnon Stakes by nearly 4 lengths, in what Racing And Sports (and Timeform) make to be his greatest performance world-wide.
TONY SANTIC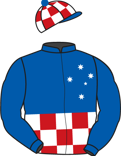 Croatian-born fisherman Tony Santic's racing colours became iconic due to the achievements of his imported mare and three-time Melbourne Cup legend, Makybe Diva.
The colours were a representation of his birth country and his adopted home. The blue with red and white checks of Croatia, and the iconic Southern Cross.
The Diva captured the hearts and minds of not only racing fans but the entire country, doing what no horse has done before, winning three Melbourne Cups.
That first Tuesday in November of 2005, was a sea of red, white and blue, with commemorative eye masks all over the Flemington front lawn. After the win, she stopped to acknowledge her applause in what was a memorable scene.
The colours live on through Santic's Makybe Racing and Breeding operation and stud farm in Gnarwarre, west of Geelong, Victoria.
LLOYD WILLIAMS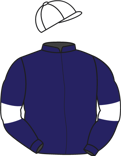 If the Bart Cummings colours were synonymous with Flemington's famous race in yesteryear, the navy and white silks of seven-time Cup winning owner Lloyd Williams might be able to lay claim to being the most recognisable modern Melbourne Cup colours.
Adding to the win of What A Nuisance in 1985, between 2007-2020 he won the race five times, including three times in five years, the most recent of which was Twilight Payment in 2020.
In recent years, Williams has revolutionised the Melbourne Cup game, almost parallel to Bart Cummings before him.
Where Bart's philosophy was a horse needs 10,000 metres in their legs during a Melbourne Cup preparation, Lloyd's past four Cup winners have been imports from Europe and the past two, Twilight Payment and Rekindling, were running in the Cup first-up.
According to Racing And Sports, his best Cup winner was narrowly Green Moon, but perhaps his most famous was Efficient, who won the VRC Derby, Melbourne Cup and Turnbull Stakes at Flemington.
Williams won his first Melbourne Cup in 1981 with Just A Dash although in a different set of silks.
BLACK CAVIAR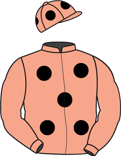 The salmon pink with black 'caviar' spots are the most iconic colours in Australia for attributing to a single horse.
No set of silks would be more commonly attributed to a single thoroughbred in Australia than Black Caviar's, who is the joint leader for total wins in Flemington history.
The unbeaten mare won down the straight at Flemington eight times, tied with steeplechaser Leading Bounty, who won eight times from 26 runs at HQ, the majority of those over the jumps.
Black Caviar also holds the 1000m track record with a blistering 55.42, so you'd be forgiven if you didn't get a good look at the colours mid-race.
LINDSAY PARK STABLE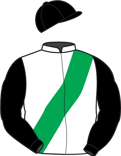 Of all the trainers to have a horse grace the Flemington turf, only Lee Freedman has more winners than David Hayes, and the colours of Lindsay Park are iconic in Australian racing.
Originally started by David's father Colin in 1965, the white with green diagonal sash, black sleeves and cap have been iconic for decades and are being upheld today by David's sons, Ben and JD.
Arguably the colours greatest ever horse is Better Loosen Up, and he gave David Hayes his first Group 1 winner, taking out the 1990 Cox Plate.
Better Loosen Up would go on to win the Mackinnon Stakes and Australian Cup at Flemington, as well as a Japan Cup for good measure.
System.Web.HttpException (0x80004005): Error executing child request for handler 'System.Web.Mvc.HttpHandlerUtil+ServerExecuteHttpHandlerAsyncWrapper'. ---> System.NullReferenceException: Object reference not set to an instance of an object.
   at ASP._Page_Views_Partials_googleAd_cshtml.Execute() in C:\home\site\wwwroot\Views\Partials\googleAd.cshtml:line 4
   at System.Web.WebPages.WebPageBase.ExecutePageHierarchy()
   at System.Web.Mvc.WebViewPage.ExecutePageHierarchy()
   at System.Web.WebPages.WebPageBase.ExecutePageHierarchy(WebPageContext pageContext, TextWriter writer, WebPageRenderingBase startPage)
   at System.Web.Mvc.RazorView.RenderView(ViewContext viewContext, TextWriter writer, Object instance)
   at System.Web.Mvc.BuildManagerCompiledView.Render(ViewContext viewContext, TextWriter writer)
   at Umbraco.Web.Mvc.ProfilingView.Render(ViewContext viewContext, TextWriter writer) in D:\a\1\s\src\Umbraco.Web\Mvc\ProfilingView.cs:line 25
   at System.Web.Mvc.ViewResultBase.ExecuteResult(ControllerContext context)
   at System.Web.Mvc.ControllerActionInvoker.InvokeActionResult(ControllerContext controllerContext, ActionResult actionResult)
   at System.Web.Mvc.ControllerActionInvoker.InvokeActionResultFilterRecursive(IList`1 filters, Int32 filterIndex, ResultExecutingContext preContext, ControllerContext controllerContext, ActionResult actionResult)
   at System.Web.Mvc.ControllerActionInvoker.InvokeActionResultFilterRecursive(IList`1 filters, Int32 filterIndex, ResultExecutingContext preContext, ControllerContext controllerContext, ActionResult actionResult)
   at System.Web.Mvc.ControllerActionInvoker.InvokeActionResultFilterRecursive(IList`1 filters, Int32 filterIndex, ResultExecutingContext preContext, ControllerContext controllerContext, ActionResult actionResult)
   at System.Web.Mvc.ControllerActionInvoker.InvokeActionResultFilterRecursive(IList`1 filters, Int32 filterIndex, ResultExecutingContext preContext, ControllerContext controllerContext, ActionResult actionResult)
   at System.Web.Mvc.ControllerActionInvoker.InvokeActionResultFilterRecursive(IList`1 filters, Int32 filterIndex, ResultExecutingContext preContext, ControllerContext controllerContext, ActionResult actionResult)
   at System.Web.Mvc.ControllerActionInvoker.InvokeActionResultWithFilters(ControllerContext controllerContext, IList`1 filters, ActionResult actionResult)
   at System.Web.Mvc.Async.AsyncControllerActionInvoker.<>c__DisplayClass3_6.<BeginInvokeAction>b__4()
   at System.Web.Mvc.Async.AsyncControllerActionInvoker.<>c__DisplayClass3_1.<BeginInvokeAction>b__1(IAsyncResult asyncResult)
   at System.Web.Mvc.Async.AsyncResultWrapper.WrappedAsyncResult`1.CallEndDelegate(IAsyncResult asyncResult)
   at System.Web.Mvc.Async.AsyncResultWrapper.WrappedAsyncResultBase`1.End()
   at System.Web.Mvc.Async.AsyncControllerActionInvoker.EndInvokeAction(IAsyncResult asyncResult)
   at System.Web.Mvc.Controller.<>c.<BeginExecuteCore>b__152_1(IAsyncResult asyncResult, ExecuteCoreState innerState)
   at System.Web.Mvc.Async.AsyncResultWrapper.WrappedAsyncVoid`1.CallEndDelegate(IAsyncResult asyncResult)
   at System.Web.Mvc.Async.AsyncResultWrapper.WrappedAsyncResultBase`1.End()
   at System.Web.Mvc.Controller.EndExecuteCore(IAsyncResult asyncResult)
   at System.Web.Mvc.Controller.<>c.<BeginExecute>b__151_2(IAsyncResult asyncResult, Controller controller)
   at System.Web.Mvc.Async.AsyncResultWrapper.WrappedAsyncVoid`1.CallEndDelegate(IAsyncResult asyncResult)
   at System.Web.Mvc.Async.AsyncResultWrapper.WrappedAsyncResultBase`1.End()
   at System.Web.Mvc.Controller.EndExecute(IAsyncResult asyncResult)
   at System.Web.Mvc.Controller.System.Web.Mvc.Async.IAsyncController.EndExecute(IAsyncResult asyncResult)
   at System.Web.Mvc.MvcHandler.<>c.<BeginProcessRequest>b__20_1(IAsyncResult asyncResult, ProcessRequestState innerState)
   at System.Web.Mvc.Async.AsyncResultWrapper.WrappedAsyncVoid`1.CallEndDelegate(IAsyncResult asyncResult)
   at System.Web.Mvc.Async.AsyncResultWrapper.WrappedAsyncResultBase`1.End()
   at System.Web.Mvc.MvcHandler.EndProcessRequest(IAsyncResult asyncResult)
   at System.Web.Mvc.MvcHandler.System.Web.IHttpAsyncHandler.EndProcessRequest(IAsyncResult result)
   at System.Web.Mvc.HttpHandlerUtil.ServerExecuteHttpHandlerAsyncWrapper.<>c__DisplayClass3_0.<EndProcessRequest>b__0()
   at System.Web.Mvc.HttpHandlerUtil.ServerExecuteHttpHandlerWrapper.<>c__DisplayClass5_0.<Wrap>b__0()
   at System.Web.Mvc.HttpHandlerUtil.ServerExecuteHttpHandlerWrapper.Wrap[TResult](Func`1 func)
   at System.Web.Mvc.HttpHandlerUtil.ServerExecuteHttpHandlerWrapper.Wrap(Action action)
   at System.Web.Mvc.HttpHandlerUtil.ServerExecuteHttpHandlerAsyncWrapper.EndProcessRequest(IAsyncResult result)
   at System.Web.HttpServerUtility.ExecuteInternal(IHttpHandler handler, TextWriter writer, Boolean preserveForm, Boolean setPreviousPage, VirtualPath path, VirtualPath filePath, String physPath, Exception error, String queryStringOverride)
   at System.Web.HttpServerUtility.ExecuteInternal(IHttpHandler handler, TextWriter writer, Boolean preserveForm, Boolean setPreviousPage, VirtualPath path, VirtualPath filePath, String physPath, Exception error, String queryStringOverride)
   at System.Web.HttpServerUtility.Execute(IHttpHandler handler, TextWriter writer, Boolean preserveForm, Boolean setPreviousPage)
   at System.Web.HttpServerUtility.Execute(IHttpHandler handler, TextWriter writer, Boolean preserveForm)
   at System.Web.HttpServerUtilityWrapper.Execute(IHttpHandler handler, TextWriter writer, Boolean preserveForm)
   at System.Web.Mvc.Html.ChildActionExtensions.ActionHelper(HtmlHelper htmlHelper, String actionName, String controllerName, RouteValueDictionary routeValues, TextWriter textWriter)
   at System.Web.Mvc.Html.ChildActionExtensions.Action(HtmlHelper htmlHelper, String actionName, String controllerName, RouteValueDictionary routeValues)
   at Our.Umbraco.DocTypeGridEditor.Web.Extensions.HtmlHelperExtensions.RenderDocTypeGridEditorItem(HtmlHelper helper, IPublishedElement content, String editorAlias, String viewPath, String previewViewPath, Boolean isPreview)
   at ASP._Page_app_plugins_doctypegrideditor_render_DocTypeGridEditor_cshtml.Execute() in C:\home\site\wwwroot\app_plugins\doctypegrideditor\render\DocTypeGridEditor.cshtml:line 34
   at System.Web.WebPages.WebPageBase.ExecutePageHierarchy()
   at System.Web.Mvc.WebViewPage.ExecutePageHierarchy()
   at System.Web.WebPages.WebPageBase.ExecutePageHierarchy(WebPageContext pageContext, TextWriter writer, WebPageRenderingBase startPage)
   at System.Web.Mvc.RazorView.RenderView(ViewContext viewContext, TextWriter writer, Object instance)
   at System.Web.Mvc.BuildManagerCompiledView.Render(ViewContext viewContext, TextWriter writer)
   at Umbraco.Web.Mvc.ProfilingView.Render(ViewContext viewContext, TextWriter writer) in D:\a\1\s\src\Umbraco.Web\Mvc\ProfilingView.cs:line 25
   at System.Web.Mvc.HtmlHelper.RenderPartialInternal(String partialViewName, ViewDataDictionary viewData, Object model, TextWriter writer, ViewEngineCollection viewEngineCollection)
   at System.Web.Mvc.Html.PartialExtensions.Partial(HtmlHelper htmlHelper, String partialViewName, Object model, ViewDataDictionary viewData)
   at System.Web.Mvc.Html.PartialExtensions.Partial(HtmlHelper htmlHelper, String partialViewName, Object model)
   at ASP._Page_Views_Partials_grid_editors_Base_cshtml.Execute() in C:\home\site\wwwroot\Views\Partials\grid\editors\Base.cshtml:line 20